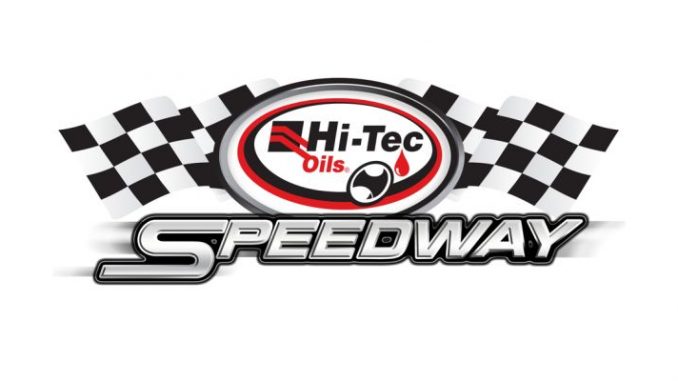 From Hi-Tec Oils Speedway
TOOWOOMBA, Aus. (November 5, 2016) – Luke Oldfield has continued his impressive form with a dominant win in the 2nd Annual Will Power 500 at Toowoomba's Hi-Tec Oils Speedway as part of the hugely successful "Ultimate Pink Night."
Over $5000 was raised for Pink Ribbon in the search to find a cure for Breast Cancer, as the Toowoomba community arrived in force at the venue dressed in Pink to support the cause.
Oldfield started from the third row of the 30 lap feature race, while the front row of IBRP Quicktime winner Lachlan McHugh and defending champion Peter Lack collided in the front straight, instantly ejecting a heartbroken Lack from the race but leaving the talented teenager on the front row alongside Kevin Titman.
Muswellbrook missile Andrew Wright was the early intimidator, pushing McHugh hard before Oldfield took advantage of lapped traffic on lap 9 and claimed the lead.
However Wright tagged the front straight wall on lap 14 deflating the tyre, and as he tried to safely exit the track, fell into the path of Brent Kratzmann dislodging the front end of the Kratzmann Caravans Q2, and leaving Darren Kane nowhere to go other than to ride the cushion into a violent roll in turn 4.
And while McHugh began to struggle after the restart, the bad luck gremlins were finally began to be silenced for Andrew Scheuerle as he'd worked his way from tenth to third, and into battle with Titman essentially for the remainder of the race.
Jayden Peacock came to grief with ten laps to go, but was the final casualty of the event as Bryan Mann began to tap the heals of Titman and Scheuerle.
However, the Q17 was untouched for the run to the finish and landed in victory lane to meet the namesake of the race, Will Power who was on hand to congratulate the top three of Oldfield, Scheuerle and Titman, and was genuinely amazed by his first visit to a dirt track speedway event in decades.
"I'm blown away!" the Toowoomba raised Indycar Champion exclaimed, as he was welcomed to the venue with a huge cheer from the crowd.
"These cars are amazing, and I'm just so impressed with this venue and the whole show. This is so humbling to have a race named after me and to see everyone here is fantastic for Pink Night too."
Race winner Luke Oldfield had a long list of people to thank for his victory, particularly after making the decision to purchase another engine to be able to run the event.
"It was a gamble getting another engine but its paid off tonight. It didn't' have a lot on the restarts but had enough top end to stay out in front, so this is amazing," Oldfield said, now clearly leading the USC QLD Championship points.