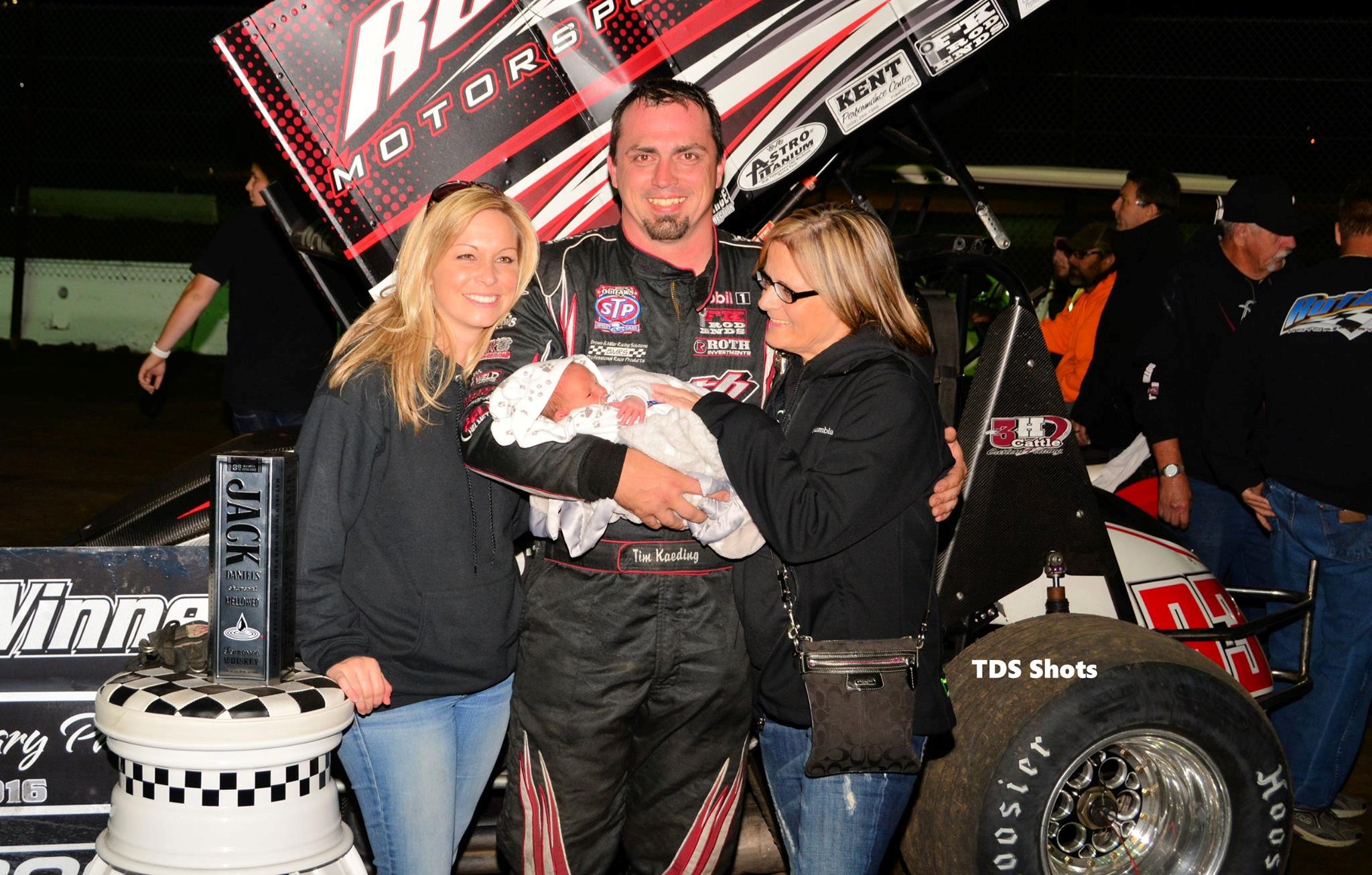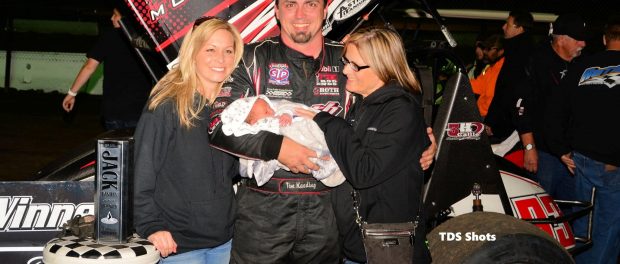 From Peterson Media
Not having the best luck since climbing aboard the Roth Motorsports entry to close his season out, Tim Kaeding made his last race of 2016 count as he out dueled Rico Abreu to capture the King of the West season finale Saturday night at the Stockton Dirt Track.
"I sure hope you all like that, because that was fun," Tim Kaeding exclaimed to the large crowd on hand. "Rico Abreu is a bad man, and to race with him like that those final two laps was simply awesome."
Like the rest of the field, Kaeding was getting his first look at the recently reconfigured Stockton Dirt Track. The larger configuring seemed to fit TK's style well as the San Jose, CA wheelman opened the night up by timing in fifth fastest.
Running fourth in his heat race, TK would move into the night's Dash, where a second place finish would put him on the front row of the 30-lap affair alongside Bobby McMahan.
After a red on the race's opening lap, Kaeding would jump out to the early lead once the race came to life, and simply wasted no time opening up a sizeable lead. On an abrasive track that didn't allow for much passing, Kaeding was untouchable until a couple of stoppages came with just three laps to go.
With Jason Solwold on his tail during a lap 27 restart, Kaeding would again get away form the field until the final caution flew on the 29th lap. Now with Rico Abreu on his tail, things got interesting. As the field raced into turns one and two, Abreu used a full head of steam to get by Kaeding off of turn two as the crowd came to their feet.
Taking the white flag in the second spot, Kaeding returned the favor in the same corner on the race's final lap. With the duo racing side by side, Kaeding would get the advantage off of turn four and pick up the win.
"The Roth family has treated me well, and it's great to get another win for them," Kaeding said after his customary victory donuts. "To win with my son here for the first time means so much to me, I really couldn't ask for a better night."
The Roth Motorsports team would like to thank Roth Enterprises, HR Livestock Transportation, Roth Investments, 3H Cattle, Mobil1, FK Rod Ends, Weld Wheels, Brown and Miller Racing Solutions, Kent Performance, Kaeding Performance, and Astro Titanium for their support in 2016.