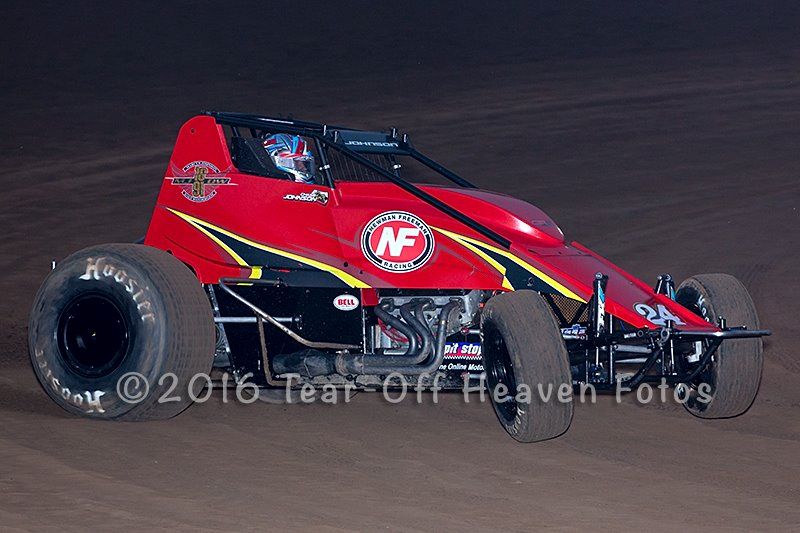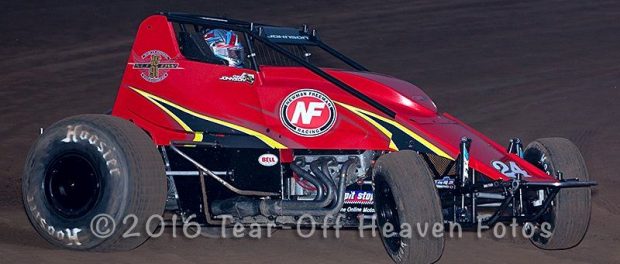 From Inside Line Promotions
LAKEPORT, Calif. (Nov. 28, 2016) – Chase Johnson capped the 2016 season with strong results last weekend.
Johnson started the busy holiday week last Wednesday by making his debut at Ventura Raceway in Ventura, Calif., during the famed Turkey Night Grand Prix.
"We went in there blindfolded," he said. "To be that competitive was pretty impressive. I'm glad that the weekend went like it did."
Johnson qualified second quickest in his group before he advanced from fourth to third place in a heat race to lock himself into the non-wing sprint car feature in the third starting spot.
"Most of the race we ran in third," he said. "The car was on our side and we held our own. At the end of the race our car started to fade and other guys were getting faster. We slipped back to fifth. All in all, a top five with those guys is not bad at all."
The fifth-place result locked Johnson into Saturday's feature redraw, where he plucked the No. 5 to start the feature fifth.
"We picked up a couple of positions in the beginning," he said. "We were sitting in third until the last 10 laps. Unfortunately, we got pretty much ran over and got up into the wall. His right rear tire went into our left rear and into the fence we went. I was able to save the car, but by then we were back outside the top 10. Then we were getting ran over left and right because everyone was everywhere.
"I think we could have had a top-five car if not a top-three car. Unfortunately there were other plans for us. We can't let that take away from how good it went overall given the circumstances of our first time there and not running that many non-wing shows."
Johnson ended with a 15th-place result.
He then ventured to Lakeport Speedway on Saturday to pilot an outlaw kart for McClish Motorsports. Johnson qualified sixth quickest before he won a heat race, which transferred him into the dash. A third-place result in the dash lined him up on the inside of the second row for the main event.
"They gave me a great car again," he said. "On the initial start we got turned around so that put us to the rear of the field. We slowly picked our way toward the front and were able to pull off the win. Most of the time it was keeping our nose clean and going where guys in front of us weren't. I think we took the lead with about seven laps remaining and led the rest of it."
Johnson's win was his second straight and third of the season with the team. Johnson said his sprint car season is finished and he will compete in a handful of outlaw kart races throughout the offseason.