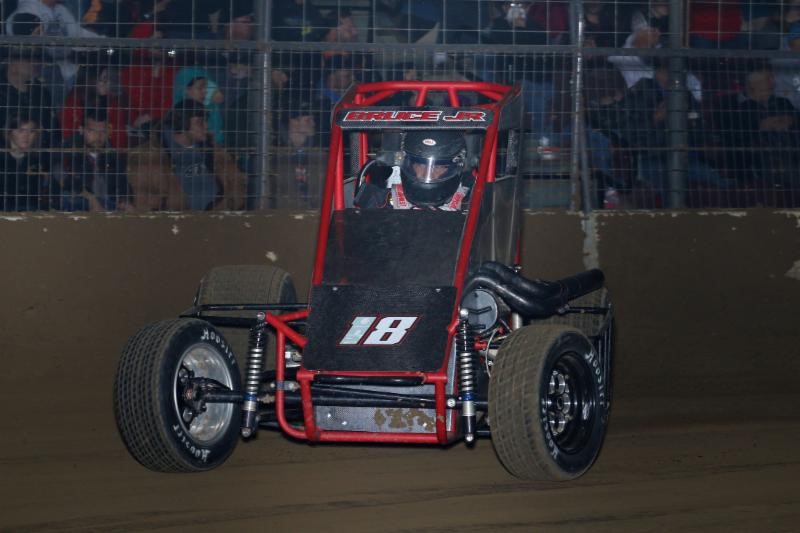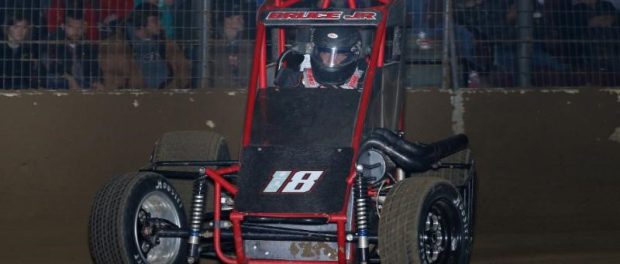 From Richie Murray
Saturday's "Junior Knepper 55" not only represents one of the final events scheduled on the 2016 calendar, it also represents an opportunity for drivers from diverse racing backgrounds to converge on one facility – Du Quoin's Southern Illinois Center – to test their abilities against each other on the one-sixth-mile indoor venue.
With much of the nation's racing schedules clear this weekend, drivers from coast-to-coast will suit up and strap in for a one-off, no-holds-barred challenge in which drivers need not worry about "points-racing." It all comes down to just one night and one race track separating one driver, one steering wheel and one heavy right foot from hoisting the "Knepper 55" trophy.
The home state of Illinois leads the way with 21 of the 74 pre-entered drivers, including last year's "Knepper 55" top-ten finishers Tim Siner (Dupo) and Daniel Robinson (Ewing).
Indiana brings 13 competitors to Du Quoin with World of Outlaws star Joey Saldana (Brownsburg), 2016 ARCA champ Chase Briscoe (Mitchell) and 2016 "Indiana Sprint Week" feature winners Tyler Courtney (Indianapolis) and Brent Beauchamp (Avon).
Nine come from nearby Missouri in which Herculaneum's Tony Roney hails from. He finished fifth in Du Quoin's spring race.
Five standouts are making the trip out from the left coast state of California. Spring Du Quoin winner Shane Golobic leads a group of Golden State quintuplets that brings two-time Chili Bowl winner Cory Kruseman, four-time USAC AMSOIL National Sprint Car winner Thomas Meseraull and multiple-time USAC champion Ryan Bernal.
Other states represented by multiple entries include Ohio (5), Iowa, Oklahoma and South Dakota (3) and Texas (2).
Nine states have a lone representative: Kansas (2006 Knoxville Nationals Rookie of the Year Tony Bruce, Jr.), Louisiana (2016 Knoxville Nationals winner Jason Johnson), Mississippi (NASCAR regular and defending race winner Ricky Stenhouse, Jr.), New York (two-time ALMS Sports Car champion Chris Dyson), North Carolina (NASCAR K & N Pro Series West winner Nick Drake), North Dakota (8-time World of Outlaws champ and 9-time Knoxville Nationals winner Donny Schatz), Oregon (Bricen James), Wisconsin (David Budres) and Wyoming (Mark Chisholm).
Coming into Saturday's event, 25 states and three countries had been represented in the 2016 USAC Midget National Championship. Among the 18 different states entered include five that are making their debut on this year's series entry list: Louisiana, New York, North Carolina, North Dakota and Oregon.
Indiana leads all states with 30 different drivers taking indoor USAC Midget victories including the very first race in the history of the series on Jan. 8, 1956, won by Roanoke's Gene Hartley, at the Fort Wayne (Ind.) Coliseum.
Illinois follows up in second with 15 victories, but none since Rich Corson's win at Fort Wayne in 2005. Among the other states on USAC's indoor win list are California (13), Ohio (7), Michigan and Missouri (4), Wisconsin (3), Iowa (2) and Mississippi, Oklahoma, Pennsylvania and Texas (1).
Saturday marks just the eighth indoor race on dirt in USAC's history and just the fourth full-midget race. Sleepy Tripp won at Nevada's Reno Livestock Events Center in 1988 and 1990 while Stenhouse and Golobic have taken the last two at the Southern Illinois Center in 2015 and 2016, respectively.
Kelly Drake won a TQ Midget feature in Reno in 1988 while Robbie Ray and Brad Loyet won Ford Focus Midget features at the Southern Illinois Center on consecutive nights in 2005.
Tickets are now on sale for the Saturday, December 17 "Junior Knepper 55." Discounted advance general admission tickets can be purchased at http://www.usactickets.com/. No reserved seating will be available for the event; only general admission. Adult tickets are $20. Kids age 6-12 are $10. Children age 5 and under get in for FREE! Pit passes are $35.
Gates open at 1pm with hot laps scheduled for 4pm and racing set for 5pm.
If you are unable to make it to the event in person, http://www.SpeedShiftTV.com/ will be streaming the race LIVE!