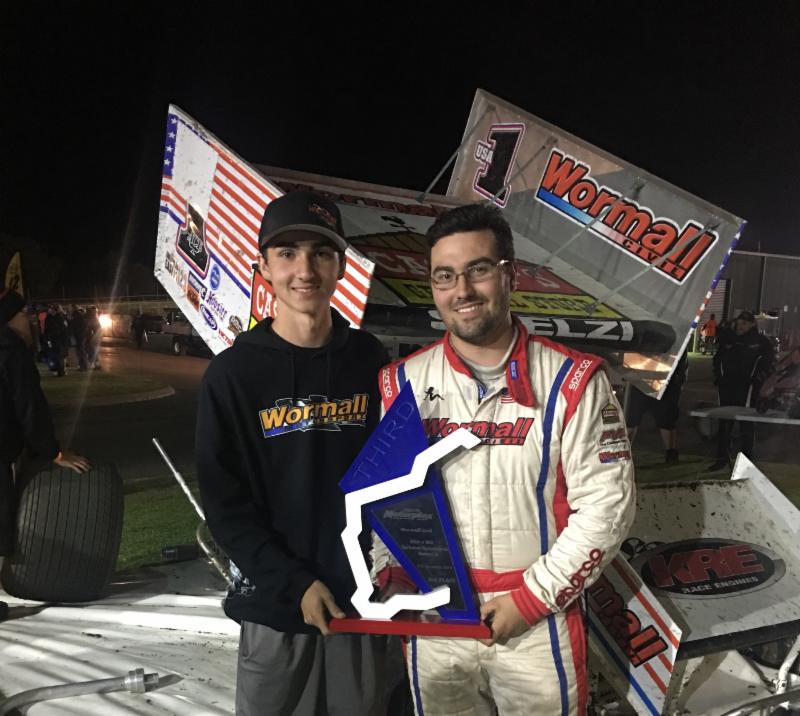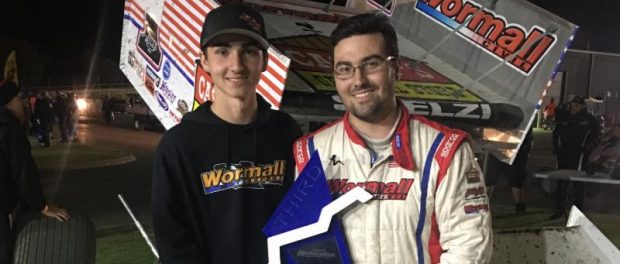 From Inside Line Promotions
KWINANA BEACH, Western Australia, Australia (December 28, 2016) – Dominic Scelzi recorded his first career podium finish in Australia during only his fourth career sprint car race overseas.
The Fresno, Calif., resident, who battled for podiums before bad luck ended his first two starts earlier this month, produced a pair of strong results while driving for Wormall Motorsport this week during the first two rounds of the USA vs. WA Sprintcar Speedweek.
The action began on Monday at Quit Bunbury Speedway in Bunbury, Western Australia, Australia, where Scelzi qualified third quickest during his debut at the track. He was running second in the first heat race until the fuel pump came loose. The car shut off and Scelzi got into the wall as the car lost power steering because of the mechanical problem. Unfortunately, the damage caused a DNF.
A rain delay allowed the team to repair the sprint car in time for the second heat race, in which Scelzi maneuvered from sixth to third place. That lined him up on the inside of the seventh row for the main event.
"We basically held on and stayed out of trouble," he said. "I was disappointed that we didn't get a top three because every time we hit the track the car was a rocket."
Scelzi ended eighth, which marked his best finish during his first three races in Australia. Here is a link to watch the main event: https://youtu.be/jBHhktYIdjU.
However, he topped that feat the following night during the second Speedweek round hosted by Perth Motorplex.
"We were a little loose in qualifying and the track went slick faster than we thought," he said after timing in 12th quickest.
Scelzi picked up a pair of positions in both heat races to manuever from fifth to third and from fourth to second, respectively. He advanced into the pole shuffle, where a sixth-place result started him on the outside of the third row for the main event.
"I worked my way to third by Lap 3," he said. "The track was slick to the wall and you could run anywhere. We had the car to beat in my opinion and we passed for second at one point, but after that I just couldn't get back to them. I think I tried to conserve too long."
Scelzi capped the night with a third-place finish. Here is a link to watch the feature: https://youtu.be/8sm5x-hFiu8.
"We had a phenomenal race car thanks to my brother, Giovanni, and everyone at Wormall Motorsport," he said. "We have good momentum from the last two nights. I feel like we have had a top-three car every time we've hit the track in Australia so we're ready to win one."
Speedweek resumes on Friday at Quit Bunbury Speedway before wrapping up on Sunday at Perth Motorplex.