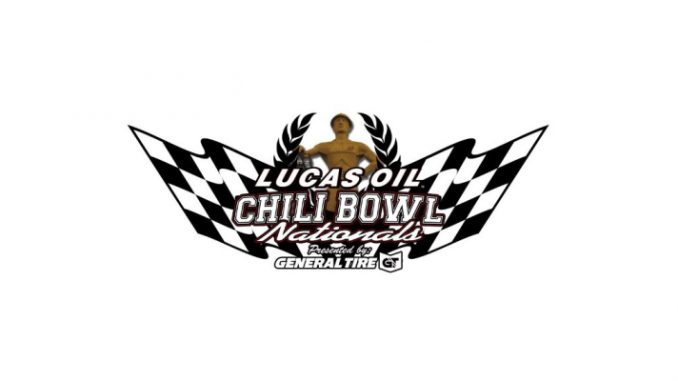 From Shawn Miller
TULSA, Okla. (January 3, 2017) – A record 363 entries have been turned in for the 31st annual Lucas Oil Chili Bowl Nationals Presented by General Tire, which begins a week from Tuesday inside the River Spirit Expo Center.
The marquee midget event will again feature four preliminary nights before the finale on Jan. 14 as 57 previous A Main starters and 72 rookies are among the competitors vying for the coveted Golden Driller.
The RacinBoys Broadcasting Network will provide live Pay-Per-View video, which features multiple cameras, enhanced graphics, replays and more, during each preliminary night and through the finale until the MAVTV television broadcast and live stream on LucasOilRacing.TV, which is slated to begin at 7:30 p.m. (Central) on Jan. 14.
Also, RacinBoys Broadcasting Network will present the post-race press conferences live every night plus the preview press conference next Monday free of charge. Viewers just need to log in to the RacinBoys website to view.
A special price for the five-day Chili Bowl is only $99.99 ($89.99 for premium RacinBoys members) or $25 per day.
To purchase, visit the RacinBoys website – http://www.RacinBoys.com – and register as a new member if you haven't done so from previous PPV events. There is no membership charge required to purchase RacinBoys live PPV webcasts.
The premium section of the RacinBoys website will have additional video content not only from the Chili Bowl, but other events throughout the year as well.
Also of note, RacinBoys recently transitioned to a new website. All registered members – free and premium – need to verify their old accounts at the new website. Simply click the red "Verify Old RBN Account" in the upper right corner and follow the instructions.
Scott Traylor anchors the Lucas Oil Chili Bowl coverage with Bryan Gapinski, Justin Zoch, Brian Ward, Lenny Batycki and Jim Childers among the RacinBoys voices. Scotty Cook will conduct driver interviews from the pits and Victory lane throughout the week.
Nationally known motor sports writer Reid Spencer will provide exclusive content daily during the Lucas Oil Chili Bowl Midget Nationals on the RacinBoys website.
RacinBoys live coverage of the Lucas Oil Chili Bowl Midget Nationals is brought to you by Lucas Oil Products, MAVTV and LucasOilRacing.TV, Schoenfeld Headers, Spire Sports + Entertainment, MyRacePass, Rod End Supply, Devil's Bowl Speedway, Lawton Speedway, RPM Speedway, Gary's Speed Shop, Northwest Focus Midget Series, Hyper Racing, McCarthy Auto Group, Griffith Truck & Equipment, ButlerBuilt Professional Seat Systems and Impact Signs, Awnings & Wraps.
Thanks to Jeff Bowen of Blue Sky Productions for contributions to RBN's live coverage of both Speedway Motors Tulsa Shootout and the Lucas Oil Chili Bowl.