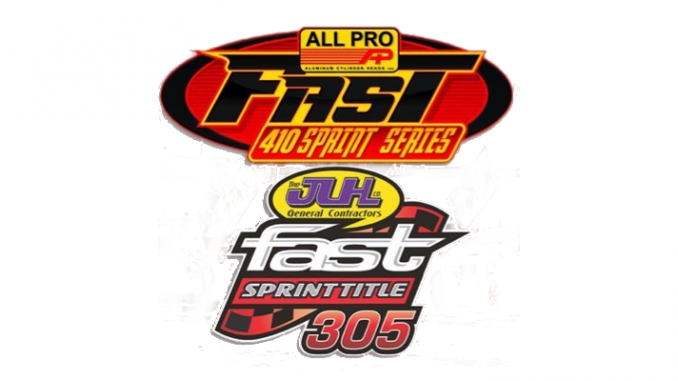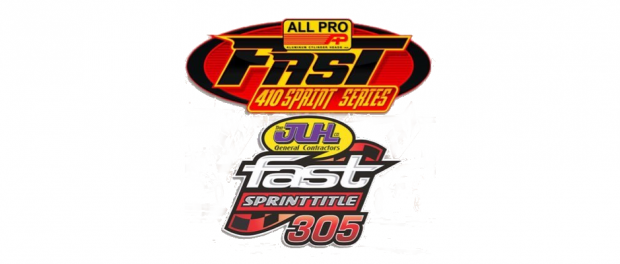 From Brian Liskai
FREMONT, Ohio (January 17, 2017) – The 410 and 305 sprint teams who plan to the run the 2017 FAST series will compete for the highest purses in the nine year history of the organization.
"We have had a lot of interest in the FAST series over the winter and I'm proud that we will continue to give our local racers a chance to compete for more money than ever before. Of course none of that would be possible if not for the support of all our great marketing partners. I want to welcome All Pro Aluminum Cylinder Heads as the title sponsor of the 410 FAST series along with new presenting sponsor Ohio Logistics. Jon Horn and JLH General Contractor is once again stepping up as the title sponsor of the 305 FAST series with Engine Pro returning as presenting sponsor," said Rich Farmer, FAST President.
"Kistler Racing Products was the title sponsor of the FAST 410 series since its inception and will continue to be a supporter of the organization. I can't thank Paul Kistler enough for all he has done not only for FAST but for area racing in general," Farmer added.
The FAST Series started in 2009 and was called the Fremont Attica Sprint Title. It was a way to promote the great racing and teams of North Central Ohio at Fremont Speedway in Fremont, Ohio, and AtticaRacewayPark in Attica, Ohio, and get more funds into the hands of the dedicated weekly racers. But, Farmer said the teams expressed a desire to compete at a few other tracks and the 2017 FAST Series schedule accomplishes that goal along with continuing to promote both Fremont Speedway and AtticaRacewayPark.
"It's all about showcasing the incredible talent we have in Ohio and giving our marketing partners more exposure. Of course a huge majority of the FAST events will take place at Attica and Fremont, but we've added a couple of new tracks for both the 410 and 305 sprints," Farmer said.
"I'm very proud that our series charges tracks ZERO sanctioning fees and 100 percent of all the money raised goes directly into the pockets of the race teams. Our racers do this as a hobby and work for a living. Our focus is on the weekly racer…the guy who goes to work during the week and races on the weekend," Farmer added.
The All Pro Aluminum Cylinder Heads FAST Series will compete in 25 races in 2017 – 20 of those are at either Attica or Fremont. FAST will participate with the Ohio Sprint Car Series (OSCS) in seven co-sanctioned events including a trip to the high banks of Atomic Speedway near Chillicothe, Ohio on Saturday, April 29.
"I want to thank Brad McCown of the OSCS for working with us once again. It's great when promoters can work together to make our sport stronger," Farmer said.
For the first time the All Pro Aluminum Cylinder Heads FAST Series will battle at the Waynesfield Raceway Park near Lima, Ohio on Monday, July 3 and to Mercer Raceway Park in Mercer, PA. Saturday, August 19.
The 410 FAST series along with the OSCS will be part of a huge weekend of racing at Mansfield Motor Speedway near Mansfield, Ohio, Friday and Saturday, Aug. 11-12 for the inaugural Great Lakes Dirt Nationals. The event, a conglomeration of all things open wheel, will feature the FAST and OSCS 410 Sprint Cars, as well as FAST 305 Sprint Cars and Buckeye Outlaw Sprint Series (BOSS) wingless sprints. The Great Lakes Dirt Nationals is highlighted by the $15,000 to win event on Saturday for FAST/OSCS as well as $5,000 to Win BOSS and $3,000 to Win FAST 305 sprint cars.
"We have multiple events paying $5,000 to the winner as well as the massive $15,000 to win event at Mansfield," Farmer said.
The JLH General Contractor 305 FAST Series presented by Engine Pro will compete in 18 events in 2017 – 12 of those at either Attica or Fremont. The group will also compete at WaynesfieldRacewayPark on Monday, July 3 and returns to the high banks of LimalandMotorsportsPark in Lima, Ohio on Friday, July 14 and a second date on Friday, Aug. 4. The FAST 305 series is part of the Great Lakes Dirt Nationals at Mansfield on Aug. 11-12 and once again pays a visit to MercerRacewayPark on Saturday, Aug. 19.
"At least half of the 305 FAST schedule will have increased purses from that of the weekly events," Farmer said.
ALL PRO ALUMINUM CYLINDER HEADS FAST 410 SPRINT SERIES presented by Ohio Logistics 2017 Schedule
(Races may be added, cancelled or changed)
Friday, April 14 – AtticaRacewayPark
Saturday, April 22 – FremontSpeedway
Friday, April 28 – AtticaRacewayPark
Saturday, April 29 – Atomic Speedway (co-OSCS)
Friday, May 5 – AtticaRacewayPark
Saturday, May 6 – FremontSpeedway
Friday, May 19 – AtticaRacewayPark
Saturday, May 20 – FremontSpeedway
Saturday, May 27 – FremontSpeedway (co-OSCS)
Friday, June 2 – Attica Raceway Park (co-OSCS)
Saturday, June 3 – FremontSpeedway
Friday, June 9 – AtticaRacewayPark
Saturday, June 10 – FremontSpeedway
Friday, June 30 – AtticaRacewayPark
Saturday, July 1 – FremontSpeedway
Monday, July 3 – WaynesfieldRacewayPark
Friday, July 28 – Attica Raceway Park (co-OSCS)
Saturday, July 29 – FremontSpeedway
Saturday, Aug. 5 – FremontSpeedway
Friday, Aug. 11 – Mansfield Motor Speedway (co-OSCS)
Saturday, Aug. 12 – Mansfield Motor Speedway (co-OSCS)
Friday, Aug. 18 – AtticaRacewayPark
Saturday, Aug. 19 – MercerRacewayPark
Friday, Sept. 1 – AtticaRacewayPark
Friday, Sept. 15 – Fremont Speedway (co-OSCS, championship night)
Awards Banquet – Saturday, Dec. 2 at the American Legion in Fremont
THE JLH GENERAL CONTRACTOR FAST 305 SPRINT SERIES presented by Engine Pro 2017 Schedule
(Races may be added, cancelled or changed)
Saturday, April 22 – FremontSpeedway
Friday, April 28 – AtticaRacewayPark
Friday, May 19 – AtticaRacewayPark
Saturday, May 20 – FremontSpeedway
Friday, June 9 – AtticaRacewayPark
Saturday, June 10 – FremontSpeedway
Friday, June 30 – AtticaRacewayPark
Saturday, July 1 – FremontSpeedway
Monday, July 3 – WaynesfieldRacewayPark
Friday, July 14 – LimalandMotorsportsPark
Friday, July 28 – Attica Raceway park
Saturday, July 29 – FremontSpeedway
Friday, Aug. 4 – LimalandMotorsportsPark
Friday, Aug. 11 – Mansfield Motor Speedway
Saturday, Aug. 12 – Mansfield Motor Speedway
Friday, Aug. 18 – AtticaRacewayPark
Saturday, Aug. 19 – MercerRacewayPark
Friday, Sept. 15 – FremontSpeedway – Championship Night
Awards Banquet – Saturday, Dec. 2 at the American Legion in Fremont