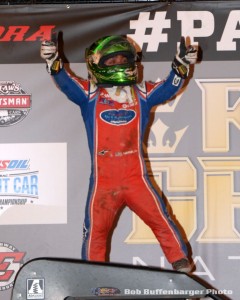 LISMORE, Aus. (January 28, 2017) — Rico Abreu completed a clean sweep of the World Midget Car Championship event Saturday at Lismore Speedway. Abreu set fast time, won both of his heat races, and two feature events driving for Keith Kunz Motorsports.
Abreu started on the front row and led every lap during the 20-lap feature rescheduled from the rain out on Thursday. In the 40-lap finale Abreu and fellow American Brady Bacon swapped the lead back and forth before Abreu took the lead for good on lap 15.
Dayne Kingshott moved past Bacon for second, but could not catch Abreu. Bacon held on for third while Brock Dean and Michael Stewart rounded out the top five.
Lismore Speedway
Lismore, AU
World Midget Car Championship
Saturday January 28, 2017
Feature (Makeup from 1/27)
1. USA97 – Rico Abreu
2. USA70 – Brady Bacon
3. W21m – Dayne Kingshott
4. USA82 – Andrew Felker
5. Q99 – Brock Dean
6. S9 – Michael Stewart
7. Q41 – Brendan Palmer
8. Q51 – Darren Dillon
9. Q21 – Mitch Haynes
10. Q40 – Dallas Sharp
Qualifying:
1. USA97 – Rico Abreu, 13.425
2. USA70 – Brady Bacon, 13.567
3. S9 – Michael Stewart, 14.019
4. W21m – Dayne Kingshott, 13.844
5. USA82 – Andrew Felker, 14.205
6. Q41 – Brendan Palmer, 14.190
7. Q99 – Brock Dean, 14.181
8. Q51 – Darren Dillon, 14.272
9. 11A – Scott Wilson, 14.363
10. Q21 – Mitch Haynes, 14.848
11. Q40 – Dallas Sharp, 14.807
Heat Race #1:
1. USA97 – Rico Abreu
2. S9 – Michael Stewart
3. Q99 – Brock Dean
4. Q40 – Dallas Sharp
5. Q51 – Darren Dillon
Heat Race #2:
1. USA70 – Brady Bacon
2. USA82 – Andrew Felker
3. W21m – Dayne Kingshott
4. Q41 – Brendan Palmer
5. Q21 – Mitch Haynes
6. 11A – Scott Wilson
Heat Race #3:
1. USA97 – Rico Abreu
2. W21m – Dayne Kingshott
3. USA82 – Andrew Felker
4. Q99 – Brock Dean
5. Q40 – Dallas Sharp
6. 11A – Scott Wilson
Heat Race #4:
1. USA70 – Brady Bacon
2. S9 – Michael Stewart
3. Q41 – Brendan Palmer
4. Q21 – Mitch Haynes
5. Q51 – Darren Dillon
Pole Shuffle Round #1:
1. Q41 – Brendan Palmer
2. Q51 – Darren Dillon
Pole Shuffle Round #2:
1. Q41 – Brendan Palmer
2. Q99 – Brock Dean
Pole Shuffle Round #3:
1. Q41 – Brendan Palmer
2. USA82 – Andrew Felker
Pole Shuffle Round #4:
1. W21m – Dayne Kingshott
2. Q41 – Brendan Palmer
Pole Shuffle Round #5:
1. S9 – Michael Stewart
2. W21m – Dayne Kingshott
Pole Shuffle Round #6:
1. USA70 – Brady Bacon
2. S9 – Michael Stewart
Pole Shuffle Round #7:
1. USA97 – Rico Abreu
2. USA70 – Brady Bacon
Feature:
1. USA97 – Rico Abreu
2. W21m – Dayne Kingshott
3. USA70 – Brady Bacon
4. Q99 – Brock Dean
5. S9 – Michael Stewart
6. Q51 – Darren Dillon
7. Q40 – Dallas Sharp
8. 11A – Scott Wilson
9. Q41 – Brendan Palmer
10. USA82 – Andrew Felker
11. Q21 – Mitch Haynes