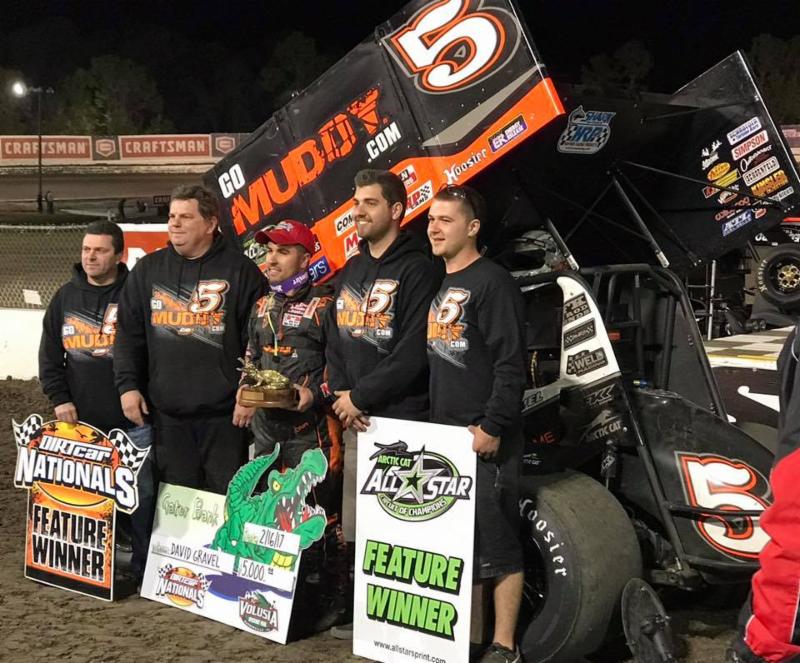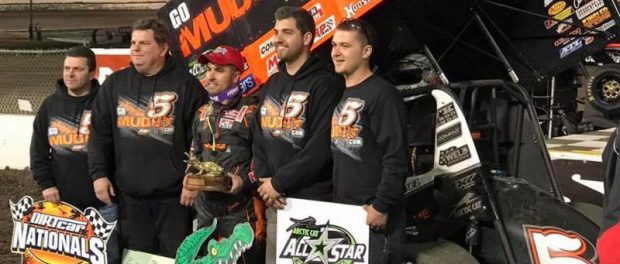 From CJB Motorsports
CARLISLE, Penn. (February 22, 2017) – One of CJB Motorsports goals for 2017 was to begin the season off on a strong note. After five nights of racing at Volusia Speedway Park near Barberville, Florida, David Gravel and the team stood above the rest by capturing the overall points championship for the week.
"It was really cool to make it through the week that we had and end up holding the big gator trophy," said Gravel, driver of the GoMUDDY.com, J.R.C. Transportation Inc., C&S Lawn & Landscape #5. "We wanted a fast start and we got that."
Gravel began the week on Wednesday, February 15th at the "World's Fastest Half Mile Oval." The first two nights of the annual DIRTcar Nationals were run under the sanction of the Arctic Cat Allstar Circuit of Champions.
Gravel time in fourth overall, started and finished 4th in his heat race and begin the night's feature event in the 14th position.
"Our first night was good," said Gravel. "We just wanted to get settled into a good rhythm and we were able too."
The following night saw the #5 machine time in 2nd overall, started and finished fourth in their heat race but won the JE Pistons dash. That allowed them to start on the pole, lead all 30 laps and capture their first win of the season.
"Getting in the dash is key," said the native of Watertown, Conn. "We placed ourselves in a good position all night long and it paid off as we got our first win of the season."
Friday night began the 2017 World of Outlaws Craftsman Sprint Car Series season in earnest. Gravel again was 2nd quick but the ripe Florida conditions soon spelled trouble for the team.
"We lost our first engine during the second lap of time trials," explained Gravel. "We lost another one leading the heat race and that just kind of was how our night went. We basically did a start and park for feature because we were out of engines at that point. It definitely took some regrouping and we're still not quite sure what happened."
Persistent rains on Saturday evening forced series officials to stage a rare, two show event on Sunday, February 19th. Gravel set quick time for the daytime portion of the double header and raced his way to a fifth-place finish. In the evening portion, Gravel was speedy again by timing in 6th and making up spots in the heat race and dash.
"We showed our speed again during Sunday's double header," said Gravel, who used his strong performance earned him and the team the overall points championship. "We raced well during the day, got our first QuickTime and should've had fourth in the feature. For the evening race, we got to the lead and then just got caught in lap traffic. It's frustrating because we wanted to win an Outlaw show but a second was good. It was great to win that big gator trophy. Kind of makes up for that opening night."
The team gets a weekend off to regroup from their early season jaunt down south. Up next is a double dip in the Lone Star State of Texas with stops at Lonestar Speedway near Kilgore on Friday, March 3rd and Gator Motorplex near Willis on Saturday, March 4th.
"Both Texas tracks are new for me," explained Gravel. "The Outlaws have been to Lonestar a few times before but Gator Motorplex is a great opportunity for us all to be on a level playing field. We're looking forward to the events."
CAR #5 2017 STATS:
Events: 8
Quick Times: 1
Wins: 1
Top-5's: 5
Top-10's: 6
Heat Race Wins: 1
Dash Wins: 2
Average Time Trial: 4.6
Average A-main finish: 7.5
Total Laps Led: 54