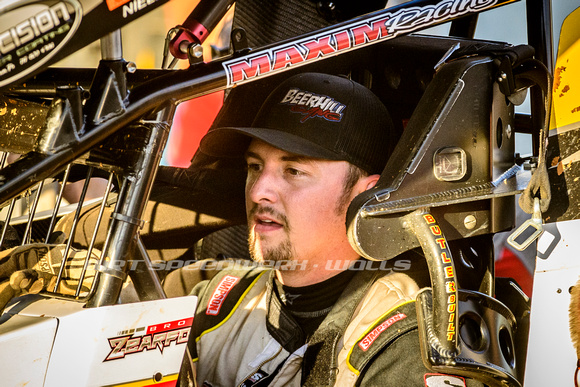 From Fully Injected Motorsports:
JONESTOWN, Penn. (March 6, 2017) – After finishing a career-high second in the Port Royal Speedway championship chase in 2016, the highest of any track championship finish during 410 sprint car competition in Central Pennsylvania, the "Jonestown Jet" Brock Zearfoss will return to the "Speed Palace" full-time in 2017, attempting to capture a title at one of sprint car racing's most competitive, weekly hotspots.
"We had a great season last year. It was definitely something to be proud about," Brock Zearfoss said. "The only thing to do now is return and hunt for a championship. We've tasted victory there before, and we know what it takes to be competitive and race toward the front, so now we need to use that to our advantage. We'll take things one weekend at a time and work toward consistency and wins. If we do that, a championship will come on its own."
Brock Zearfoss will kick-off his 2017 season, as well as his 2017 Port Royal Speedway title chase, during Port Royal's season opener on Saturday evening, March 11. The $3,500-to-win program will be the first to two events for the Jonestown, Pennsylvania, native during the upcoming weekend, also planning to attend the Williams Grove Speedway season opener on Sunday afternoon, March 12.
Zearfoss, pilot of the Brock Zearfoss Racing/Moose's LZ Bar & Grill/Meckley's Limestone/Central Builders Supply Co./Berkebile Oil Company/BAPS Auto Paint & Supply/ No. 3Z, is a former main event winner at Port Royal Speedway, as well as Williams Grove Speedway, recording three total podiums between the pair of half-miles last season.
"I can't thank my family, team and all of my supporters enough for their efforts in making our 2017 season happen," Zearfoss explained. "I'm privileged to be in this position. We aim to pick up right where we left off and represent everyone involved proudly."
Fans can keep up with Brock Zearfoss during his entire campaign right here at www.fullyinjected.com, or at www.brockzearfoss.com. Be sure and 'follow' the 'Jonestown Jet' on all of the available social media networks including Twitter: https://twitter.com/brock_zearfoss and Facebook: https://www.facebook.com/brockzearfossracing.