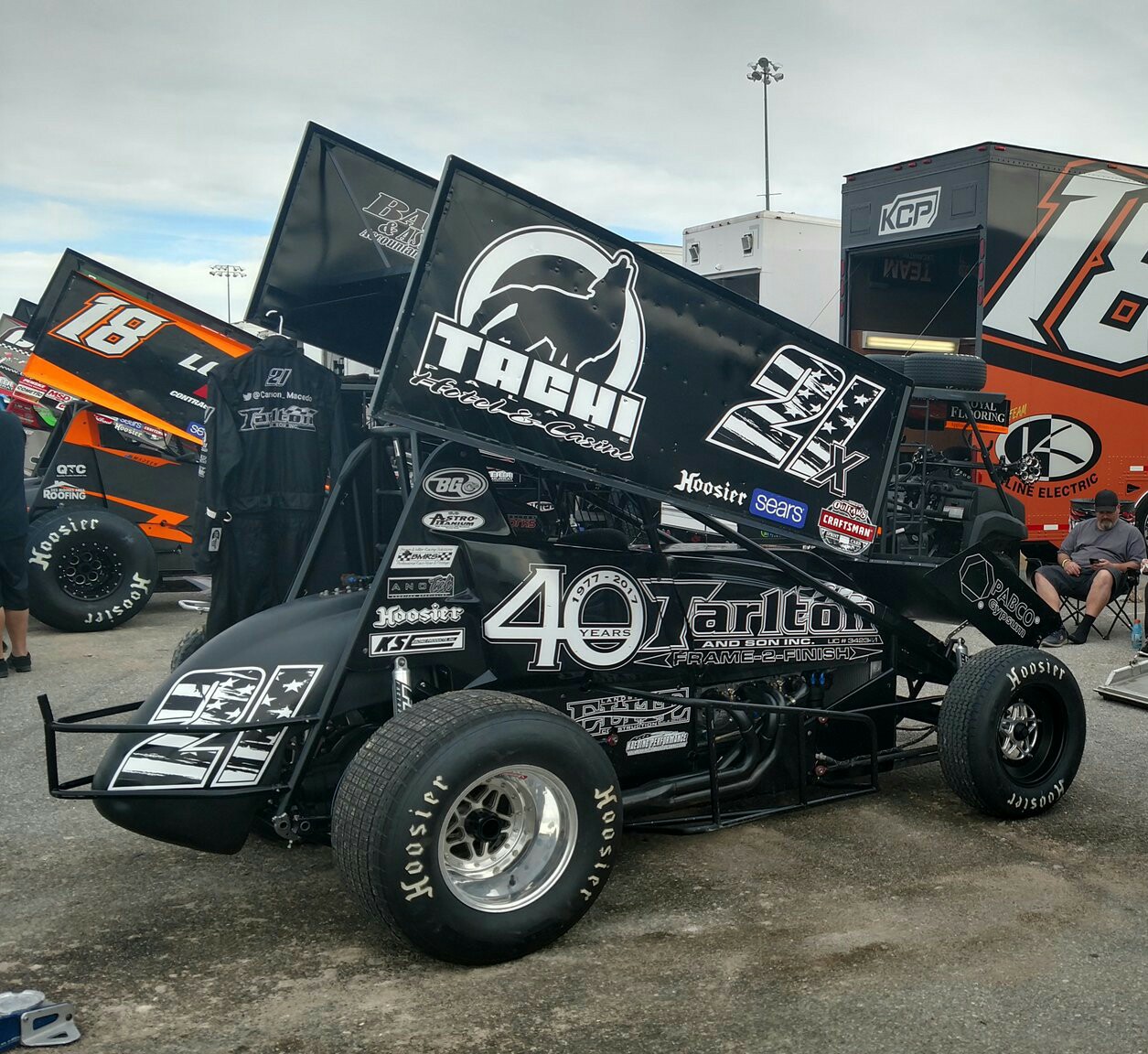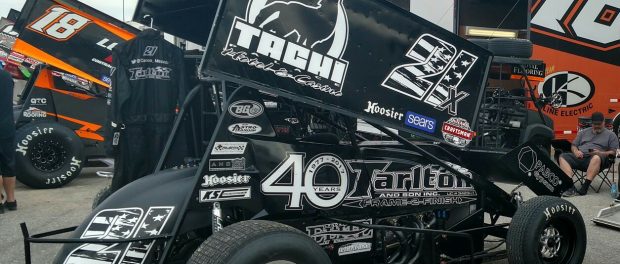 From Petersen Media
Not letting early issues during their trip to Las Vegas, NV hamper them, Tarlton Motorsports and Carson Macedo would show good speed with the Greatest Show on Dirt, and ultimately earn Hard Charger honors on Friday night.
"The first night was a little rough on us, but we were really happy with how the second night went," Carson Macedo said. "Overall it was a good trip, and I learned a lot."
During Thursday night's time trials, a fuel leak would arise as Macedo his the track for time trials and the Lemoore, CA driver would wisely shut the machine down and escape quickly to avoid a serious problem.
Able to get a lap at the end of the session, Macedo would time the Elite Landscape Construction/Tarlton and Son, Inc./Tachi Palace Hotel and Casino entry in 11th fastest.
Lining up sixth in his heat race aboard the potent Tarlton Motorsports No. 21x, Macedo would race his way to a fifth place finish and transfer directly into the 'A' Main.
Taking the green flag from the ninth row, the rough racing surface would give many drivers and teams fits all night long. With passing tough, Macedo would finish in the 18th spot.
Friday night would see Macedo time the Pabco Gypsum/Executive Auto Sales/Bandy and Associates entry in 13th fastest in his qualifying flight. Picking up a sixth place finish in his heat race, Macedo would be forced into the Last Chance Showdown, as he looked for one of four transfer spots into the feature event.
Gridding the field from the seventh starting spot, Macedo would have his elbows up on a slick Las Vegas Dirt track. Battling with Kevin Thomas, Jr late in the race, Macedo would get the opening he needed to take the final spot into the 30-lap feature event.
Lining up in the 24th starting spot, Macedo would continue to move forward just as he did in the semi. Running the ragged edge for 30-laps, Macedo would get by some of the best in the business as he earned KSE Hard Charger honors with his 13th place finish.
"I have to thank the entire Tarlton family for this opportunity, as well as Paul Baines and the guys for working hard for me," Macedo added.
Tarlton Racing would like to thank Elite Landscape Construction, Tarlton and Son, Inc., Executive Auto Sales, Tachi Palace Hotel and Casino, Pabco Gypsum, Bandy and Associates, All Star Performance, and BG Lubricants for their support through the 2017 season.
BY THE NUMBERS: Races: 2, Wins: 0, Top 5's: 0, Top 10's: 0.
ON TAP: Macedo and the Tarlton Motorsports team will be back in action Friday and Saturday night in Tulare, CA.
STAY CONNECTED: Stay connected with Tarlton Motorsports by following @Tarlton_Racing on Twitter, or becoming a fan on facebook at www.facebook.com/tarltonracing21