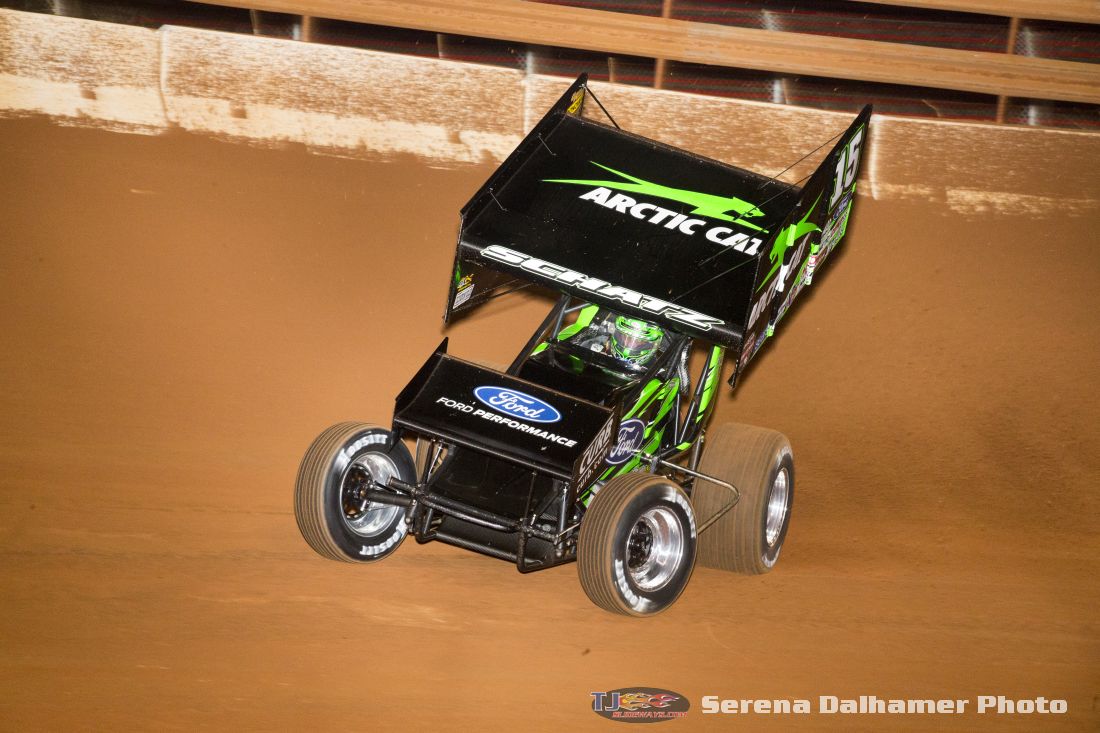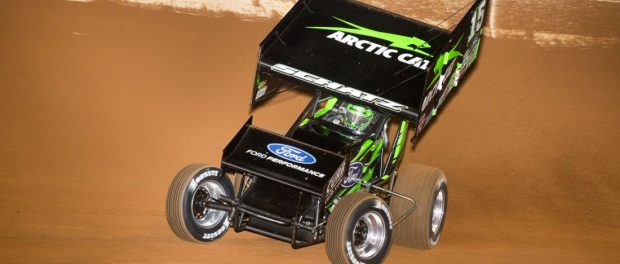 By T.J. Buffenbarger
The past weekend of sprint car racing saw plenty of brooms being handed out for weekend "sweeps" of feature events.
The sweep receiving the most press was Donny Schatz winning both World of Outlaws Craftsman Sprint Car Series events at the Dirt Track at Las Vegas Motor Speedway. Schatz's final lap pass of Brian Brown on Thursday followed by his victory Friday was victory eight including international competition. So far the only thing that has stopped Schatz on the Outlaw circuit has been Jason Johnson (once) and Mother Nature (twice). Schatz also holds the top position in the World of Outlaws and All Star Circuit of Champions point standings. Schatz will attempt to win his sixth World of Outlaws feature in a row Friday at Thunderbowl Raceway in Tulare, California.
Another "sweeper" over the weekend was Ryan Bernal. Bernal got his season off to a great start by winning both non-wing sprint car features for the USAC Southwest/West Coast Sprint Cars. The second night Bernal came from 22nd starting position following an engine failure to pick up the victory. Bernal will look for his third straight victory.
The least publicized sweep of the weekend went to Austin Liggett who picked up two wingless spec sprint victories at Silver Dollar Speedway including Saturday's Hunt Magneto Tour event. Liggett also won the opening day feature Sunday at Chowchilla Speedway to complete the triple. As a side note the spec sprint counts so far during the first three events this season seem to be up a bit. This is encouraging for a division that once bolstered huge numbers, but has struggled for cars to show up recently.
It will be interesting to see if this trio of drivers can extend their winning ways into this weekend.
Notes:
It's been a while since I had an opportunity to write. Since my last story the sport of sprint car racing lost a pair of legendary figures.In a sport filled with unique figures Greg Stabb was one of a kind. While pondering a move to the Indianapolis area around 2005-2006 I spent quite a bit of time with Stabb at his home in Indianapolis. Visiting with him for extended periods of times was like taking a sprint car master class. Not many people have performed the roles of driver, owner, promoter, series office and done them at the level Greg did. The knowledge and perspective I gained from him is the most valuable in racing I had ever gained and use it still to this day.

Stabb was a great racer but an even better person. Visits with him are memories I will treasure the rest of my life. Between the cancer and the tragic house fire last year, were situations nobody deserved to go through. Somehow Stabb maintained an upbeat demeanor.

Some may remember him as a great driver or promoter. I'll remember a great guy who carried a black lunchbox to work each day, punching in and giving his all no matter what it was he did.
The passing of Knoxville Raceway promoter Ralph Capitani was another loss that hit close to home. With my 40th birthday looming I am among a generation of sprint car fans that grew up with the World of Outlaws coming to prominence. Capitani was one of the larger than life figures that shaped the sport of sprint car racing that my generation grew up with.When I think of Capitani having 24 bosses on the Marion County Fair Board, dealing with drivers and owners, and trying keep thousands of fans relatively happy his calm schoolteacher mentality was perfect for the job. Where Knoxville Raceway and the Knoxville Nationals were in 1978 when Capitani took over and the growth during his tenure is fascinating. Noteworthy is the fact that Knoxville has been through three different people since Capitani retired in 2011, proving the job is far from easy.

When I think of growing up in sprint car racing some of the people that shaped the sport from an official/management/track ownership aspect were Ted Johnson, Earl Baltes, Don Martin, and Capitani, all of which are no longer with us.
The news of BDS Motorsports and Justin Henderson running the entire ASCS National Tour caught me off guard. Primarily focused on Knoxville Raceway and Badlands Motor Speedway the past couple of seasons BDS with driver Justin Henderson will be putting in a lot more windshield time with ASCS this season. BDS and Henderson are just one of several fresh faces headed to Devil's Bowl Speedway this weekend to try and tackle the entire National circuit.
It was announced last week that Cole Duncan will drive the Neumiester 11N for select events during the 2017 season when Dale Blaney is off racing in Central Pennsylvania. Look for the Neumiester team out with Dale Blaney earlier than expected during the Ohio season. Originally slated to debut during the HD Supply Spring Nationals at Attica Raceway Park look for Blaney at the Attica opener.