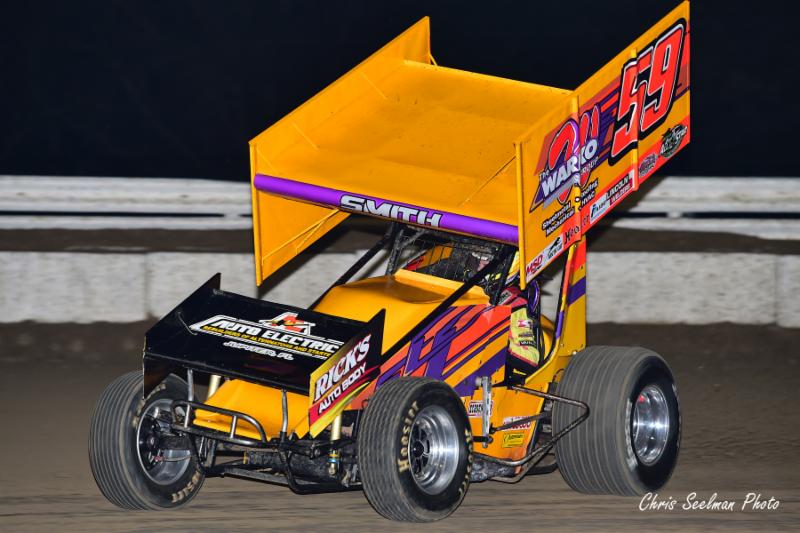 Inside Line Promotions

– KUNKLETOWN, Pa. (March 21, 2017) – Since returning home from competing with the Arctic Cat All Star Circuit of Champions last month in Florida, Ryan Smith and the new Leidig/Warko/Smith racing team have been hard at work preparing for racing to get started in the North.
"When we got home from Florida we had a lot of work to do," Smith said. "The toterhome and trailer have a lot of maintenance to be done and we've been busy getting cars updated and ready to take on the All Star tour. It's been a lot of hard work, but both Tom (Leidig) and Rob (Warko) are on board with our plans. We have two cars ready to go and as soon as Ryan Linder (from X-1 Race Cars) gets back up here and gets set up we're going to have him build us another car."
Smith said fans will see him behind the wheel of the yellow No. 59 at some races and the purple No. 94 at others.
"Both Tom and Rob want and deserve to see their cars run," he said. "So when we're in Ohio and some other races I'll be in the No. 59 and when we're in Central Pennsylvania I'll be in the No. 94 car. I'm the registered car owner for the All Star points."
With all the work going into the cars, truck and trailer, Smith isn't sure if he will be racing this coming weekend.
"We will see what the weather looks like," he said. "If not this weekend, for sure the following weekend at Williams Grove and Port Royal and then we're into the meat of the All Star schedule. The big picture is the All Star deal and we're building a team to compete for wins and the title."
After the five shows in Florida, Smith sits 16th in the Arctic Cat All Star Circuit of Champions championship standings. However, when the teams that will not be following the series all year are taken out, Smith ranks sixth among the All Star regulars. The All Stars get back to business on April 8 at Atomic Speedway in Chillicothe, Ohio.
"I can't wait to get to Atomic," he said. "The last time I was there I ran second in their $10,000-to-win deal two years ago."
SEASON STATS –
5 races, 0 wins, 0 top fives, 1 top 10, 2 top 15s, 2 top 20s
UP NEXT –
Friday at Williams Grove Speedway in Mechanicsburg, Pa., (tentative) and Saturday at Port Royal Speedway in Port Royal, Pa. (tentative)
MEDIA LINKS –
Website: http://www.RyanSmithRacing.com
Twitter: https://twitter.com/RyanSmithRacing
Twitter Race Updates: https://twitter.com/DeniseS_SS
Facebook: https://www.facebook.com/RyanSmith.TheKunkletownKid
Instagram: https://instagram.com/denises_ss
APPAREL –
Visit http://www.RyanSmithRacing.com to view the latest apparel options, which include t-shirts and hoodies.
SPONSOR SPOTLIGHT – Thunder on the Hill Racing Series
In 2017, Thunder on the Hill will kick off its 28th season having completed nearly 125 events having divvied up more than $4 million to competitors in a variety of divisions, making Thunder on the Hill one of the most lucrative and diverse special event programs in the Northeast. For more information, visit http://www.TOTHracing.com.
"Thunder on the Hill has been with us for three years now," Smith said. "Bob Miller and his staff are just great people and put on some fantastic events for us racers at Grandview Speedway. We took our car to their mall show last month to help them promote our sport."
Smith would also like to thank The Warko Group, Auto Electric of Jupiter, Fla., G.L.T. Electrical, CnB Chubby, Fighting Angels Foundation, S&S Speedways, Quality Roofing Supply, Armbruster Racing Photos, HP Engines, X-1 Race Cars, Rick's Auto Body, TGP Photography, GME Steering and Vahlco Racing Wheels for their continued support.
INSIDE LINE PROMOTIONS –
Inside Line Promotions specializes in affordable public relations and media management for motor sports drivers, teams, sponsors, tracks, series, events, organizations and manufacturers. ILP Founder Shawn Miller leverages professional journalism with new media technologies and social networking to improve your exposure and the return on investment for your sponsors.
To meet the media relations needs of your program by joining Team ILP, contact Shawn at 541-510-3663 or Shawn@InsideLinePromotions.com. For more information on Inside Line Promotions, visit http://www.InsideLinePromotions.com .