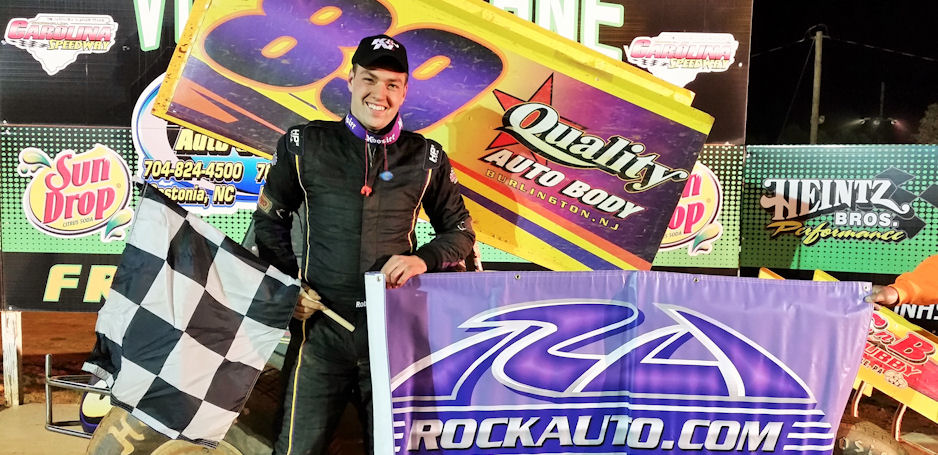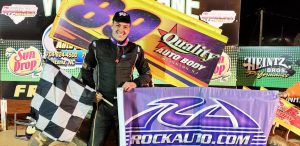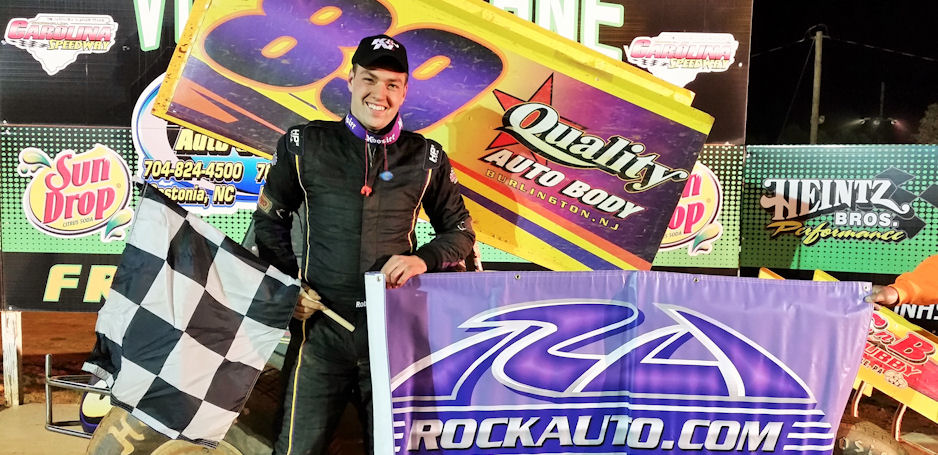 By Pete Walton
Gastonia, NC – April 7, 2017 – Robbie Stillwaggon from Burlington, New Jersey raced into the USCS www.RockAuto.com Victory Lane in the United Sprint Car Series Outlaw Thunder Tour presented by K&N Filters 25-lap main event at Carolina Speedway in the USCS "Thunder in Carolina" Round #1 on Friday night. The win was Stillwaggon's career second in USCS Outlaw Thunder Tour competition. Stillwaggon, who was the 2012 URC Champion, is a frequent competitor at early and late season USCS events.
USCS Founder and President Pete Walton interviewed Stillwaggon in victory lane and congratulated him on the win and stated "We sure appreciate a talented driver like Robbie traveling in to race with us when he has the chance to be a part of our events.  His team and family have become great friends to all of us over the years and one of his sponsors, C&B Chubby, is also a great friend to many of us at USCS and I just wish he had been here for Robbie's win".
Stillwaggon started from the outside of the front row next to K&N Filters Pole Position starter and 11-time USCS National Champion, Terry Gray from Bartlett, Tennessee. Gray and Stillwaggon lost the lead position to hard-charging young gun Trey Starks from Puyallup, Washington who started out side row two on the first lap.  Starks led the race through the first six alps when series new-comer Danny Jones from Concord, North Carolina flipped exiting turn two to bring out the red.
On the restart Starks, who was the September 30, 2016 USCSS feature winner at the speedway, jumped out to a comfortable lead until lap ten when he copied Jones act by crashing hard in a troubling rut exiting turn two as well. After the driver (Starks) was checked out and determined to be okay, a lengthy clean-up period saw drivers and teams adjusting for the final fifteen laps under the open-red condition.
After the restart for Starks spectacular exit, Stillwaggon used the clean air to race away from the challengers and streaked under the checkered flag in first place ahead of runner-up past multi-time Carolina Speedway USCS feature winner, Johnny Bridges from Cherryville, North Carolina. Following Bridges under the checkers was veteran sprint car driver and 2015 National Sprint Car Hall of Fame inductee, Danny Smith from Chillicothe, Ohio wrestled the K&N Filters Podium Award (third place) away from Terry Gray over the last couple of laps. Smith won this USCS event last April, but, after starting twelfth in the field and finishing third he said, "I'll take it"
Terry Gray who is anther multi-time Carolina Speedway feature winner in USCS competition, crossed the finish line in the fourth position, but, assumed the lead in the USCS National point standings. Johnny Petrozelle from Lexington, North Carolina looked fast all night and chased Gray across the finish line in fifth place to complete the top five.
The year 2011 USCS Rookie of the Year, and 2016 National Sprint League 360 sprint car Champion, Jordon Mallett from Greenbrier, Arkansas led the next group with a sixth-place finish. Tony Agin from Ft. Myers, Florida charged from an eleventh place start to finish seventh. The 2016 USCS Rookie of the Year, fifteen-year-old, Danny Sams III finished in eighth place followed by another multi-time Carolina Speedway USCS feature winner, Eric Riggins, Jr. from Charlotte, North Carolina. Riggins who considers Carolina Speedway his "home-track" is usually stellar in USCS events there, but, an early race flat tire put him deep in the hole and he recovered to a ninth-place finish. Shawn Murray from Jacksonville, Florida collected another the top finish in tenth place.
Heat race wins went to Terry Gray in the Engler Machine and Tool First Heat and to Johnny Bridges in the Brown and Miller Racing Solutions Second Heat. The Butlerbuilt Third Heat checkers was claimed by Jordon Mallett. The K&N Filters Pole Award and pole position was garnered by Terry Gray after he, as the first heat race winner, drew a four inversion for the main event. Trey Starks was the high point earner in the heat race competition. Veteran sprint car racer, Danny Smith passed the most cars in the main event to earned/collect the Wilwood Disc Brakes Hard Charger Award for passing the most cars in the main event when he cruised from twelfth position on the starting grid to finish in third place.
The next USCS Outlaw Thunder Tour event is at Lancaster Speedway in Lancaster, SC. On Saturday, April 8th. For info and directions to the speedway please visit www.lancastersuperspeedway.com  For updated schedules and other USCS info please visit www.uscsracing.com or call the series at 770-865-6097.
The United Sprint Car Series presented by K&N Filters would like to gratefully thank its sponsoring partners for their involvement in the 2017 and 21st USCS Outlaw Thunder Tour: K&N Filters, www.rockauto.com, Engler Machine and Tool, Butlerbuilt, Wilwood Disc Brakes, Saldana Racing Products, Pyrotect Racing Cells, DMI/Bulldog Rear Ends. PRO Shocks, KSE Racing Products, DHR Suspensions, Schoenfeld Headers, Bell Helmets, DSR Fuel Systems, Brown and Miller Racing Solutions, Arizona Sport Shirts and Hero Graphics.
USCS Outlaw Thunder Tour presented by K&N Filters at Carolina Speedway on Friday, April 7, 2017 results:
Engler Machine and Tool First Heat – (8 Laps)
10-Terry Gray[1] ; 2. 89-Robbie Stillwaggon[8] ; 3. 23-Lance Moss[4] ; 4. 10B-Mitch Brown[2] ; 5. 43-Terry Witherspoon[6] ; 6. 1x-Scott Hunter[5] ; 7. 07T-Brandon Taylor[3] ; 8. 116-Nick Snyder[7]
Brown and Miller Racing Solutions Second Heat – (8 Laps)
07-Johnny Bridges[5] ; 2. 59III-Johnny Petrozelle[1] ; 3. 8-Dan Jones[3] ; 4. 22-Shawn Murray[8] ; 5. 38-Tony Agin[6] ; 6. 1c-Matt Carr[2] ; 7. 67-Brian Thomas[7] ; 8. 33-Joe Larkin[4]
Pro Shocks/DHR Suspension Third Heat – (8 Laps)
44-Trey Starks[7] ; 2. 14m-Jordon  Mallett[1] ; 3. 24d-Danny Sams III[2] ; 4. 4-Danny Smith[4] ; 5. 47-Eric Riggins Jr.[5] ; 6. 67m-Jake McLain[3] ; 7. 21b-Brandon McLain[6]
Dash – (6 Laps)
24d-Danny Sams III[1] ; 2. 116-Nick Snyder[2] ; 3. 22-Shawn Murray[4] ; 4. 10-Terry Gray[3] ; 5. 43-Terry Witherspoon[5] ; 6. 10B-Mitch Brown[6]
USCS Outlaw Thunder Tour presented by K&N Filters at Carolina Speedway on Friday, April 7, 2017
A-Main – (25 Laps) results:
Pos. Car# driver Start Hometown:
89-Robbie Stillwaggon [2] ; Burlington, NJ
07-Johnny Bridges [3] ; Cherryville, NC
4-Danny Smith [12] ; Chillicothe, OH
10-Terry Gray [1] ; Bartlett, Tennessee
59III-Johnny Petrozelle [5] ; Lexington, NC
14m-Jordon Mallett [6] ; Greenbrier, AR
38-Tony Agin [11] ; Ft. Myers, FL
24d-Danny Sams III [10] ; Englewood, FL
47-Eric Riggins Jr. [15] ; Charlotte, NC
22-Shawn Murray [8] ; Jacksonville, FL
1x-Scott Hunter [16] ; Concord, NC
43-Terry Witherspoon [14] ; Jacksonville, FL
116-Nick Snyder [21] ; Marco Island, FL
23-Lance Moss [7] ; Cherryville, NC
67-Brian Thomas [19] ; Pendergrass, GA
07T-Brandon Taylor [20] ; Cumming, GA
10B-Mitch Brown [13] ; Brantford, Ont., CANADA
33-Joe Larkin [22] ; Suwannee, GA
44-Trey Starks [4] ; Puyallup, WA
1c-Matt Carr [18] ; Fayetteville, NC
67m-Jake McLain [17] ; Indian Trail, NC
8-Dan Jones [9] ; Concord, NC
21b-Brandon McLain [23]​; Indian Trail, NC
USCS Sprint Car Series Race Awards:
Hoosier Tire Speed Dash: Danny Sams III
Engler Machine and Tool First Heat: Terry Gray
Brown and Miller Racing Solutions Second Heat: Johnny Bridges
K&N Filters Pole Award: Terry Gray
JE Pistons Top Guns Award: (5th Place) Johnny Petrozelle
PRO Shocks Champion Choice Award: (6th Place)  Jordon Mallett
K&N Filters Podium (3rd place) Award: Danny Smith
Wilwood Disc Brakes Hard Charger Award: A.J. Maddox (started 13th and finished 3rd)
Saldana Racing Products Super Sixth Award: Jordon Mallett
Pyrotect Racing Cells Lucky Seven Award: Tony Agin
DHR Suspension Eighth Place Award: Danny Sams III
DMI/Bulldog Rear Ends Top Ten Award: Shawn Murray