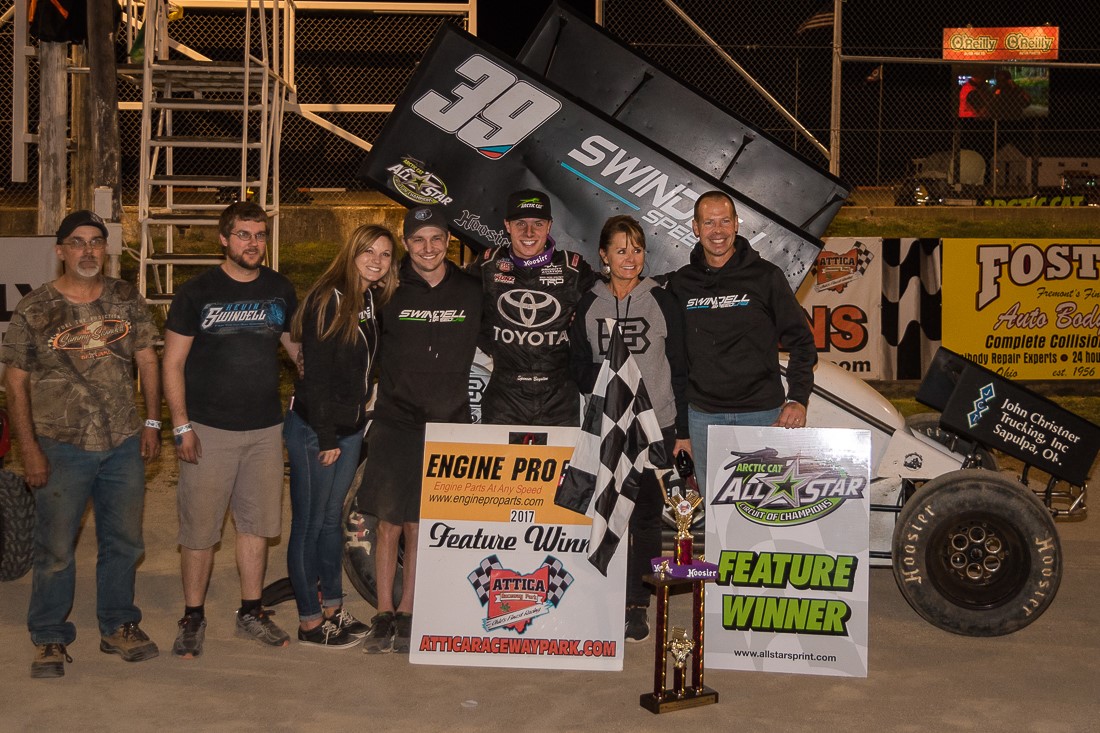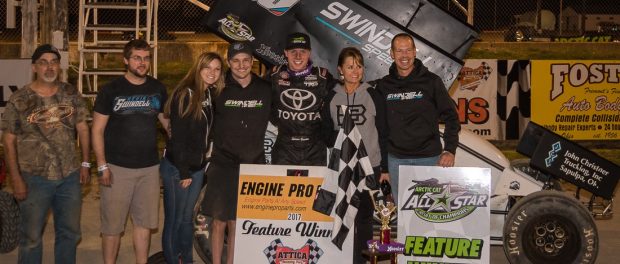 From Inside Line Promotions
ATTICA, Ohio (April 18, 2017) – It was only a few months ago when Kevin Swindell was scrambling to piece together his winged sprint car program.
A partnership with Spencer Bayston at the end of the 2016 season yielded strong results and the team entered this year with lofty expectations. However, not many people predicted the Swindell Speed Lab backed team would reach Victory Lane in only its 11th race.
That dream was achieved last Saturday when Bayston led the final 27 laps during the HD Supply Spring Nationals at Attica Raceway Park to capture the team's first career win at the Arctic Cat All Star Circuit of Champions event.
"It's definitely a big deal," Swindell said. "It validates the effort and the time and spending the money. To go up there and race with those guys, Ohio is not an easy place to win a race, to do it in the fashion we did was big."
The victory was set up by a strong showing last Friday during the opening night of the doubleheader. Bayston qualified third quickest and placed third in a heat race before he maneuvered from eighth to third in the FAST 410 Series main event.
"As soon as we rolled the car out we were fast," he said. "We were really, really fast in qualifying and in the heat race. In the feature I was able to run where other guys weren't running and made it work. After having that much speed I knew we had a shot to run in the top three again on Saturday."
The team kicked off the All Star portion of the event by timing in fourth quickest overall on Saturday. Bayston, who was third quickest in his group, won a heat race after starting on the outside of the front row. That advanced him into the dash, where he picked up a position to finish fourth.
"We made sure we got the car plenty tight for the feature," Swindell said. "We hit it right and it looked easy. I was amazed at how easy it looked. I was shocked myself that we hit it that good.
"We had two yellows early and then we made a few good laps off the second restart and got to third. We ran down (Cole) Duncan and (Carson) Macedo racing. We got Duncan right before that caution came out. When Macedo broke it opened it up for us."
Bayston, who had climbed into second place by Lap 11, inherited the lead on Lap 14 and he never looked back.
"As soon as we took the green I knew we had a good car," he said. "I was able to get to third pretty quick and maneuver through traffic pretty well. I ran second down and was able to pass him. On the restart I was able to slide Carson for the lead. He got back by me. It would have been fun battling with him, but he dropped out with a blown motor. After that I was trying to be smooth and hit my marks.
"With the program we put together last year, they've worked so hard to get this put together. It's definitely a confidence booster for the rest of this season. Hopefully it's a sign of how the rest of the year will go."
The win marked three straight podiums for the team, which set a new track record before running second on April 7 at Jacksonville Speedway in Jacksonville, Ill.
The team will take this weekend off before returning to competition on April 28 at Plymouth Speedway in Plymouth, Ind., and April 29 at Tri-State Speedway in Haubstadt, Ind., with the World of Outlaws Craftsman Sprint Car Series.