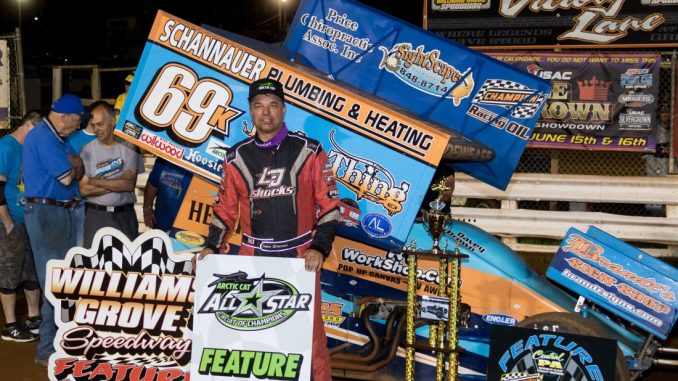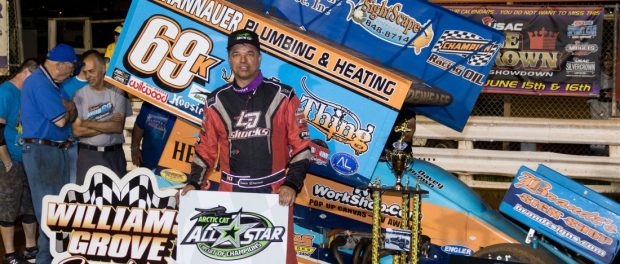 From Tyler Altmeyer
Lance Dewease outduels Freddie Rahmer for Hinnershitz Memorial title at Williams Grove Speedway
MECHANICSBURG, PA (April 28, 2017) – The Arctic Cat All Star Circuit of Champions launched their first Central Pennsylvania swing of the 2017 season in fantastic fashion on Friday night at Williams Grove Speedway, putting on a show for "Pennsylvania Posse" fans in the form of a Lance Dewease and Freddie Rahmer duel for the 2017 Tommy Hinnershitz Memorial worth $5,000.
Despite periods of pressure from Rahmer, as well as a near-disastrous run-in with traffic, Dewease, pilot of the Don Kreitz-owned/Schannauer Plumbing & Heating/RVWorkshop.com/No. 69K, held on to claim the 30-lap program; his sixth Arctic Cat All Star Circuit of Champions victory at Williams Grove Speedway and the 32nd Series win of his storied career. Freddie Rahmer crossed under the final checkers second in the running order, followed by Tim Shaffer, Aaron Ott and Danny Dietrich.
"We are really happy with this," Lance Dewease explained in victory lane. "Davey [Brown] and Don [Kreitz] work really hard every week. They worked all winter to try and get us to qualify a little bit better. This car is a little different than what we had last year, so it has a little bit of a different feel. This is only our third race of the year. We're not where we need to be yet, but we are getting close."
Lance Dewease started fourth on the main event grid, driving to second by the completion of lap one, eventually making his first bid for the top spot on lap five. The Fayetteville, Pennsylvania, native took command officially on lap six, driving by the "Steel City Outlaw" Tim Shaffer with a move on the bottom of the speedway.
Despite Dewease's initial ability to drive away from the rest of the field, Freddie Rahmer, who followed Lance Dewease around Tim Shaffer to take the runner-up position on lap 10, never lost sight of the familiar No. 69K. The pair were only separated by .6 seconds when the first and only caution appeared on lap 17.
Green flag conditions soon resumed with Dewease extending a slight advantage once again, stretching to a near-two second lead even after catching the back of the running order. Using traffic to his advantage, Freddie Rahmer was able to shrink Dewease's command to less than a second, ultimately driving to the back bumper of the No. 69K by lap 28.
With traffic an obvious obstacle for Dewease when entering turn one on the final circuit, Rahmer attempted to drive around the Central Pennsylvania veteran, as well as the lapped car of Anthony Macri. All three nearly made contact, with Dewease barely sneaking beyond Macri on the bottom of the speedway. Dewease's bold move sealed the deal, driving on to score his first Arctic Cat All Star victory of the 2017 season by .814 seconds.
"Freddie [Rahmer] hauled it in there pretty hard like he's supposed to," Dewease explained. "He's not here to run second. Macri slipped up just a little and I was able to jam it in there. Fortunately, I was able to get by. That allowed us to hold off Freddie for the last lap. He's been good all night. He's turning into a pretty good racer."
"This is their race track, for sure," Freddie Rahmer said about Lance Dewease and his team. "I was just trying to go where Lance wasn't. I think if he wouldn't have snuck by Macri, we may have had enough to beat him. We were right there with him, so I'm pretty happy about that."
Tony Stewart's Arctic Cat All Star Circuit of Champions will continue their first Central Pennsylvania swing of 2017 with a trip to the Port Royal Speedway "Speed Palace" on Saturday evening, April 29. Honoring the facility's all-time winningest competitor, the Keith Kauffman Classic will feature a complete Arctic Cat All Star program, going 30 laps in distance and awarding a $5,000 top prize. Dale Blaney is the defending Keith Kauffman Classic winner, holding off eventual Arctic Cat All Star champion Chad Kemenah and Greg Hodnett for the four-figure payday.
The season's first Arctic Cat All Star swing through Central Pennsylvania will come to a close on Sunday evening, April 30, with the Roy Morral Tribute at Bedford Speedway in Bedford.
For those who can not attend Port Royal Speedway, fans are invited to tune-in at www.speedshifttv.com. A live pay-per-view broadcast featuring the entire Keith Kauffman Classic program will be available for purchase.
Port Royal Speedway will open pit gates at 2:00pm on Saturday, April 29. A mandatory drivers meeting will be conducted at 5:30pm, followed by hot laps at 6:10. Those seeking additional news and notes should visit Port Royal Speedway live on the Web at www.portroyalspeedway.com.
4/28/17 Williams Grove Results
410 Sprints – Winged | All Star Circuit of Champions
A Feature 1 (30 Laps): 1. 69K-Lance Dewease[4]; 2. 51R-Freddie Rahmer[2]; 3. 49X-Tim Shaffer[1]; 4. 25-Aaron Ott[3]; 5. 48-Danny Dietrich[5]; 6. 44S-Trey Starks[6]; 7. 21-Brian Montieth[7]; 8. 24-Lucas Wolfe[8]; 9. 11-T.J. Stutts[11]; 10. 14-Tony Stewart[9]; 11. 39-Cory Haas[10]; 12. 94-Ryan Smith[14]; 13. 1Z-Dale Blaney[15]; 14. O7-Doug Esh[17]; 15. 88-Brandon Rahmer[16]; 16. 7C-Caleb Armstrong[12]; 17. 10H-Chad Kemenah[13]; 18. M1-Mark Smith[18]; 19. 87-Alan Krimes[24]; 20. 27-Greg Hodnett[22]; 21. 3Z-Brock Zearfoss[23]; 22. 39M-Anthony Macri[20]; 23. 16-Matt Campbell[27]; 24. 8M-T.J. Michael[25]; 25. 17-Caleb Helms[26]; 26. 38-Steve Buckwalter[21]; 27. 95-Hunter Mackison[19]
B Feature 1 (12 Laps): 1. 38-Steve Buckwalter[2]; 2. 27-Greg Hodnett[1]; 3. 3Z-Brock Zearfoss[3]; 4. 87-Alan Krimes[11]; 5. 17-Caleb Helms[6]; 6. 98-Carl Bowser[4]; 7. 47K-Kody Lehman[10]; 8. 16-Matt Campbell[12]; 9. 8M-T.J. Michael[5]; 10. 35-Tyler Esh[9]; 11. 44W-Rodney Westhafer[15]; 12. 75-Frankie Herr[13]; 13. 1080-Jordan Mackison[7]; 14. 22-Brandon Spithaler[16]; 15. OO-Dane Lorenc[8]; 16. 33M-Max Stambaugh[14]
C Feature 1 (10 Laps): 1. 44W-Rodney Westhafer[2]; 2. 22-Brandon Spithaler[1]; 3. 13-Brandon Matus[6]; 4. 9C-Roger Campbell Jr[5]; 5. C4-Jim Shuster[8]; 6. 51-John Garvin[7]; 7. 12W-Troy Fraker[9]; 8. 33-Brent Matus[10]; 9. 49H-Bradley Howard[3]; 10. 9-Ryan Linder[4]; 11. 1W-Eric Tomecek[11]
Dash 1 (4 Laps): 1. 49X-Tim Shaffer[1]; 2. 25-Aaron Ott[2]; 3. 48-Danny Dietrich[3]; 4. 21-Brian Montieth[4]; 5. 14-Tony Stewart[5]
Dash 2 (4 Laps): 1. 51R-Freddie Rahmer[2]; 2. 69K-Lance Dewease[3]; 3. 44S-Trey Starks[1]; 4. 24-Lucas Wolfe[4]; 5. 39-Cory Haas[5]
Heat 1 (8 Laps): 1. 51R-Freddie Rahmer[3]; 2. 49X-Tim Shaffer[2]; 3. 69K-Lance Dewease[4]; 4. 94-Ryan Smith[1]; 5. O7-Doug Esh[6]; 6. 27-Greg Hodnett[5]; 7. 3Z-Brock Zearfoss[8]; 8. 38-Steve Buckwalter[7]; 9. 8M-T.J. Michael[10]; 10. 98-Carl Bowser[9]; 11. 1080-Jordan Mackison[11]; 12. 33M-Max Stambaugh[12]
Heat 2 (8 Laps): 1. 21-Brian Montieth[1]; 2. 25-Aaron Ott[3]; 3. 11-T.J. Stutts[4]; 4. 88-Brandon Rahmer[5]; 5. 95-Hunter Mackison[7]; 6. 17-Caleb Helms[6]; 7. 13-Brandon Matus[10]; 8. 33-Brent Matus[11]; 9. 1W-Eric Tomecek[2]; 10. 9-Ryan Linder[9]; 11. 22-Brandon Spithaler[8]
Heat 3 (8 Laps): 1. 24-Lucas Wolfe[1]; 2. 48-Danny Dietrich[3]; 3. 7C-Caleb Armstrong[2]; 4. 44S-Trey Starks[4]; 5. M1-Mark Smith[5]; 6. 87-Alan Krimes[7]; 7. 47K-Kody Lehman[6]; 8. 75-Frankie Herr[8]; 9. 12W-Troy Fraker[11]; 10. 49H-Bradley Howard[10]; 11. 44W-Rodney Westhafer[9]
Heat 4 (8 Laps): 1. 14-Tony Stewart[1]; 2. 39-Cory Haas[2]; 3. 10H-Chad Kemenah[3]; 4. 1Z-Dale Blaney[4]; 5. 35-Tyler Esh[7]; 6. 16-Matt Campbell[8]; 7. 51-John Garvin[10]; 8. C4-Jim Shuster[11]; 9. 9C-Roger Campbell Jr[9]; 10. OO-Dane Lorenc[5]; 11. 39M-Anthony Macri[6]
Qualifying 1 (2 Laps): 1. 69K-Lance Dewease, 16.446; 2. 51R-Freddie Rahmer, 16.681; 3. 49X-Tim Shaffer, 16.692; 4. 44S-Trey Starks, 16.757; 5. 94-Ryan Smith, 16.819; 6. 27-Greg Hodnett, 16.859; 7. 11-T.J. Stutts, 16.866; 8. 25-Aaron Ott, 16.887; 9. O7-Doug Esh, 16.896; 10. 48-Danny Dietrich, 16.930; 11. 1Z-Dale Blaney, 16.955; 12. 38-Steve Buckwalter, 16.958; 13. 7C-Caleb Armstrong, 16.967; 14. 10H-Chad Kemenah, 16.971; 15. 1W-Eric Tomecek, 16.984; 16. 24-Lucas Wolfe, 16.993; 17. 39-Cory Haas, 17.029; 18. 3Z-Brock Zearfoss, 17.081; 19. 98-Carl Bowser, 17.083; 20. 21-Brian Montieth, 17.097; 21. 14-Tony Stewart, 17.105; 22. 8M-T.J. Michael, 17.150; 23. 88-Brandon Rahmer, 17.162; 24. 17-Caleb Helms, 17.167; 25. 1080-Jordan Mackison, 17.261; 26. M1-Mark Smith, 17.261; 27. 95-Hunter Mackison, 17.272; 28. OO-Dane Lorenc, 17.282; 29. 35-Tyler Esh, 17.313; 30. 39M-Anthony Macri, 17.313; 31. 47K-Kody Lehman, 17.332; 32. 87-Alan Krimes, 17.359; 33. 16-Matt Campbell, 17.362; 34. 75-Frankie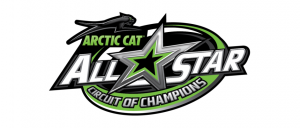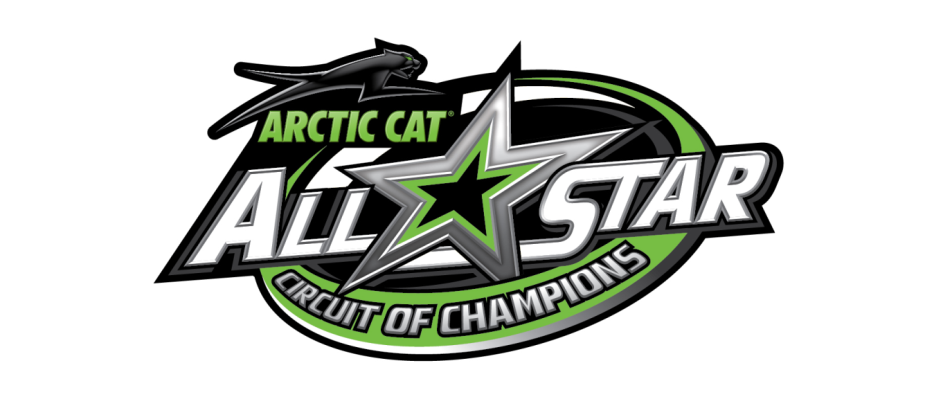 Herr, 17.413; 35. 33M-Max Stambaugh, 17.424; 36. 22-Brandon Spithaler, 17.506; 37. 44W-Rodney Westhafer, 17.521; 38. 49H-Bradley Howard, 17.746; 39. 9-Ryan Linder, 17.859; 40. 9C-Roger Campbell Jr, 17.861; 41. 13-Brandon Matus, 17.956; 42. 51-John Garvin, 18.115; 43. C4-Jim Shuster, 18.117; 44. 12W-Troy Fraker, 18.125; 45. 33-Brent Matus, 18.487