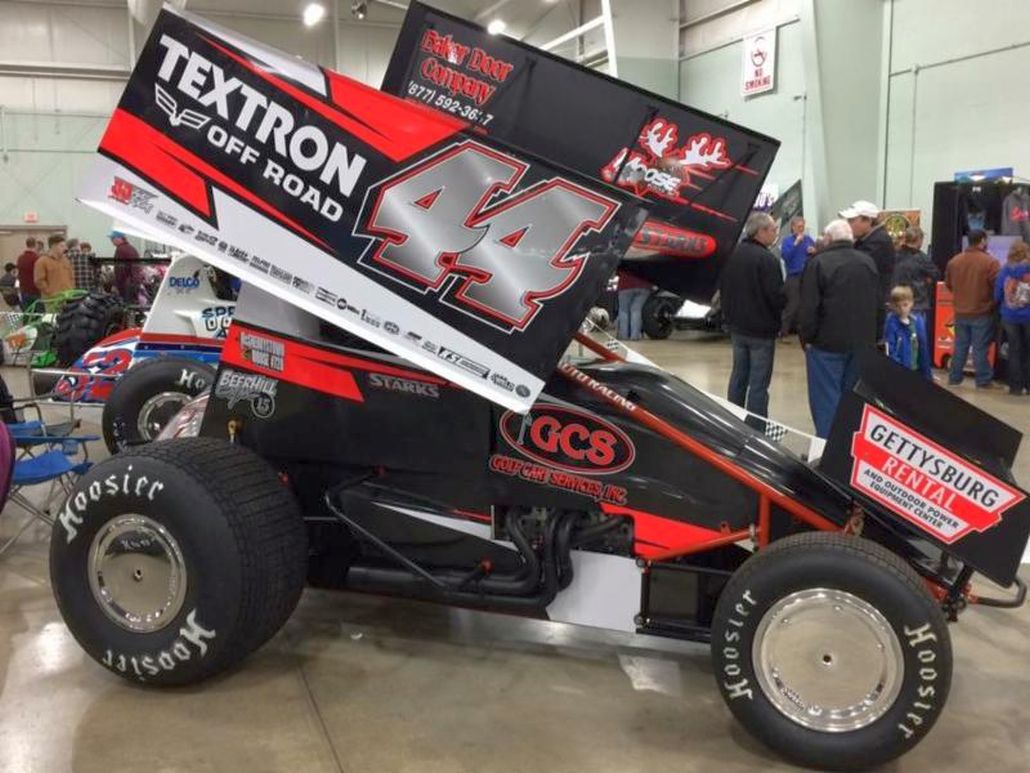 Inside Line Promotions

BEDFORD, Pa. (May 2, 2017) – Trey Starks reached a new level last weekend when he guided Gobrecht Motorsports to an Arctic Cat All Star Circuit of Champions victory.
Not only was it the team's first win together, it was the first trip to Victory Lane with the All Stars and the first in Central Pennsylvania for Starks.
"I think with us being a new team everything was a little rough coming together to start the season," he said. "We had some holes we weren't strong in and this weekend we finally put it all together. It didn't come without struggles, but we persevered."
The weekend began on Friday at Williams Grove Speedway in Mechanicsburg, Pa., with the All Stars.
"It started out a little rough," he said. "We had some issues and didn't get to run hot laps. Qualifying went really, really well for not having any laps. We went quick time in our set and fourth overall. That set us up really well."
Starks then placed fourth in a heat race to lock into the dash, where he ended third to start the main event on the outside of the third row.
"We worked pretty hard at the beginning of the main to get by some cars," he said. "Toward the end of the race everyone fell in line so we took our sixth-place finish and chalked it up as a win as far as how everything had been going this season."
Starks battled for a top five throughout the event before posting a sixth-place result, which was the team's best finish in Central Pennsylvania this season.
The action continued on Saturday at Lincoln Speedway in Abbottstown, Pa., where Starks timed in 22nd quickest during qualifying.
"We had a left rear shock issue in qualifying that didn't give us a very good qualifying lap," he said. "That set our night up. You have to time trial well to put yourself in good position and we didn't."
Starks placed seventh in a heat race, second in the B Main and 18 th in the main event.
The weekend concluded on Sunday at Bedford Speedway with the All Stars. Starks qualified eighth quickest overall and third in his group. He then won a heat race before finishing second in a dash to start the main event third.
"I just tried to take advantage of every opportunity to get by a car," he said. "On the start I was able to cut across the bottom and get into second. The first couple laps I saw Lucas (Wolfe) was going to be quite a bit better than us in clean air. When we got that caution on Lap 3 I knew I'd have to take advantage of that restart and get in front of him. I drove it in pretty hard to see if I could get by him and it worked."
Starks used a slide job in turns one and two on the restart to take over the top spot. Despite a couple of cautions, he maintained the lead for the remainder of the feature.
"I tried to hit those restarts as good as I could and go as fast as I could," he said. "I knew the guys behind me, guys like Dale (Blaney), (Tim) Shaffer and Lucas, are seasoned and good in traffic. I knew I couldn't make any mistakes."
Starks was nearly flawless en route to the monumental triumph.
"Everything went exactly the way it should have," he said. "We were really smooth in everything we did. It all worked how it's supposed to and came together just right. That was a really cool one to get. It was a big, big win for this team."
Starks and Gobrecht Motorsports will compete this Friday at Williams Grove Speedway, Saturday at Lincoln Speedway and Sunday at Susquehanna Speedway in York Haven, Pa.
QUICK RESULTS –
April 28 – Williams Grove Speedway in Mechanicsburg, Pa. – Qualifying: 4; Heat race: 4 (4); Dash: 3 (1); Feature: 6 (6).
April 29 – Lincoln Speedway in Abbottstown, Pa. – Qualifying: 22; Heat race: 7 (8); B Main: 2 (4); Feature: 18 (20).
April 30 – Bedford Speedway in Bedford, Pa. – Qualifying: 8; Heat race: 1 (2); Dash: 2 (2); Feature: 1 (3).
SEASON STATS –
9 races, 1 win, 3 top fives, 4 top 10s, 5 top 15s, 7 top 20s
UP NEXT –
Friday at Williams Grove Speedway in Mechanicsburg, Pa.; Saturday at Lincoln Speedway in Abbottstown, Pa.; and Sunday at Susquehanna Speedway in York Haven, Pa.
MEDIA LINKS –
Website: http://www.TreyStarksRacing.com
Twitter: https://twitter.com/Starks55Trey
Facebook: https://www.facebook.com/TreyStarksRacing?fref=ts
APPAREL –
Starks has t-shirts and hoodies for sale at http://www.TreyStarksRacing.com .
SPONSOR SPOTLIGHT – Fibreworks Composites
Fibreworks Composites has a unique combination of customers ranging from motor sports, OEM, solar and aerospace. A leader in the composite industry with the highest standards of quality and customer support, Fibreworks currently has two lines of business. FWC's core business is the custom design, engineering and manufacturing of composite parts. FWC's secondary line of business is high performance custom seating for the motor sports industry. For more information, visit http://www.FibreworksComposites.com .
"Fibreworks Composites makes custom seats and bodies for our race team," Starks said. "I never realized there was a difference in a seat until I used Fibreworks Composites and I'll never switch."
Gobrecht Motorsports would also like to thank Champion Brands, Starks Timber Processing, Golf Cart Services, ServiceMaster Clean, J&J Auto Racing, Textron Off Road, FK Rod Ends, Gettysburg Rental Center, Gardy's Enterprises, Kleffel's, Moose Blocks, Beer Hill Gang, Baker Door Company, Moose Lodge 720, Pancho's Racing Products, Pro Shocks, Auto Meter, KSE Racing Products, Fel-Pro, Taylor Ignition Wires, Miller Welders, K&N Filters, Mettec, Bell Helmets, AL Driveline, DMI, Champion Spark Plugs, ISC Racers Tape, Schroth Racing, HMS Motorsports, King Racing Products, Kinsler Fuel Injection, All Pro Aluminum Cylinder Heads, Ultra Lite Brakes & Components and Security Race Products for their continued support.
INSIDE LINE PROMOTIONS –
Inside Line Promotions specializes in affordable public relations and media management for motor sports drivers, teams, sponsors, tracks, series, events, organizations and manufacturers. ILP Founder Shawn Miller leverages professional journalism with new media technologies and social networking to improve your exposure and the return on investment for your sponsors.
To meet the media relations needs of your program by joining Team ILP, contact Shawn at 541-510-3663 or Shawn@InsideLinePromotions.com . For more information on Inside Line Promotions, visit http://www.InsideLinePromotions.com.
*PHOTO BY VINCE VELLELLA PHOTOS*