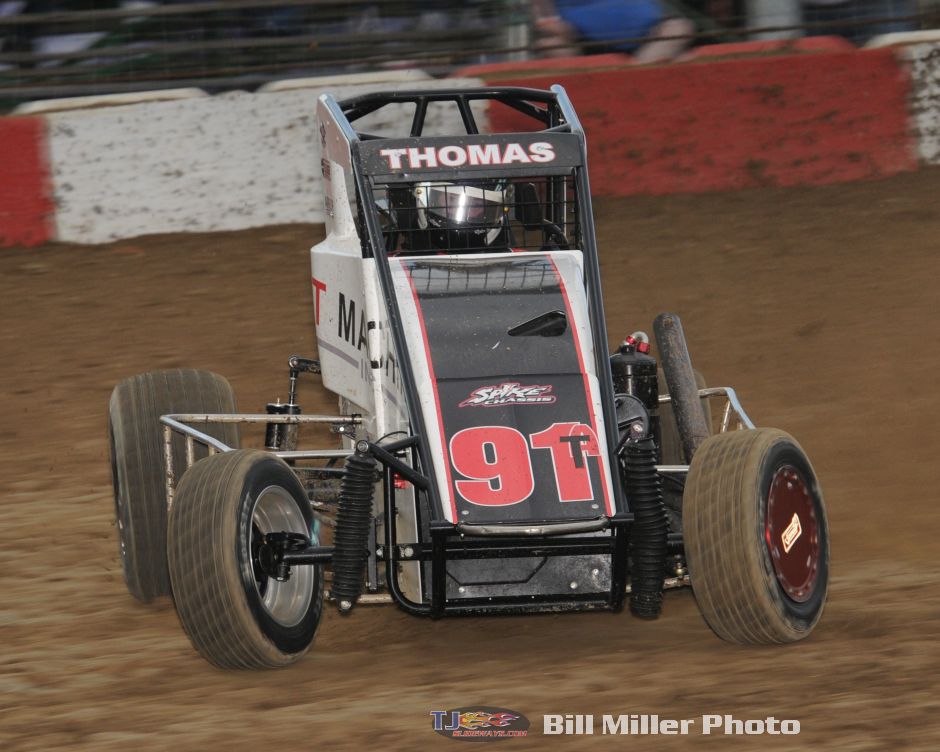 From POWRi
MACON, Ill. (May 13, 2017) – Picking up right where he left off from the previous night, Tyler Thomas once again stole the show, earning his third POWRi Lucas Oil National Midget League victory of 2017. Starting fifth on a hammer-down Macon Speedway, Thomas didn't take the lead until ten to go in the caution-plagued 30-lap feature event.
Immediately on the start, pole sitter Zach Daum jumped into command, repelling repeated challenges from Rookie of the Year candidate, Logan Seavey. The duo battled for position, with Daum holding point for the first two laps, before relinquishing the lead for the following two laps to Seavey and then taking it back. One of the many cautions that filled the show, seven laps in, Tanner Thorson looped it battling for second, setting up the drive of the night as the Minden, Nevada driver was able to claw his way back to a third place finish when the dust settled.
Thomas navigated his way to second by lap eight, but every time he closed in to make a move, the action slowed for cautions. Closing in on the final ten laps, Thomas patiently waited for the right moment, sliding Daum for the lead and never looking back. Jake Neuman and Logan Seavey rounded out the top five.
"I've got to thank my dad, my mom, Duane Moore, Bobby Barth, Adam Barth," said Tyler Thomas. "Without all these people, I wouldn't be where I am today. Thanks to all of them. This Spike Chassis was on a rail. We've got a really fast Esslinger. And of course, this Advanced Racing Suspension. I was a little worried about the track before the race that they overworked it. It was still pretty fast, but Tanner came back to third so obviously it was racy."
"Second place sure isn't where we want to be," commented Zach Daum. "But this is what it takes to win championships and we want that and that's what Toyota wants, too. Last night we had a rough night; I made a mistake and it cost us a good run. We'll keep putting together these seconds and thirds and hopefully get us a win soon."
"Hat's off to my guys, they gave me an awesome car," stated Tanner Thorson. "I made a mistake there and it probably cost us the win, but I sure hope that was fun for the fans to watch."
Speedway Motors Heat Race Winners: Heat 1: 3n – Jake Neuman, Heat 2: 37 – Andrew Felker, Heat 3: 5d – Zach Daum, Heat 4: 67 – Tanner Thorson
Great Clips Feature Winner: 91t – Tyler Thomas
Toyota Semi Feature Winner: 22 – Andy Malpocker
Powri Lucas Oil National Midget League Feature Results (30 Laps): 1. 91t – Tyler Thomas 2. 5d – Zach Daum 3. 67 – Tanner Thorson 4. 3n – Jake Neuman 5. 4a – Logan Seavey 6. 71k – Tanner Carrick 7. 5c – Colten Cottle 8. 71 – Ryan Robinson 9. 28 – Kory Schudy 10. 87c – Dalton Camfield 11. 1k – Brayton Lynch 12. 9k – Kyle Schuett 13. 7x – Gage Walker 14. 91- Tyler Nelson 15. 67k – Holly Shelton 16. 6a – Aidan Roosevans 17. 22 – Andy Malpocker 18. 27 – Tucker Klaasmeyer 19. 37 – Andrew Felker 20. 39 – Zeb Wise 21. 37x – Terry Babb 22. 50 – Daniel Adler
Midgets