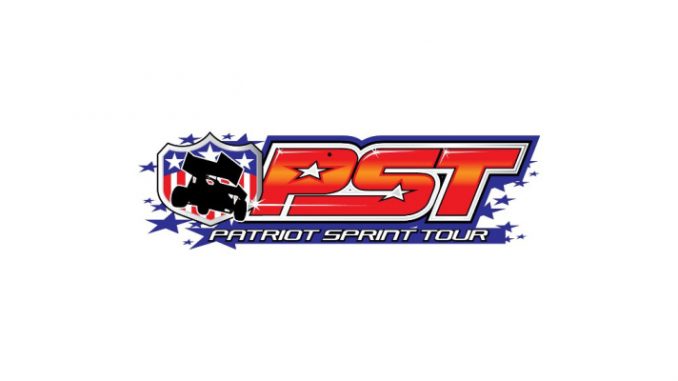 By Paul T. Harkenrider
(Fonda, NY) Momentum continues for Bradford, PA driver, Jared Zimbardi, as the four time PST-Series Champion scored his first career win at the Fonda Speedway and his 35th career with the series.
Zimbardi luckily drew the pole for the second straight week and would start alongside CRSA Sprint Tour competitor, Josh Pieniazek. In the opening laps, it would be Pieniazek taking the early lead owning almost a one-second advantage over Zimbardi and third place runner, Steve Poirier.
Lap traffic was already met by lap four on the tricky half-mile, where Josh Azzi and Denny Peebles would make contact right in front of race leader leaving Pieniazek no place to go joining Peebles and Azzi at the turn three wall.
The lead was then handed over to Zimbardi who led Poirier, Jessica Friesen, Bobby Varin, and Mike Kiser. Zimbardi would hug the bottom line not allowing Poirier to get by. Lap Traffic was met again on lap 11 where Zimbardi would methodically get by several cars and keep Poirier behind him.
Meanwhile, the battle for third was on with Jessica Friesen, Bobby Varin and Cory Sparks. Varin would develop a low line putting the slide job on Friesen to take third on lap 14. Laps later would find Sparks on the high side as he as well would get by the No. 1z of Friesen.
All at the same time, Danny Varin was charging to the front from his 11th starting spot as he would get by both Friesen and Sparks near the closing laps. He would then battle his father Bobby for third in the second half of the race.
Poirier would get one last chance at Zimbardi on lap 23 as the track opened up with no lap cars in sight but could not pull it off and Zimbardi would take his third win of the year and his first career win at Fonda. Poirier would have to settle for second and Danny Varin would get by his dad in the final laps to complete the podium.
Heat wins were scored by Poirier, Josh Pieniazek, and Bobby Varin. Billy VanInwegin picked up the Evingham Site Excavation Dash brought to you by Dover Brake Supply. Jordan Thomas would end up winning the B-Main.
The Patriots are visiting Ransomville Speedway this Friday, June 2 for the first of two appearances there this season. The following night, we will head to Central New York and visit Fulton Speedway for the only time in 2017.
Fans are encouraged to visit www.patriotsprinttour.com for up to date information. You can also follow @PatriotSprints on Instagram and Twitter and by liking 'Patriot Sprint Tour' on facebook.
A-Verdi Storage Containers Patriot Sprint Tour Quick Results
A Main: 1) 35- Jared Zimbardi (3) 2) 28fm- Steve Poirier 3) 00- Danny Varin 4) 1HD- Cory Sparks 5) 00v- Bobby Varin 6) 1z- Jessica Friesen 7) 20fm- Jordan Poirier 8) 98-Joe Trenca 9) 99-Mike Kiser 10) 56- Billy VanInwegin 11) 47- Kyle Drum 12) 79-Jordan Thomas 13) 29- Dalton Herrick 14) 9-Josh Pieniazek 15) 30 Scott Goodrich 16) 67- Steve Collins 17) 48jr- Darryl Ruggles 18) 2a- Dave Axton 19) 81- Derek Jonathan 20) 5x- Bob Grey 21) 3- Denny Peebles 22) 17z- Josh Azzi 23) 2- Steve Hutchinson Jr 24) 54j- Dave Just
Lap Leaders: Josh Pieniazek 1-4, Jared Zimbardi 5-25
Shuttleworth Asphalt Sealing 11th Place Bonus: 47- Kyle Drum
Prestige Pool & Spa Final Finisher: 17 Josh Azzi
Casey's Truck Salvage 'Salvage of the Night:' 79- Jordan Thomas
Heat 1: 1) 28fm- Steve Poirier 2) 99- Mike Kiser 3) 56- Billy VanInwegin 4) 00- Danny Varin 5) 1z- Jessica Friesen 6) 3- Denny Peebles 7) 41j- Josh Flint 8) 67- Steve Collins (DNF) 9) 3a- Jeff Trombley
Heat 2: 1) 9- Josh Pieniazek 2) 47- Kyle Drum 3) 35- Jared Zimbardi 4) 20fm- Jordan Poirier 5) 98- Joe Trenca 6) 81- Derek Jonathan 7) 17z- Josh Azzi 8) 5x- Bob Grey 9) 514- Warren Alexson
Heat 3: 1) 00- Bobby Varin 2) 54J- Dave Just 3) 1HD- Cory Sparks 4) 2- Steve Hutchinson Jr 5) 30- Scott Goodrich 6) 29- Dalton Herrick 7) 2A-Dave Axton 8) 67r- Pete Richardson 9) 48jr- Darryl Ruggles
Evingham Site Excavation Dash 4 Cash presented by Dover Brake Supply
1)56- Billy VanInwegin 2) 98- Joe Trenca 3) 00- Danny Varin 4) 54j- Dave Just 5) 47- Kyle Drum 6) 2- Steve Hutchinson Jr
B Main: 1) 79- Jordan Thomas 2) 2a- Dave Axton 3) 17z- Josh Azzi 4) 5x- Bob Grey 5) 67- Steve Collins 6) 67r- Pete Richardson 7) 48jr- Darryl Ruggles 8) 514- Warren Alexson 9) 41j- Josh Flint 10) 3a- Jeff Trombley