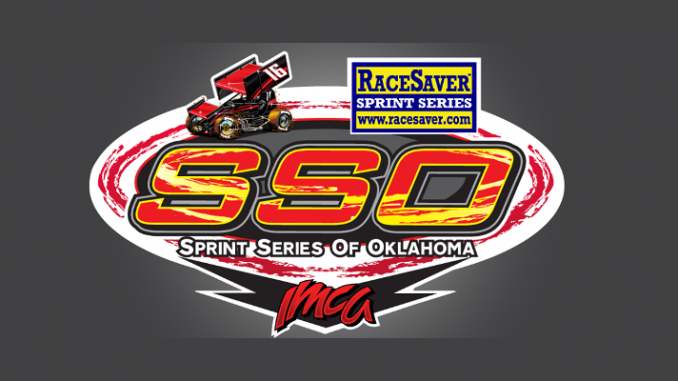 By David Smith Jr.
Ardmore, Oklahoma – June 23, 2017 –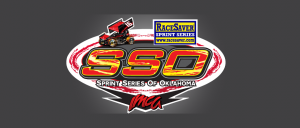 Michael Day took the lead at the start and never looked back in claiming the Sprint Series of Oklahoma IMCA RaceSaver Sprint Car Series presented by Smiley's Racing Products sprint car feature Friday night at Southern Oklahoma Speedway in Ardmore, Oklahoma.
Day, aboard his Allard powered ART racing chassis, Rafter P Construction/DGS Motorsports sponsored sprinter started on the pole for the twenty-lap feature and led wire-to-wire to claim his first career SSO victory. "I want to thank my crew as they had the car working perfectly," according to Day.
Third starting Michelle Melton, who picked up her one and only series victory here in Ardmore last year, held off repeated challenges from defending tour champion Andy Shouse to finish second. Current series point leader Jake Martens and Tristian Oakes rounded out the top five.
The four heat races for the twenty-seven car field were won by Joe Wood, Jr., Cody Whitworth, Melton and Steven Shebester while Sterling Hoff won the "B" feature.
This event was the first of a double-header weekend for the SSO as the tour will now load up and head to Oklahoma Sports Park in Ada for their first appearance of the season on Saturday night.
Sprint Series of Oklahoma
Southern Oklahoma Speedway/Ardmore, Oklahoma
June 23, 2017
27 Cars
1st Heat: 1) Joe Wood, Jr., 2) Tristian Oakes, 3) Jake Martens, 4) Warren Fields, 5) Tanner Conn, 6) Chase Smith, 7) Chris Kelly
2nd Heat: 1) Cody Whitworth, 2) Gary Owens, 3) Michael Scott, 4) Josh Toho, 5) Dillon Laden, 6) Justin Mowery, 7) Nathan Moore
3rd Heat: 1) Michelle Melton, 2) Chad Koch, 3) Justin Melton, 4) Michael Day, 5) Donnie Wilson, 6) Blake Dacus, DNS) Blake Scott
4th Heat: 1) Steven Shebester, 2) Loyd Clevenger, 3) Andy Shouse, 4) Chase Parsons, 5) Sterling Hoff, 6) Justin Fisk, 7) Jerry Jumper
B Feature: 1) Sterling Hoff, 2) Blake Dacus, 3) Chris Kelley, 4) Dillon Laden, 5) Justin Mowry, 6) Steven Shebester, 7) Nathan Moore, 8) Donnie Wilson, 9) Jerry Jumper, 10) Justin Fisk, 11) Chase Smith, 12) Blake Scott.
A Feature: 1) Michael Day, 2) Michelle Melton, 3) Andy Shouse, 4) Jake Martens, 5) Gary Owens, 6) Tristan Oakes, 7) Joe Wood, Jr., 8) Sterling Hoff, 9) Blake Dacus, 10) Cody Whitworth, 11) Loyd Clevenger, 12) Michael Scott, 13) Justin Melton, 14) Chad Koch, 15) Tanner Conn, 16) Dillon Laden, 17) Chris Kelly, 18) Josh Toho, 19) Warren Fields, 20) Chase Parsons