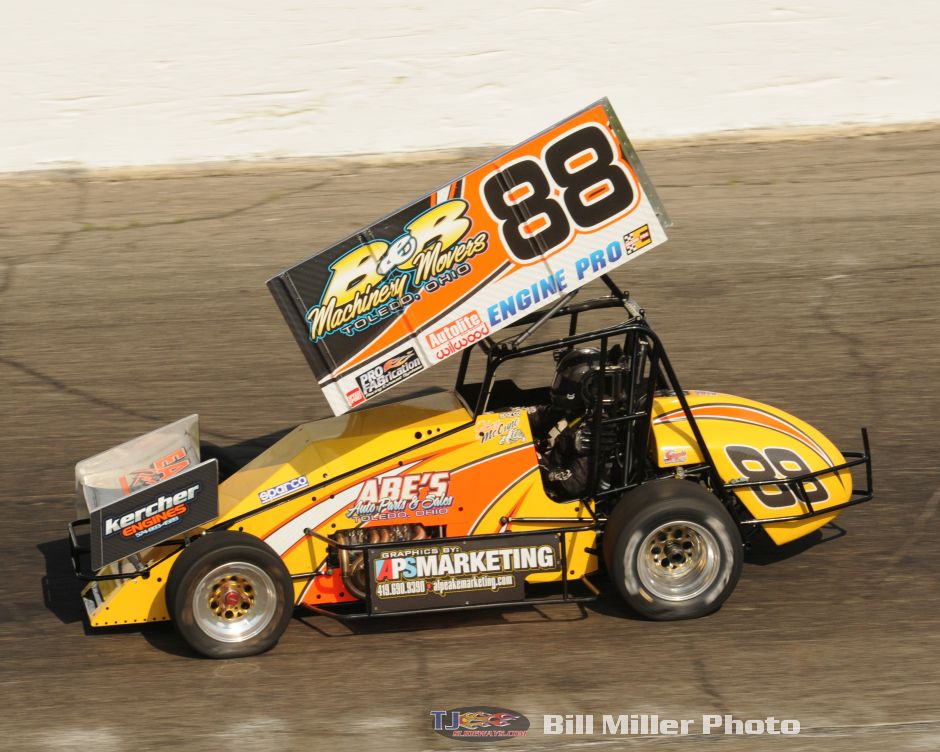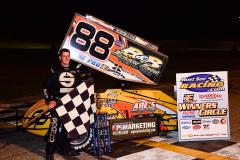 By Jacob Seelman
OVID, Mich. – Jimmy McCune added another memory to his list of accomplishments at Owosso Speedway on Saturday night, scoring the victory in the Must See Racing Sprint Car Series Firecracker 50 for the second-straight year.
Taking the lead from nephew Anthony on lap six, McCune stormed off into the distance and dominated the rest of the way, ultimately collecting his 19th-career series victory and third in four races this season.
Celebrating once again at the track where he collected his first-ever professional open wheel victory, McCune credited his team and a fast race car for his performance on the holiday weekend.
"This car was amazing tonight," McCune said in victory lane. "It didn't seem to matter where we were on the race track … it drove good through the air, it drove good in traffic and it drove good all by itself. It's just a pleasure that I get to drive this thing."
"It's a blast to drive here; I've always liked coming up to Owosso. It's a great track, it's a great facility, there's lots of room … the fans are great and it means a lot to come back here and have the success we've had the last few years."
Tom Jewell started from the pole position after a seven-car invert and led the opening two laps, holding off Anthony McCune in a side-by-side duel before the 19-year-old charged ahead in Turn 1 and took control of the race on the third round.
But while the front row dueled side-by-side, it allowed sixth-starting Jimmy McCune to move through traffic and close in quickly on the lead. Dispatching Jewell for second on lap four, Jimmy McCune latched on to his nephew's back Nerf bar and laid in wait for Anthony to slip.
That happened in Turn 1 on the sixth circuit, when Anthony McCune drifted just wide enough to allow Jimmy McCune past on the inside lane, but a caution one lap later for an incident on the backstretch involving Derek Snyder and Jeff Bloom gave the younger McCune a second chance at his uncle.
Jimmy McCune nailed the restart, however, driving off to as much as a five-second lead while Anthony McCune valiantly held off a hard-charging Brian Gerster through the race's middle stages.
But what appeared to be a sure-fire McCune family one-two was foiled by a caution with seven laps to go, when Teddy Alberts looped his car in Turn 4 and kicked up a cloud of dirt, setting up a chaotic final restart.
Anthony McCune's car sputtered on fuel when the race went green, allowing Gerster past as Jimmy McCune cruised home over the final laps.
In the end, it was Gerster trailing the two-time and defending champion home by 4.699 seconds, happy with the result but still looking for more out of a car that was completely rebuilt before the start of the season.
"We destroyed this race car here last year, and Dick Myers and Rick Ferguson have done a great job getting it back to a starting point, but we're still working some things out on it," Gerster admitted. "It's a bit different than it used to be. We weren't bad, but we just weren't in the same class as the 88 (Jimmy McCune. I got hung up in dirty air off the start and then we just fought forward the rest of the way."
"The McCune family … that Toledo mafia whipped us tonight and we've just got to get better before the next time out."
Anthony McCune completed the podium, notching his career-best Must See Racing finish and third-consecutive third-place finish dating back to June 24, including a pair of non-winged sprint car events.
"The car started to run out on that last restart, and when it got to sputtering I just couldn't get it off the corners," the younger McCune lamented. "I wanted that one-two … but the last couple races have been really good for us and it's really built up my confidence. I'm trying to follow in Jimmy's footsteps and we did that for quite a while tonight."
Ike Beasley finished fourth, one lap down, followed by home state driver Derek Snyder.
In preliminary action, Gerster scored his 23rd-career Abe's Auto Parts & Sales Fast Qualifying Award with a lap of 13.276 seconds (101.687 mph) around the three-eighths-mile, progressively-banked oval.
Tom Jewell and Jimmy McCune won their respective 10-lap heat races.
The Must See Racing Sprint Car Series returns to action on July 15 with its inaugural appearance at Ohio's Midvale Speedway.
Must See Racing
Owosso Speedway
Ovid, MI
Saturday July 1, 2017
Feature:
1. 88 – Jimmy McCune
2. 50m – Brian Gerster
3. 8 – Anthony McCune
4. 97 – Ike Beasley
5. 22 – Derek Snyder
6. 44a – Teddy Alberts
7. 72s – Joe Speakman
8. 13 – H. D. Carter
9. 35 – Chris Randolph
10. 00 – Joey Irwin
11. 7 – Tom Jewell
12. 26 – Jeff Bloom