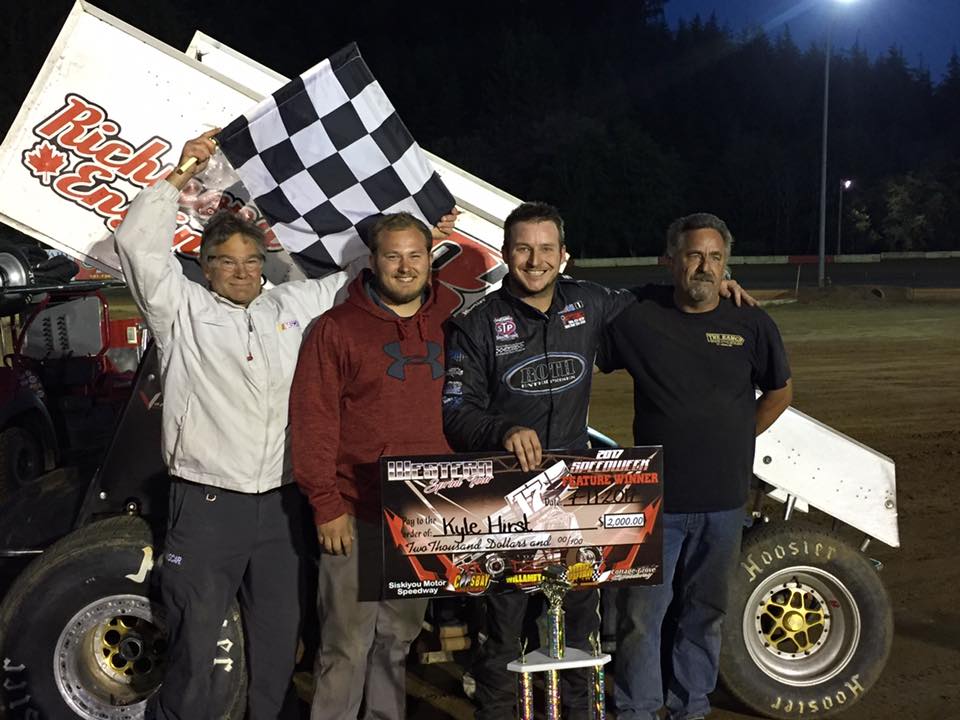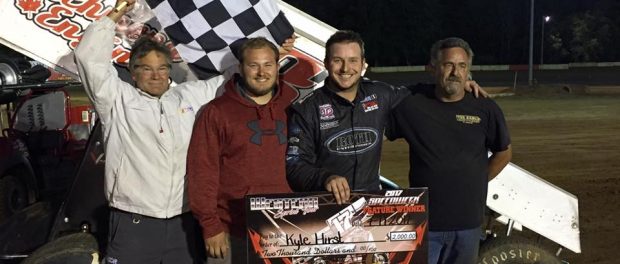 From Ben Deatherage
COOS BAY, Or. (July 11, 2017) — Speedweek Northwest would head to the Oregon Coast on Tuesday, July 11th, for the second race of the schedule. Coos Bay Speedway would be the site of action for their annual midweek stop which has hosted events since 2011. Sixteen cars were in attendance from the American states of Oregon and California as well as the Canadian province of British Columbia, New Zealand region of Canterbury, and the Australian states of Victoria and Western Australia.
When the green flag would drop and the first lap completed Kyle Hirst would be the one showing the way. The Paradise, California driver would have no issues in front of the field and dominated every single lap of the feature. He would earn the triumph for Langley, British Columbia car owners Doug and Kathy Rutz and it is the fifth occasion of his career that he has won a Speedweek Northwest main. Hirst is also the seventh different victor in as many races to win during Speedweek at CBS.
Steven Tiner, of Visalia, California, was the runner-up over Hanford, California's Mitchell Faccinto, in third, driving for Stan Greenberg. The balance of the top five would consist of fourth finishing Tyler Seavey, of Sutter, California and driving for Rudy Warrington, and Central Point youngster Jake Wheeler, in fifth.
Kyle Hirst was quickest in time trials earlier in the evening. Heat race winners were New Zealand's Jamie Duff, from Christchurch, Canterbury and piloting the Darryl Claydon owned mount, and Jake Wheeler. Hirst was victorious would achieve success in the trophy dash winning it and earning the front row starting position.
Speedweek Northwest heads to Willamette Speedway on Wednesday, July 12th, for the third race of the series. Be sure and visit sprints.nwextremeseries.com for the latest stories regarding the tour. Also check out Speed Shift TV where you can watch every single lap of the action.
Race Results:
Speedweek Northwest Race #2
Tuesday, July 11th, 2017
Coos Bay Speedway
Coos Bay, Oregon
A Feature: 1. 8R-Kyle Hirst, ; 2. 94-Steven Tiner, ; 3. 37-Mitchell Faccinto, ; 4. 18-Tyler Seavey, ; 5. 21W-Jake Wheeler, ; 6. 87-Kyler Barraza, ; 7. 4D-Cooper Desbiens, ; 8. 74-Michael Cunningham, ; 9. 5V-Michael Keen, ; 10. 31C-Justyn Cox, ; 11. 33-Lucas Ashe, ; 12. 5-Brian Boswell, ; 13. 16AUS-Daniel Keen, ; 14. 7N-Zack Lynskey, ; 15. 69NZ-Jamie Duff, ; (DNS) 12J-John Clark,
Dash: 1. 8R-Kyle Hirst, ; 2. 7N-Zack Lynskey, ; 3. 33-Lucas Ashe, ; 4. 94-Steven Tiner, ; 5. 37-Mitchell Faccinto, ; 6. 69NZ-Jamie Duff,
Heat 1: 1. 69NZ-Jamie Duff, ; 2. 7N-Zack Lynskey, ; 3. 87-Kyler Barraza, ; 4. 8R-Kyle Hirst, ; 5. 18-Tyler Seavey, ; 6. 5V-Michael Keen, ; 7. 31C-Justyn Cox, ; 8. 12J-John Clark,
Heat 2: 1. 21W-Jake Wheeler, ; 2. 33-Lucas Ashe, ; 3. 37-Mitchell Faccinto, ; 4. 94-Steven Tiner, ; 5. 5-Brian Boswell, ; 6. 74-Michael Cunningham, ; 7. 4D-Cooper Desbiens, ; 8. 16AUS-Daniel Keen,
Qualifying: 1. 8R-Kyle Hirst, ; 2. 94-Steven Tiner, ; 3. 5V-Michael Keen, ; 4. 37-Mitchell Faccinto, ; 5. 18-Tyler Seavey, ; 6. 33-Lucas Ashe, ; 7. 7N-Zack Lynskey, ; 8. 16AUS-Daniel Keen, ; 9. 87-Kyler Barraza, ; 10. 5-Brian Boswell, ; 11. 69NZ-Jamie Duff, ; 12. 21W-Jake Wheeler, ; 13. 31C-Justyn Cox, ; 14. 4D-Cooper Desbiens, ; 15. 12J-John Clark, ; 16. 74-Michael Cunningham
Current Speedweek Northwest Point Standings (Top Ten)
1. 8R-Kyle Hirst 179; 2. 37-Mitchell Faccinto 176; 3. 94-Steven Tiner 170; 4. 31C-Justyn Cox 159; 5. 18-Tyler Seavey 153; 6. 7N-Zack Lynskey 147; 7. 33-Lucas Ashe 144; 8. 5V-Michael Keen 140; T 21W-Jake Wheeler 140; 10. 74-Michael Cunningham 131; T 16AUS-Daniel Keen 131