By T.J. Buffenbarger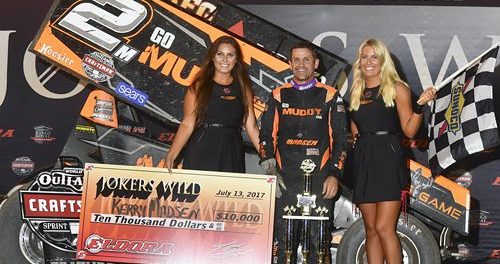 Friday night when Kerry Madsen was in victory lane following his victory during the Jokers Wild event at Eldora Speedway he was visibly in pain. Clutching his right-hand Madsen mentioned in the victory lane photo that it "hurt like a mofo". Madsen stuck victory lane out with all interview and all photo obligations before heading to the infield care center.
— tina madsen Ⓐ (@madwomans29) July 14, 2017
The question of what was going on with Madsen's hand was quickly answered to our Twitter account via social media by Kerry's wife Tina.
Later Tina tweeted this compliment to Eldora Speedway about their facilities.
From victory lane to infield care center. Top notch facilities=stitches on site. #eldora #JokersWild 🏁🏆 pic.twitter.com/VRVqkzXEa6

— tina madsen Ⓐ (@madwomans29) July 14, 2017
Tina revealed later that something had struck Madsen in the hand with five laps to go. At that point in the race Madsen was still on the cushion bouncing around through slower traffic with this injury. Another layer to an already impressive performance.