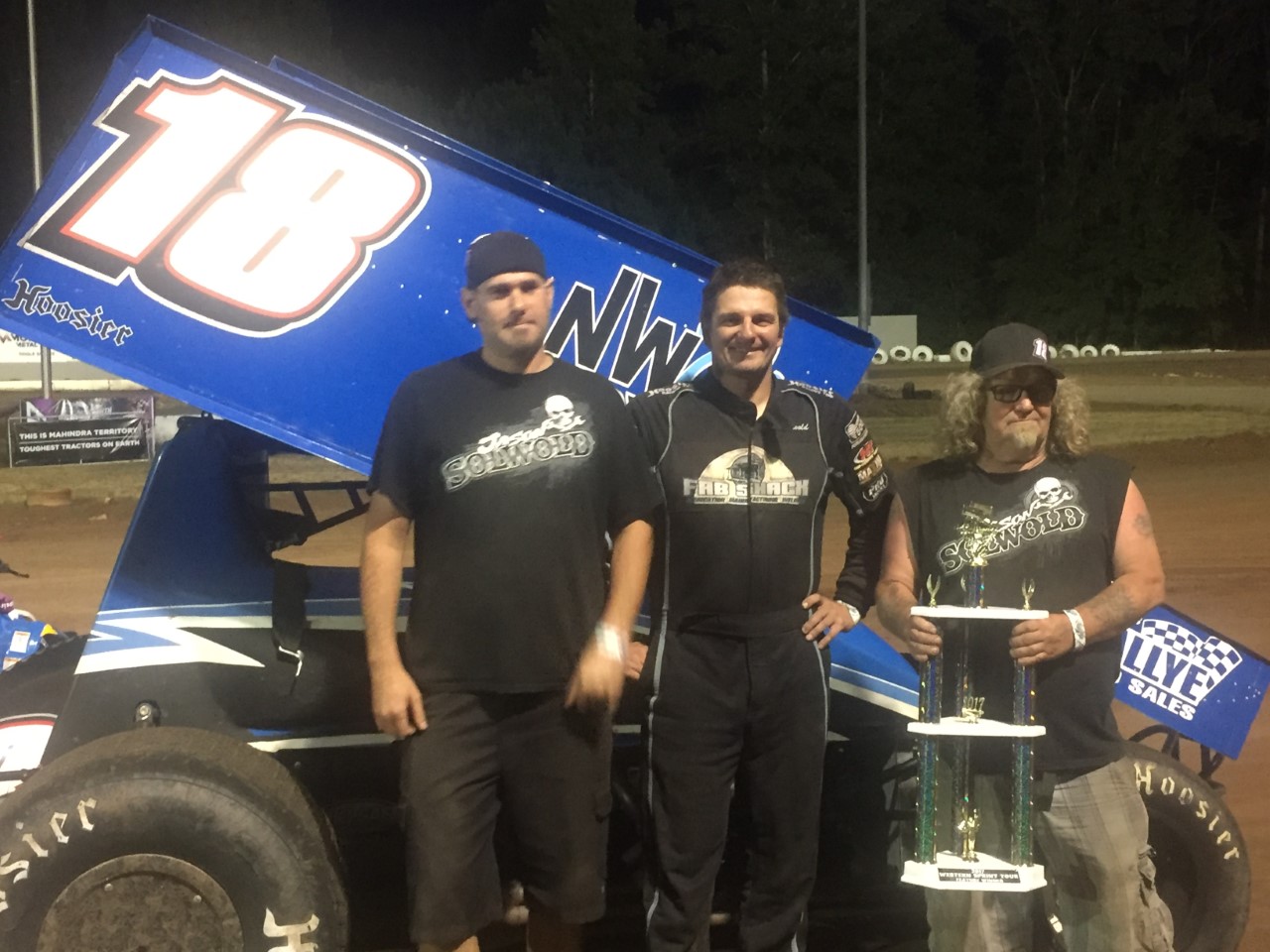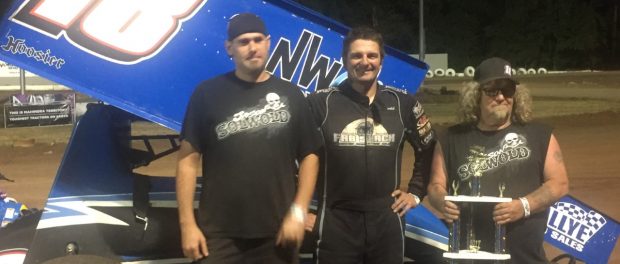 From Ben Deatherage
COTTAGE GROVE, Or. (July 14, 2017) — Cottage Grove Speedway would be the next location of the 2017 Speedweek Northwest series on Friday, July 14th. The historic ¼-mile clay oval would host the fifth race of the series and the first of two consecutive nights to close out the week. Twenty-two cars were on hand representing the American states of Oregon, Washington, and California as well as the Canadian province of British Columbia, the Canterbury region of New Zealand, and the Australian state of Western Australia.
Burlington, Washington's Jason Solwold would get to the front of the field once racing commenced. The Mike Anderson and Monica Baca owned entry, piloted by Solwold, would set a torrid pace and just as lapped traffic came into the picture a caution flag would come out. The fifth and final stoppage would occur on lap seventeen and the rest of the race would go green after that.
Solwold would maintain the race lead for the remainder of the race and never quite was fully challenged. When the checkered flag dropped it would be Jason finishing in front of the rest of the field. It marked the first Speedweek Northwest race he has won since June 9th, 1998, when it was known at that time as Riverside Speedway, the very first year Speedweek Northwest took place.
Roger Crockett, of Medford and in the Roger Henderson machine, was second followed by Steven Tiner, from Visalia, California, in third. The rest of the top five would be made up of Clarksburg, California's Justyn Cox getting fourth and fifth finishing Cam Smith out of Mill Creek, Washington.
Jason Solwold was fast time of the night in qualifications. Heat race winners were Michael Keen, from Bunbury, Western Australia and racing for Jim and Anette Van Lare, Grants Pass pilot Jared Ridge, and the Doug and Kathy Rutz entry chauffeured by Austen Wheatley, of Lake Stevens, Washington. Solwold would win the evening's trophy dash to earn him in the inside pole starting position.
Speedweek Northwest concludes on Saturday, July 15th for the sixth and final leg. Be sure and visit sprints.nwextremeseries.com for the latest stories regarding the tour. Also, check out Speed Shift TV where you can watch every single lap of the action.
Race Results:
Speedweek Northwest Race #5
Friday, July 14th, 2017
Cottage Grove Speedway
Cottage Grove, Oregon
A Feature: 1. 18J-Jason Solwold, ; 2. 7N-Roger Crockett, ; 3. 94-Steven Tiner, ; 4. 31C-Justyn Cox, ; 5. 17-Cameron (Cam) Smith, ; 6. 6A-Kyle Miller, ; 7. 12-Jared Ridge, ; 8. 33-Lucas Ashe, ; 9. 5N-Seth Nunes, ; 10. 16AUS-Daniel Keen, ; 11. 18T-Tyler Seavey, ; 12. Z7N-Zack Lynskey, ; 13. 7-Tyler Thompson, ; 14. 5V-Michael Keen, ; 15. 21W-Jake Wheeler, ; 16. 4D-Cooper Desbiens, ; 17. 12J-John Clark, ; 18. 69NZ-Jamie Duff, ; 19. 37-Mitchell Faccinto, ; 20. 33T-Nate Morelock, ; 21. 8R-Austen Wheatley, ; 22. 5B-Brian Boswell,
Dash: 1. 18J-Jason Solwold, ; 2. 8R-Austen Wheatley, ; 3. 94-Steven Tiner, ; 4. 17-Cameron (Cam) Smith, ; 5. 37-Mitchell Faccinto, ; 6. 5V-Michael Keen,
Heat 1: 1. 5V-Michael Keen, ; 2. 16AUS-Daniel Keen, ; 3. 6A-Kyle Miller, ; 4. 18J-Jason Solwold, ; 5. 31C-Justyn Cox, ; 6. Z7N-Zack Lynskey, ; 7. 5N-Seth Nunes, ; 8. 4D-Cooper Desbiens,
Heat 2: 1. 8R-Austen Wheatley, ; 2. 17-Cameron (Cam) Smith, ; 3. 5B-Brian Boswell, ; 4. 37-Mitchell Faccinto, ; 5. 7N-Roger Crockett, ; 6. 69NZ-Jamie Duff, ; 7. 12J-John Clark,
Heat 3: 1. 12-Jared Ridge, ; 2. 21W-Jake Wheeler, ; 3. 94-Steven Tiner, ; 4. 7-Tyler Thompson, ; 5. 33-Lucas Ashe, ; 6. 18T-Tyler Seavey, ; 7. 33T-Nate Morelock,
Qualifying: 1. 18J-Jason Solwold, ; 2. 37-Mitchell Faccinto, ; 3. 33-Lucas Ashe, ; 4. 31C-Justyn Cox, ; 5. 7N-Roger Crockett, ; 6. 94-Steven Tiner, ; 7. Z7N-Zack Lynskey, ; 8. 17-Cameron (Cam) Smith, ; 9. 18T-Tyler Seavey, ; 10. 6A-Kyle Miller, ; 11. 8R-Austen Wheatley, ; 12. 7-Tyler Thompson, ; 13. 5V-Michael Keen, ; 14. 69NZ-Jamie Duff, ; 15. 12-Jared Ridge, ; 16. 16AUS-Daniel Keen, ; 17. 5B-Brian Boswell, ; 18. 21W-Jake Wheeler, ; 19. 5N-Seth Nunes, ; 20. 12J-John Clark, ; 21. 33T-Nate Morelock, ; 22. 4D-Cooper Desbiens