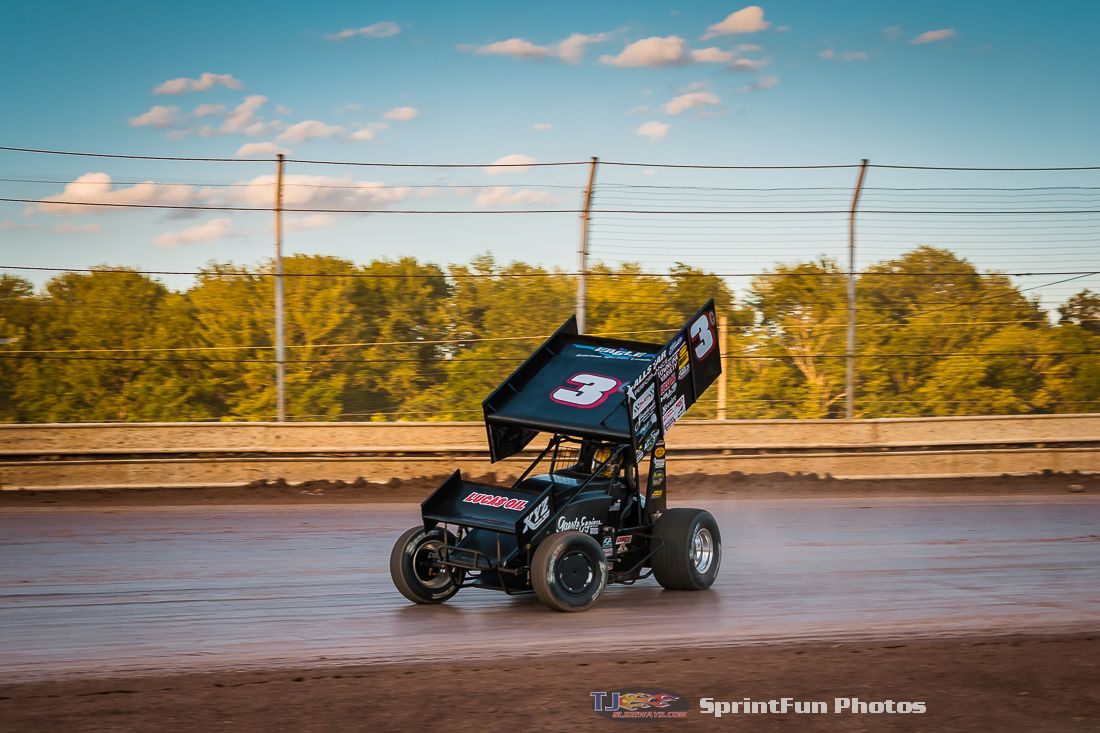 By Gared Tennyson
39 Bumper to Bumper Interstate Racing Association(IRA)/Neal Tire Midwest Open Wheel Association(MOWA) teams signed in for action at the Fairbury American Legion Speedway for the first sprint car race at the facility in 15 years. Osborn and Son Trucking Qualifying saw Lemoore, California's Carson Macedo set quick time over Paul Nienhiser and Blake Nimee. Scotty Thiel would qualify in 4th and Brad Loyet was 5th.
Weld Wheels Heat Race 1 saw Macedo charge from his 4th starting position to the win. AJ Bruins would bring his 44 machine across in 2nd ahead of Tayler Malsam. MOWA point leader Brad Loyet finished in 4th and Logan Faucon would grab the 5th and final transfer position in the closing laps.
Allstar Performance Heat 2 would be claimed by Kraig Kinser over Paul Nienhiser. Scotty Neitzel would bring his 2w home in 3rd followed by Scott Uttech and Jim Moughan in 4th and 5th.
DMI heat 3 would see the Blue and Black 68 of Dave Uttech take the checkers. Behind Uttech, Blake Nimee and Kris Spitz battled hard most of the heat for 2nd. Nimee would best Spitz and claim 2nd relegating Spitz to 3rd. Jordan Goldesberry would cross in 4th and National Sprint Car Hall of Famer Danny Smith would finish 5th.
R&H Enterprises Heat Race 4 would see 2 former IRA champions battle as Bill Balog challenged Jeremy Schultz hard for the lead but could not find a way around the 5j, and as the checkered flag wove it was Schultz over Balog. Scotty Thiel was 3rd ahead of Jacob Patton and Jeremy Standridge.
Behling Racing Products B main saw Brett Tripplett bring home the win over Wayne Modjeski. Matt Vandervere brought his 10v car across the line ahead of the T&E Auto Haulers 23d of Trey Datweiler. Ryan Bunton would finish in the 5th position, one spot out of transferring to the A main.
The A main saw Jeremy Schultz take the early lead over Tayler Malsam and Scotty Thiel. Carson Macedo would quickly work from his 5th starting position into 2nd and challenge Schultz for the lead. Macedo would grab the lead from the 5j and Thiel would soon pass Schultz as well. As the race came to a close, Balog who had worked from his 9th starting position into 3rd would utilize lapped traffic to work around the 64 of Thiel but could not make a run at Macedo and the lead. As the dust settled it was the 3G piloted by Macedo in victory lane. Balog and Thiel would round out the podium. Paul Nienhiser finished in 4th with Schultz in 5th.
The IRA would like to thank our wonderful sponsors, Bumper to Bumper Auto Parts, Osborn and Son Trucking, TW Metals, Carriage Auto Body, Cummins Onan, Hopf Farms, Hagar's Half Pound Cookies and Hoosier Tire.
Neal Tire Midwest Open Wheel Association / Bumper to Bumper Interstate Racing Association
Fairbury American Legion Speedway
Fairbury, IL
Saturday July 15, 2017
Feature:
1. 3G – Carson Macedo
2. 17B – Bill Balog
3. 64 – Scotty Thiel
4. 9 – Paul Neinheiser
5. 5J – Jeremy Schultz
6. 26 – Tayler Malsam
7. 79 – Blake Nimee
8. 22 – Brett Triplett
9. 4KK – Kody Kinser
10. 4K – Kris Spitz
11. 7 – Scott Uttech
12. 10V – Matt Vandervere
13. 4 – Danny Smith
14. 14AJ – Wayne Modjeski
15. 1MM – Jim Moughan
16. 79J – Jacob Patton
17. 23D – Trey Datweiler
18. 52F – Logan Faucon
19. 10S – Jeremy Standrige
20. 68 – Dave Uttech
21. 65 – Jordan Goldesberry
22. 05 – Brad Loyet
23. 44 – AJ Bruns
24. 2W – Scotty Neitzel