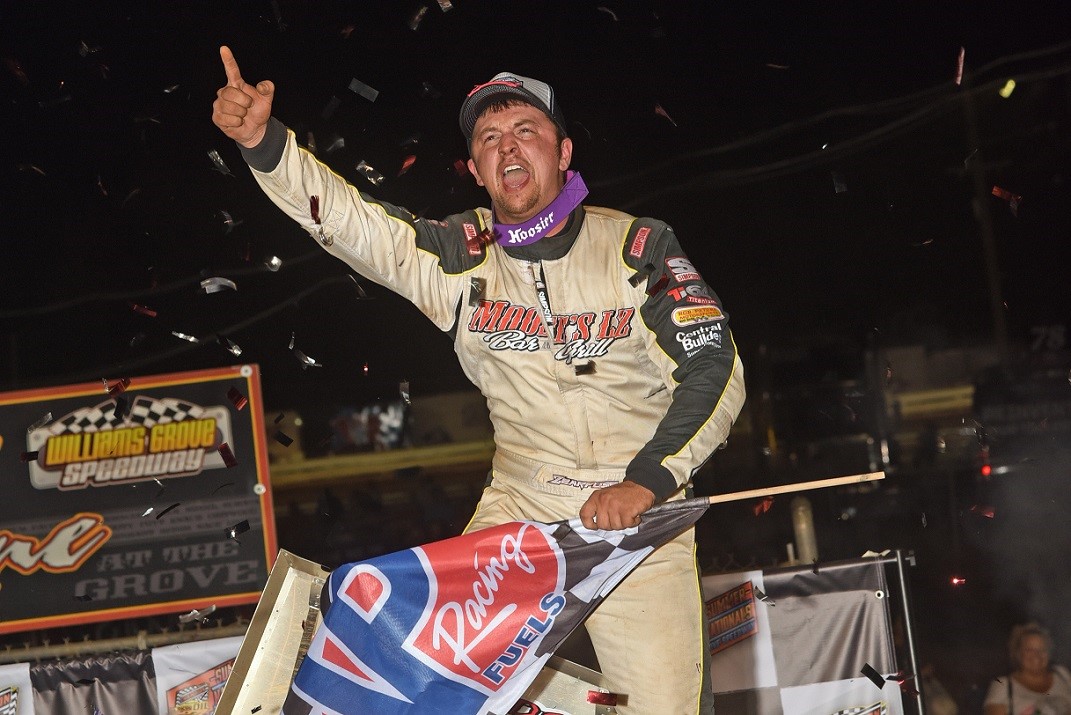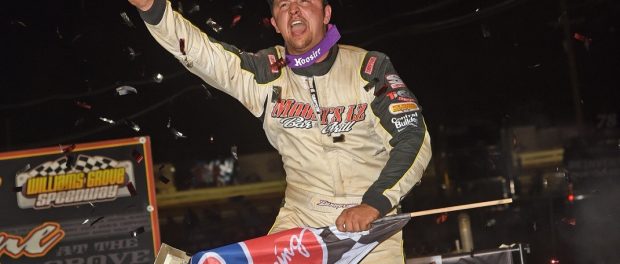 From Fully Injected Motorsports:
JONESTOWN, Pa. (July 24, 2017) – For the first time in his young career, the "Jonestown Jet" Brock Zearfoss beat the World of Outlaws Craftsman Sprint Car Series, scoring the Champion Racing Oil Summer Nationals preliminary main event on Friday, July 21, at Williams Grove Speedway. The pilot of the Aaron Long-owned/H&N Landscaping/ RV 4 Wheel Drive/Leahys Auto Body & Towing/No. 58 was the only Pennsylvania Posse representative inside the top-five against the Greatest Show On Dirt, driving ahead from fourth on the feature grid to earn $8,000 for his efforts.
Zearfoss earned his way into the World of Outlaws Craftsman Sprint Car Series A-main by setting the fastest qualifying time within his group, also finishing second during his respective heat race.
"I don't think it actually set in until the next morning when I saw the trophy in my living room," Brock Zearfoss said. "This is absolutely unbelievable. This is something every sprint car driver dreams about; winning a World of Outlaws main event. I owe it all to Aaron Long and the LA Competition team. We've been working and working and working, and finally it paid off. The beginning of the season was rough, but we never gave up. Now we can say we have one of the most competitive teams in the country. I'm excited to see what the rest of the year brings."
Brock Zearfoss will return to the driver's seat of the Aaron Long-owned No. 58 on Friday night, July 28, at Williams Grove Speedway.
Highlighting his upcoming weekend plans, Brock Zearfoss will enter the Living Legends Dream Race at Port Royal Speedway on Saturday, July 29. The marquee event will award a purse exceeding $55,000 including a $10,000-to-win main event. Two semi-features will set the main event starting grid, each awarding $2,000 to the top spot.
Zearfoss, who will pilot his own Brock Zearfoss Racing/Moose's LZ Bar & Grill/Meckley's Limestone/Central Builders Supply Co./Berkebile Oil Company/BAPS Auto Paint & Supply/No. 3Z during the Living Legends Dream Race, has been on a roll at the Port Royal Speedway "Speed Palace" in 2017, earning nearly a dozen top-ten finishes while sitting fourth in the current track championship standings.
"I think it is safe to say that we all have a lot of momentum on our side right now," Zearfoss said. "I think we have a great shot at picking up the big prize on Saturday night at Port Royal Speedway."
Fans can keep up with Brock Zearfoss during his entire campaign right here at www.fullyinjected.com, or at www.brockzearfoss.com. Be sure to "follow" the "Jonestown Jet" on all of the available social media networks including Twitter: https://twitter.com/brock_zearfoss and Facebook: https://www.facebook.com/brockzearfossracing.