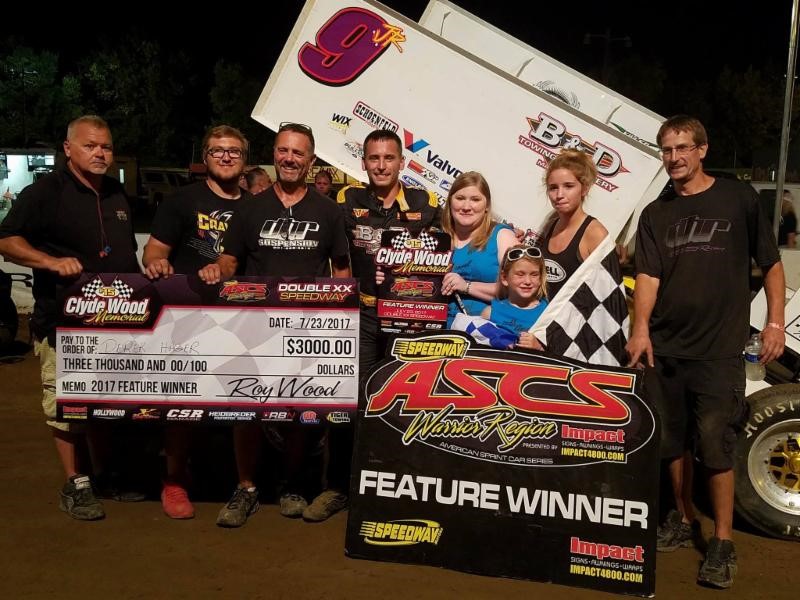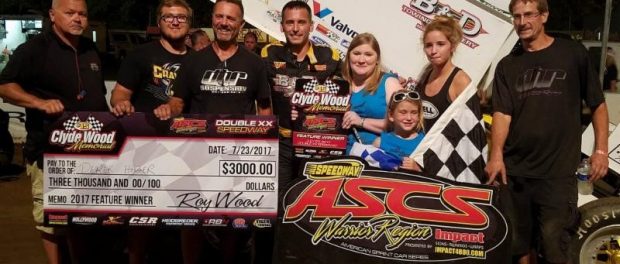 From Bryan Hulbert
CALIFORNIA, Mo. (July 23, 2017) – Making the drive from Marion, Ark. worth every mile, Derek Hagar picked up $3,000 in the 15th annual Clyde Wood Memorial at Double X Speedway with the Speedway Motors ASCS Warrior Region presented by Impact Signs, Awnings, and Wraps.
Surviving and red flag riddled A-Feature event at the Missouri quarter-mile, Hagar was challenged early by Zach Daum following a complete restart with the No. 9jr able to hold point. With the No. 5d and the No. 17 of Josh Baughman in tow, Daum and Baughman came together on Lap 11; resulting in Zach going for a ride off the fourth turn.
Not able to keep pace with Hagar on the restart, the No. 17 came under fire from Randy Martin who got the slide for the runner-up spot, only to have the caution put him back to third. Taking the spot away on the ensuing restart, everyone continued to chase the No. 9jr as the red lights blinked on again near the race's mid-point when Evan Martin and Dominic Scelzi came together; sending the No. 4 off the track and into the trees in Turn 2.
Pulling the slide job on Derek Hagar for the lead on the restart, the pair rolled wheel to wheel off the second turn with Hagar able get back to the front of the field. Able to pull away to a straightaway advantage, despite another red flag on Lap 14 for Brad Ryun, Hagar went unchallenged the rest of the way with Randy Martin crossing second.
Looking at a podium finish, Josh Baughman's night ended in the trees off turn four when the No. 17 biked the cushion to bring out one final red. With the leaders taking the checkered flag, the race was official with Seth Bergman advancing to third. Tony Bruce, Jr. from 15th was fourth with Jonathan Cornell battling back from a mid-race trip to the work area to claim fifth.
Tyler Blank advanced to sixth from 13th with Ayrton Gennetten seventh from 19th. Miles Paulus, Blake Hahn, and Danny Thoman filled out the top-ten.
The Speedway Motors ASCS Warrior Region presented by Impact Signs, Awnings, and Wraps is in action again on Friday, July 28 at U.S. 36 Raceway. For continued updates on the American Sprint Car Series, from the National Tour to any of the seven regional tours that make up the over 150 races across the ASCS Nation in 2017, log onto http://www.ascsracing.com.
Race Results:
ASCS Warrior Region
Double X Speedway – California, MO
15th Clyde Wood Memorial
Sunday, July 23, 2017
Car Count: 22
Heat 1 (8 Laps): 1. 27-Danny Thoman, [1]; 2. 5D-Zach Daum, [2]; 3. 17-Josh Baughman, [3]; 4. 42-Andy McElhannon, [4]; 5. 86-Tony Bruce Jr, [5]; 6. 21-Miles Paulus, [6]; 7. 3-Ayrton Gennetten, [7]; 8. 34-Corey Nelson, [8]
Heat 2 (8 Laps): 1. 9JR-Derek Hagar, [2]; 2. 14-Randy Martin, [4]; 3. 14K-Kyle Bellm, [1]; 4. 41-Dominic Scelzi, [5]; 5. 99-Bailey Elliott, [6]; 6. (DNF) 51B-Joe B. Miller, [7]; 7. (DNF) 4-Evan Martin, [3]
Heat 3 (8 Laps): 1. 49B-Ben Brown, [1]; 2. 52-Blake Hahn, [2]; 3. 28-Jonathan Cornell, [6]; 4. 75-Tyler Blank, [4]; 5. 23-Seth Bergman, [7]; 6. 1X-Brad Ryun, [5]; 7. (DNF) 8-Jeff Wingate, [3]
A Feature (25 Laps): 1. 9JR-Derek Hagar, [1]; 2. 14-Randy Martin, [5]; 3. 23-Seth Bergman, [11]; 4. 86-Tony Bruce Jr, [15]; 5. 28-Jonathan Cornell, [7]; 6. 75-Tyler Blank, [13]; 7. 3-Ayrton Gennetten, [19]; 8. 21-Miles Paulus, [17]; 9. 52-Blake Hahn, [8]; 10. 27-Danny Thoman, [6]; 11. 17-Josh Baughman, [3]; 12. 51B-Joe B. Miller, [16]; 13. 8-Jeff Wingate, [21]; 14. 1X-Brad Ryun, [18]; 15. 4-Evan Martin, [20]; 16. 41-Dominic Scelzi, [9]; 17. 5D-Zach Daum, [2]; 18. 34-Corey Nelson, [22]; 19. 49B-Ben Brown, [4]; 20. 14K-Kyle Bellm, [10]; 21. 42-Andy McElhannon, [12]; 22. 99-Bailey Elliott, [14]