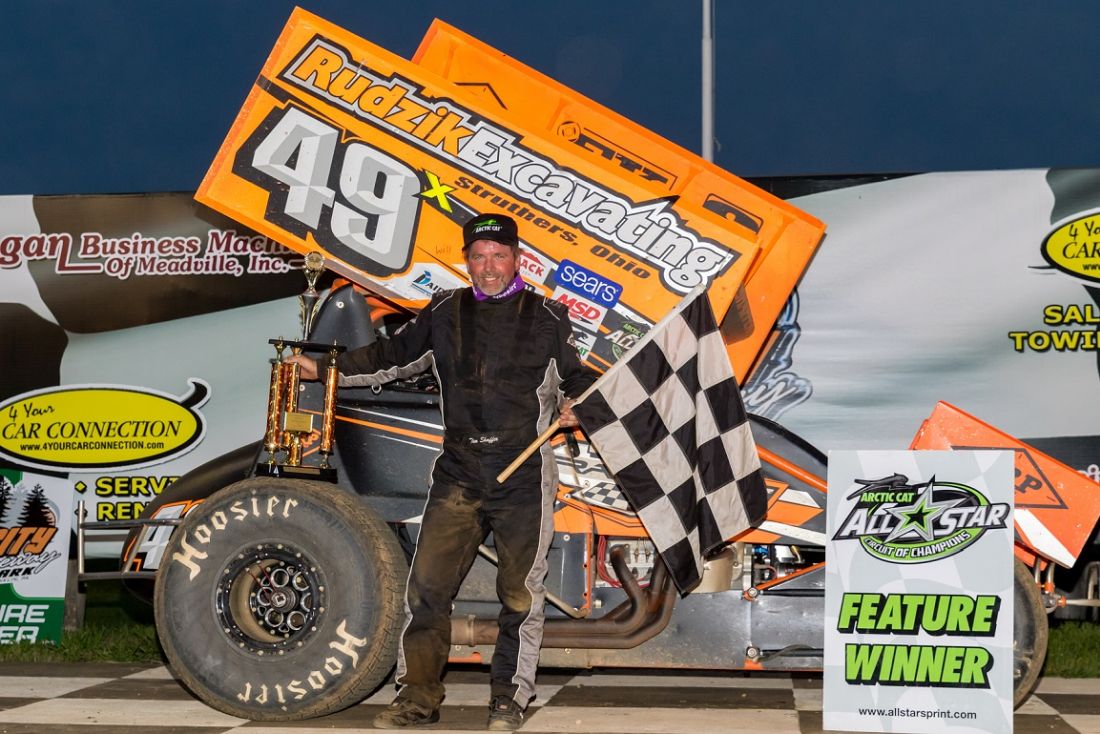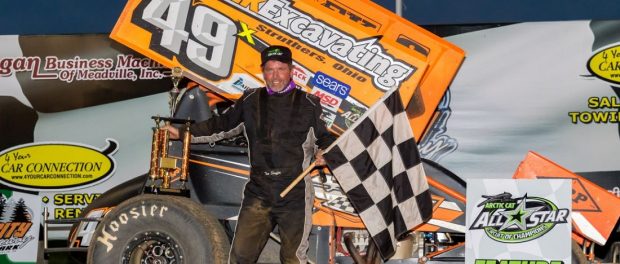 From Tyler Altmeyer
FRANKLIN, Pa. (July 23, 2017) – After opening the 2017 I-79 Summer Shootout with a runner-up finish at Eriez (PA) Speedway on Friday evening, the "Steel City Outlaw" Tim Shaffer did one better on Sunday night by winning round two at Tri-City Raceway Park in Franklin, Pennsylvania. The Arctic Cat All Star victory, Shaffer's third of the 2017 season and second ever at Tri-City Raceway Park, was earned in dominating fashion; leading all 30 circuits around the Venango County, 1/2-mile oval, ultimately holding off a pair of fellow former Arctic Cat All Star champions, Chad Kemenah and Dale Blaney.
"Hats off to the team. This is what we've been working for," Tim Shaffer said in victory lane. "There are a lot of guys on this team who help make this happen. I couldn't do it without them."
The Aliquippa, Pennsylvania, native jumped to the early advantage from the outside of row one, crossing by the flagstand for the first time with Dale Blaney, Spencer Bayston, and Chad Kemenah in tow. Lap after lap, Shaffer's lead continued to increase, eventually building a 2.6 second cushion before the main event's first caution appeared on lap eight.
Including the initial pause on lap eight, a total of five cautions between laps eight and 15 interrupted Shaffer's pace at the top of the running order, none of which proving to be a distraction, as Shaffer returned to a near-three second advantage before the final caution on lap 15.
The restart on lap 15 proved to be the final time Shaffer would have to bring the field back to life. Even with lapped traffic reappearing by lap 23, Shaffer was able to maintain his lead, ultimately crossing under the final checkers two seconds ahead of Chad Kemenah and Dale Blaney.
"We've been putting ourselves in great positions all season, but not taking advantage of them," Tim Shaffer said, pilot of the Rudzik Excavating/No. 49X. "It took some time to get our program together to figure out where these cars needed to be at the end of the race. This is a great time of the year to get fast with the month of money underway."
Chad Kemenah, who started third on the feature grid, raced within the top four spots during all 30 laps, advancing into third after the lap 15 restart, and advancing again into second ahead of Dale Blaney while racing in traffic on lap 23. The runner-up finish gives Kemenah 16 top-five finishes on the season, now extending his championship lead to 286 markers.
"We started to run out of fuel with less than five laps to go, so that didn't help us out too much," Chad Kemenah said, pilot of the Hunter Racing/DKW Transport/JRC Transportation/Seneca Energy/No. 10H. "I can't thank everyone enough. As long as I'm up here talking to [Blake Anderson], I think we're doing just fine."
The 2017 I-79 Summer Shootout will conclude on Monday evening, July 24, at Pittsburgh's Pennsylvania Motor Speedway in Imperial, Pennsylvania. Originally set for Saturday evening, July 22, the rescheduled program will award a $5,000 top prize, as well as full points toward the 2017 Arctic Cat All Star championship. The visit to "Dirt's Monster Half-Mile" will be the final Western Pennsylvania appearance for the Arctic Cat All Star Circuit of Champions in 2017.
Pittsburgh's Pennsylvania Motor Speedway's main gates are scheduled to open at 5:00pm with hot laps to follow at 6:00pm, sharp. The Arctic Cat All Star Circuit of Champions will hit center stage at 7:00pm. For more information, such as camping availability and ticket prices, please visit Pittsburgh's Pennsylvania Motor Speedway live on the Web at www.ppms.com.
Contingency Awards/Results: Tri-City Raceway Park – Sunday, July 23, 2017:
I-79 Summer Shootout: Round #2
EMi Driver's Meeting: 30 entries
State Water Heaters Warm-Ups: Chad Kemenah – 16.186 seconds
Lincoln Electric Fast Qualifier: Tim Shaffer – 15.683 seconds
Ford Performance Heat #1: Tyler Esh
All Pro Aluminum Cylinder Heads Heat #2: Carson Macedo
Hunt Brothers Pizza Heat #3: Dale Blaney
JE Pistons Dash #1: Dale Blaney
Classic Ink USA B-Main: Jordan Mackison
Daido Engine Bearings Main Event Winner: Tim Shaffer
MSD Performance Hard Charger Award: Ryan Smith (+11)
Outback Steakhouse A-Main 5th Place Finisher: Tyler Esh
Outback Steakhouse A-Main 10th Place Finisher: Dylan Cisney
Outback Steakhouse A-Main 15th Place Finisher: Jimmy Seger
(Lincoln Electric, Daido Engine Bearings, MSD Performance, Outback Steakhouse: Need decal to qualify for contingency award)
Qualifying
Group (A)
1. 10H-Chad Kemenah, 15.911; 2. 23JR-Jack Sodeman Jr., 15.99; 3. 42-Sye Lynch, 16.018; 4. 35-Tyler Esh, 16.087; 5. 1080-Jordan Mackison, 16.139; 6. 20N-Hunter Schuerenberg, 16.158; 7. O8-Dan Kuriger, 16.283; 8. 5B-Justin Barger, 16.534; 9. 9C-Roger Campbell, 17.06; 10. 33-Brent Matus, 17.641
Group (B)
1. 22-Brandon Spithaler, 15.968; 2. 2-Jimmy Seger, 16.019; 3. 17-Carson Macedo, 16.044; 4. 7C-Caleb Armstrong, 16.076; 5. 33M-Max Stambaugh, 16.196; 6. 51-John Garvin, 16.35; 7. 4N-Jim Morris, 16.391; 8. 8M-TJ Michael, 16.563; 9. 13-Brandon Matus, 16.589; 10. 66-Ken Rossey, 17.282
Group ( C )
1. 49x-Tim Shaffer, 15.683; 2. 39-Spencer Bayston, 15.818; 3. D4-Danny Holtgraver, 15.857; 4. 55XM-Dale Blaney, 15.984; 5. 5-Dylan Cisney, 15.996; 6. 81-Lee Jacobs, 16.014; 7. 59-Ryan Smith, 16.251; 8. 98-Carl Bowser, 16.343; 9. 95-Hunter Mackison, 16.523; 10. 126-Brian Salisbury, 17.065
Heat #1 – Group (A) (8 Laps) – Top 6 Transfer
1. 35-Tyler Esh [1]; 2. 10H-Chad Kemenah [4]; 3. 42-Sye Lynch [2]; 4. 23JR-Jack Sodeman Jr. [3]; 5. 20N-Hunter Schuerenberg [6]; 6. 5B-Justin Barger [8]; 7. 1080-Jordan Mackison [5]; 8. O8-Dan Kuriger [7]; 9. 9C-Roger Campbell [9]; 10. 33-Brent Matus [10]
Heat #2 – Group (B) (8 Laps) – Top 6 Transfer
1. 17-Carson Macedo [2]; 2. 22-Brandon Spithaler [4]; 3. 7C-Caleb Armstrong [1]; 4. 51-John Garvin [6]; 5. 2-Jimmy Seger [3]; 6. 4N-Jim Morris [7]; 7. 33M-Max Stambaugh [5]; 8. 8M-TJ Michael [8]; 9. 66-Ken Rossey [10]; 10. 13-Brandon Matus [9]
Heat #3 – Group (C) (8 Laps) – Top 6 Transfer
1. 55XM-Dale Blaney [1]; 2. D4-Danny Holtgraver [2]; 3. 49X-Tim Shaffer [4]; 4. 39-Spencer Bayston [3]; 5. 5-Dylan Cisney [5]; 6. 81-Lee Jacobs [6]; 7. 59-Ryan Smith [7]; 8. 98-Carl Bowser [8]; 9. 126-Brian Salisbury [10]; 10. 95-Hunter Mackison [9]
Dash #1 (4 Laps)
1. 55XM-Dale Blaney [1]; 2. 49X-Tim Shaffer [3]; 3. 10H-Chad Kemenah [4]; 4. 39-Spencer Bayston [2]; 5. 17-Carson Macedo [6]; 6. D4-Danny Holtgraver [5]; 7. 22-Brandon Spithaler [7]; 8. 35-Tyler Esh [8]
B-Main (12 Laps) – Top 6 Transfer
1. 1080-Jordan Mackison [1]; 2. 59-Ryan Smith [3]; 3. O8-Dan Kuriger [4]; 4. 98-Carl Bowser [5]; 5. 8M-TJ Michael [7]; 6. 95-Hunter Mackison [6]; 7. 13-Brandon Matus [8]; 8. 9C-Roger Campbell [9]; 9. 66-Ken Rossey [11]; 10. 33M-Max Stambaugh [2]; 11. 33-Brent Matus [12]; 12. 126-Brian Salisbury [10]
A-Main (30 Laps)
1. 49X-Tim Shaffer [2]; 2. 10H-Chad Kemenah [3]; 3. 55XM-Dale Blaney [1]; 4. D4-Danny Holtgraver [6]; 5. 35-Tyler Esh [8]; 6. 51-John Garvin [12]; 7. 5B-Justin Barger [18]; 8. 17-Carson Macedo [5]; 9. 59-Ryan Smith [20]; 10. 5-Dylan Cisney [13]; 11. 98-Carl Bowser [22]; 12. 7C-Caleb Armstrong [10]; 13. 22-Brandon Spithaler [7]; 14. 42-Sye Lynch [9]; 15. 2-Jimmy Seger [14]; 16. 4N-Jim Morris [17]; 17. 39-Spencer Bayston [4]; 18. 8M-TJ Michael [23]; 19. 1080-Jordan Mackison [19]; 20. 20N-Hunter Schuerenberg [15]; 21. 95-Hunter Mackison [24]; 22. O8-Dan Kuriger [21]; 23. 81-Lee Jacobs [16]; 24. 23JR-Jack Sodeman Jr. [11] Lap Leaders: Tim Shaffer [1-30]
Current Arctic Cat All Star Circuit of Champions Standings (July 23, 2017):
1. Chad Kemenah – 3692
2. Ryan Smith – 3406
3. Caleb Armstrong – 3376
4. Max Stambaugh – 3070
5. Caleb Helms – 3008
6. T.J. Michael – 2891
7. Brandon Spithaler – 2829
8. Tim Shaffer – 2816
9. Tyler Esh – 2759
10. Brandon Matus – 2712