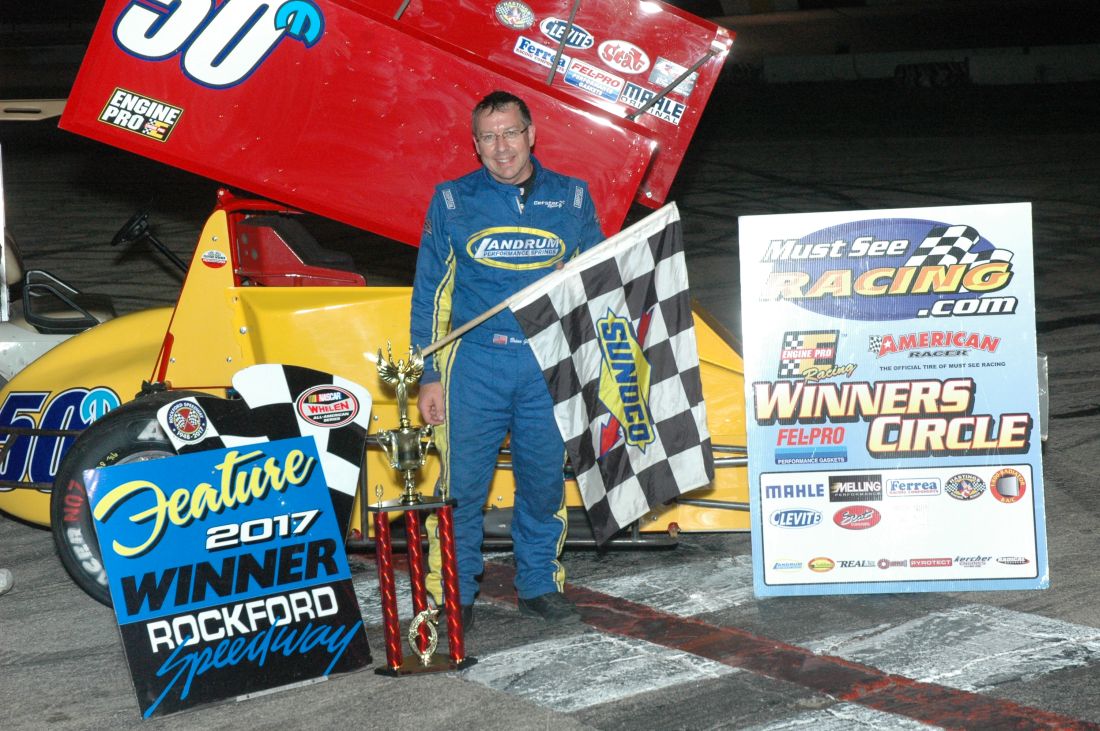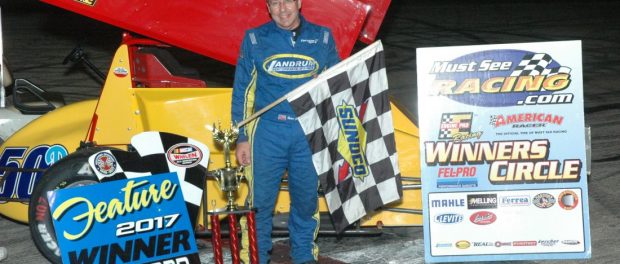 From Jacob Seelman
ROCKFORD, Ill (July 29, 2017) – Brian Gerster kept his roll going by winning the Must See Racing 50-lap feature Saturday night at Rockford Speedway. It was his second consecutive win in as many nights and finished off the weekend with a sweep of Must See Racing's western swing through Wisconsin and Illinois.
Gerster finished the night off in convincing fashion by taking the checkered flag by nearly a straightaway lead after setting quick time in qualifications earlier in the day with a lap of 11.597 seconds. He appeared aggressive with lapped cars after taking the lead on lap 8 from early leader Anthony McCune and wasted no time building a sizeable lead early. He nearly lost the race one night earlier when he struggled with lap cars with two laps to go and second place finisher Jimmy McCune took advantage of his struggles to momentarily take the lead, but still managed to hang on for the win. Gerster would have none of that on this night and lapped cars as quickly as possible en-route to a dominating performance.
The win also showed the competition that his Dick Meyers owned machine is now a threat after early season struggles. The car was heavily damaged in an accident last August at Owosso, MI. The entire rear end of the car had to be reconstructed and the team appears to have figured the car out.
In victory lane Gerster alluded to the fact the team has figured the reconstructed car out. "This weekend is sort of a culmination of recovering from our car getting crashed at Owosso last year" explained Gerster."The back of this thing was completely destroyed. A lot of work went into getting it fixed. The notebook on this thing is fifteen years old or something like that and we kinda had to start over because things are different now. The car has been wanting a different set-up than what we're used to. We found some things the car likes. Hopefully we can keep rolling".
Gerster reasoned his aggressive driving style was due to the fact Jimmy McCune would be there at the end. "I figured Jimmy would be there. He really excels at little race tracks like this. I'd come off of two and glance at the main straightaway and could never see him. I figured he was close. Last night I felt like I had a little bit of a lead and then I got hung up with a couple lapped cars with two to go, and he got next to us and almost stole one from us. Just trying to get through lapped traffic as quick as possible. It worked out and we got the win" concluded Gerster. Jimmy McCune finished second while his nephew Anthony McCune finished third after leading the opening 8 laps of the event. Chris Nuenschwander was third and Charlie Schultz rounded out the top five.
The Must See Racing Sprint Series will next head to Owosso, MI this Saturday August 5 as the series continues a four weekend stretch and the busiest part of its 2017 schedule.
Abe's Auto Parts heat #1 went to Chris Nuenschwander and Anthony McCune won the B&B Machinery Movers heat #2.
Must See Racing
Rockford Speedway
Rockford, IL
Saturday July 29, 2017
Feature:
1. 50m – Brian Gerster
2. 88 – Jimmy McCune
3. 8 – Anthony McCune
4. 10n – Chris Neuenschwander
5. 9s – Charlie Schultz
6. 26 – Jeff Bloom
7. 10k – Christian Kohler
8. 7 – Tom Jewel
9. 75c – Jerry Caryer
10. 8A – Adam Biltz
11. 13 – HD Carter
12. 72s – Joe Speakman