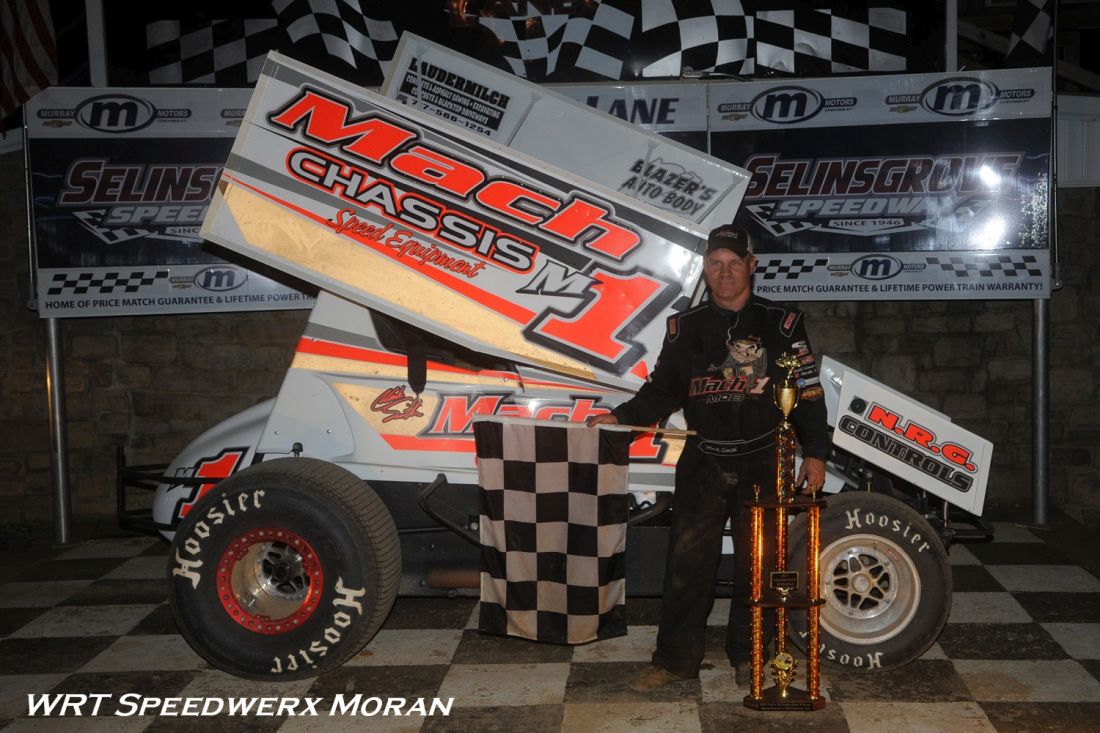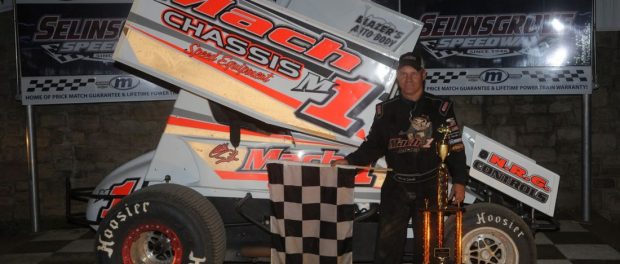 From Tim Moran
SELINSGROVE, Pa. (July 29, 2017) — Mark Smith and the Mach 1 Chassis M1 took control of the lead on lap 3 from Steve Collins and never looked back as Smith lead the final 22 laps to pick up night 1 win of the Mach 1 360 National Open Preliminary event. Smith is now locked into Sunday nights feature event.
Thirty-one Capitol Renegade United Racing Club 360 sprint cars signed into the pit area on Saturday night. With 4 heat races to determine the feature line up, heat race wins went to Brett Michalski, Eric Tomecek, Davie Franek and Mark Smith. The B-Main was won by Delaware native Chris Coyle.
Heat race 1 winner Brett Michalski and New York traveler Steve Collins brought the field of 25 URC sprint cars to the green flag. Collins quickly jumped out to the lead by lap 1 with Mark Smith already in the runner up position. Smith made his move on lap 3 on Collins to overtake the lead. Collins continued to follow Smith but Franek took the runner up position on lap 10.
Meanwhile Smith continued to increase his lead on Franek. With the top two spots settled, multiple drivers continued to fight over positions 3 through 10. Collins continued to run strong and battled with Cody Keller for multiple laps before Keller took position 3 advancing from his 6th starting position. Nate Snyder continued to be impressive this year bringing home position 4 from the 7th starting position. Also impressive was the run of Curt Michael who brought home position 6 after starting 9 along with Robbie Stillwaggon who brought home a solid 7th from starting 12th. Jason Shultz was probably the most impressive in watching him march though the field as Shultz advanced up to 9th from the 22nd starting position.
Smith was so dominate that he lapped up to the 9th place car during the 25 lap green flag feature event and lead 2nd place Davie Franek to the line by 5.8 seconds.
URC tidbits: Drivers and crews enjoyed a pig roast after the races at the Brett Michalski trailer. Motor troubles put an early end to Justin Whittall, Eddie Strada and Michael Walters' nights. Mark Sasso improved each time he hit the track. Adam Carberry's nightmare season continued with the 47 car pulling in after only 1 lap in the feature. URC Rookie Kris Lilick was happy to make the feature event, Selinsgrove has not been kind to the Rookie this year.
360 Sprints A – Main: 1) #1 Mark Smith, 2) #28F Davie Franek, 3) #99K Cody Keller, 4) #56 Nate Snyder, 5) #67 Steve Collins, 6) #5G Curt Michael, 7) #89 Robbie Stillwaggon, 8) #63 Josh Weller, 9) #29 Jason Shultz, 10) #66 Ryan Kissinger, 11) #73b Brett Michalski, 12) #35L Chad Layton, 13) #76 Larry Kelleher, 14) #C4 Jim Shuster, 15) #49s Mallie Shuster, 16) #22 Troy Betts, 17) #56c Chris Coyle, 18) #13 Ryan Higgins, 19) #22g Bryn Gohn, 20) #19 Colby Womer, 21) #7k Kris Lilick, 22) #1W Eric Tomecek, 23) #706 Mark Sasso, 24) #77 Derek Locke, 25) #47c Adam Carberry