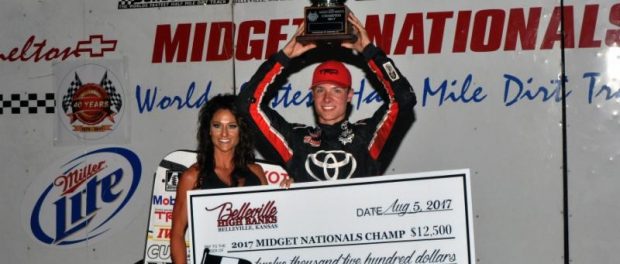 From Bryan Gapinski
BELLEVILLE, Ks. (August 5, 2017) — Spencer Bayston scored a wire-to-wire winning the 40th annual Belleville Midget Nationals, Saturday Night at the Belleville High Banks. Bayston became the thirteenth driver to win the event from the pole position.
Bayston jumped into the lead at the start followed by last year's winner Chad Boat, and Tanner Thorson. Bayston began lapping the tail of the field on the fifth lap, and one lap later held a two-second lead over Boat. Thorson passed Boat for the runner-up position on Lap 8.
With the conclusion of the tenth lap Bayston held a 3.3 second lead over his teammate Thorson. The events first caution appeared on Lap17 when Shane Golobic stopped with a flat tire, erasing Bayston's 4-second lead.
At the mid way Bayston led Thorson, Boat, Justin Grant, and Jerry Coons Jr. Two laps later Grant stopped with a flat tire causing the events second caution. Grant's teammate Tyler Courtney stalled on the ensuing restart. Bayston began increasing his lead lap over Thorson over the following laps. Boat in third place was a half-straightaway behind the lead duo with ten laps remaining.
Bayston held a 1.7 second lead with two laps remaining, when sixth place running Ryan Robinson clipped the spun car of Terry Goodwin entering Turn 1. Robinson escaped injury in a wild series of flips. The accident, set-up a two-lap shootout for the race victory.
On the restart Bayston was again flawless and pulled away from the field, turning the event's fastest lap on the final lap, driving the Keith Kunz/Curb-Agajanian owned Bullet by Spike/Toyota No. 97. Thorson finished second followed by Boat, Coons, and Brady Bacon. Holly Shelton, Grant, Tanner Carrick, Golobic, and Robinson rounded out the top ten.
"The crew worked so hard to make the car fast it was going to be tough to beat Chad Boat. To win this event is so big, to join the list of drivers that have won this before for Keith Kunz (car owner) is so important". Commented Bayston who was last year's runner-up.
Belleville Midget Nationals
USAC National Midget Car Championship
Belleville High Banks
Belleville, KS
Saturday August 5, 2017
SIMPSON RACE PRODUCTS FIRST HEAT: (8 laps) 1. Chad Boat (#84 Tucker/Boat), 2. Ryan Robinson (#21 Kunz/Curb-Agajanian), 3. Tyler Courtney (#7BC Clauson/Marshall), 4. Jeff Stasa (#91 SBR Motorsports), 5. Terry Goodwin (#2G Goodwin), 6. Robert Bell (#71½ Bell), 7. Ashley Oerter (#16 RKO Management), 8. Ryan Oerter (#43 RKO Management). NT
COMPETITION SUSPENSION (CSI) SECOND HEAT: (8 laps) 1. Spencer Bayston (#97 Kunz/Curb-Agajanian), 2. Tanner Carrick (#71K Kunz/Curb-Agajanian), 3. Shane Golobic (#17w Clauson/Marshall/Wood), 4. Justin Grant (#39BC Clauson/Marshall), 5. Brayton Lynch (#1K RKR), 6. Zach Middleton (#43A RKO Management), 7. Cody Brewer (#96 Central Motorsports). 2:17.56 (New Track Record)
CHALK STIX/INDY RACE PARTS THIRD HEAT: (8 laps) 1. Jerry Coons, Jr. (#25 Petry/Goff), 2. Tanner Thorson (#67 Kunz/Curb-Agajanian), 3. Brady Bacon (#76m FMR), 4. Holly Shelton (#67K Kunz/Curb-Agajanian), 5. Scott Hatton (#1 Hatton), 6. Ty Williams (#91s SBR Motorsports), 7. Collin Rinehart (#20 Rinehart), 8. Randy Oerter (#48 RKO Management). 2:22.26
POLE DASH: (4 laps) 1. Bayston, 2. Boat, 3. Thorson, 4. Robinson, 5. Coons, 6. Carrick. 1:08.98 (New Track Record)
B-DASH: (4 laps) 1. Golobic, 2. Courtney, 3. Grant, 4. Bacon, 5. Shelton, 6. Stasa. 1:10.80
FEATURE: (40 laps) 1. Spencer Bayston, 2. Tanner Thorson, 3. Chad Boat, 4. Jerry Coons, Jr., 5. Brady Bacon, 6. Holly Shelton, 7. Justin Grant, 8. Tanner Carrick, 9. Shane Golobic, 10. Ryan Robinson, 11. Jeff Stasa, 12. Terry Goodwin, 13. Tyler Courtney, 14. Robert Bell, 15. Scott Hatton, 16. Collin Rinehart, 17. Brayton Lynch, 18. Ryan Oerter, 19. Matt Johnson (#85 Central Motorsports), 20. Zach Middleton, 21. Randy Oerter, 22. Ty Williams, 23. Ashley Oerter, 24. Cody Brewer. NT
—————————-
**Robinson flipped on lap 39 of the feature.
FEATURE LAP LEADERS: Laps 1-40 Bayston.
KSE RACING PRODUCTS HARD CHARGER: Brady Bacon (10th to 5th)
WILWOOD BRAKES 13TH PLACE FINISHER: Tyler Courtney
NEW USAC MIDGET NATIONAL CHAMPIONSHIP POINTS: 1-Bayston-1040, 2-Bacon-1002, 3-Golobic-976, 4-Grant-945, 5-Thorson-936, 6-Courtney-905, 7-Coons-808, 8-Boat-754, 9-Shelton-717, 10-Robinson-671.
NEXT USAC MIDGET NATIONAL CHAMPIONSHIP RACE: August 13 – York Haven, PA – Susquehanna Speedway – "Pennsylvania Midget Week" (With the USAC Eastern Midgets presented by ARDC)