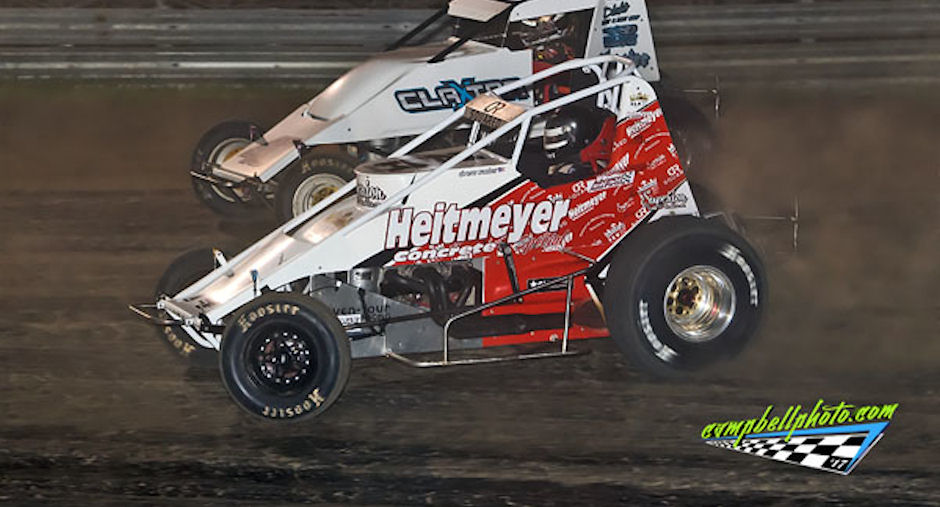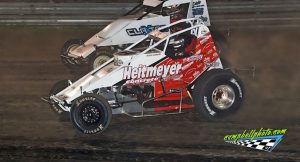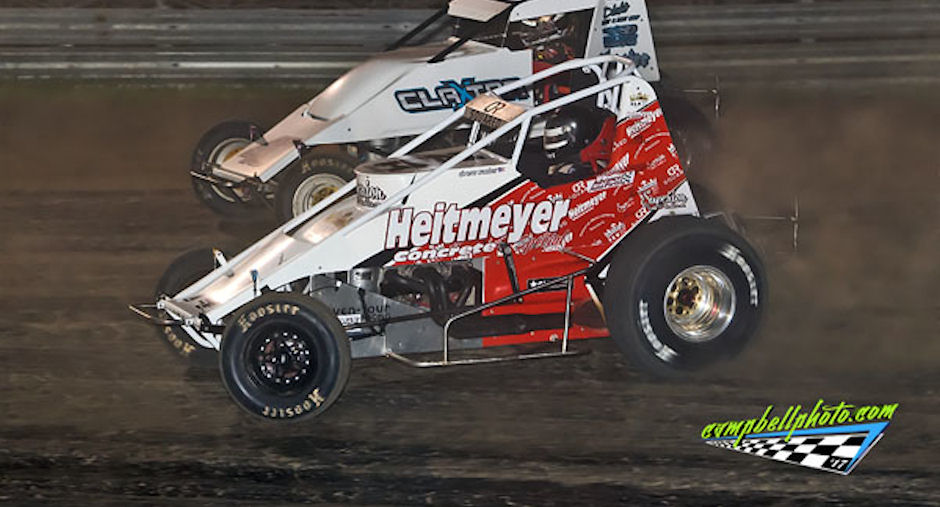 By Bob Buffenbarger
WAYNESFIELD, Ohio (August 5, 2017) – Drew Rader picked up the biggest win of his career Saturday night at Waynesfield Raceway Park by capturing a thrilling Buckeye Outlaw Sprint Series "Jack Hewitt Classic" in front of a big crowd Rader started on the pole of the 25 lap BOSS feature but outside front row starter Dave Darland shot out to the early lead.
Darland appeared to be on his way early as he stretched his advantage to nearly a straight and left Matt Westfall, Rader, Kyle Simon and Scotty Weir to battle among themselves. Lap four found Contenders Shane Cottle, Kody Swanson and Dallas Hewitt caught up in a turn two melee. All were able to re-start, but at the rear of the field.
Dustin Smith was strong in the early stages holding fifth until fading late as Westfall held second until Kyle Simon and Rader who were waging a furious fight and moved around Westfall as Darland continued to lead. However Darland had caught heavy traffic as laps were winding down.
Rader had found a line on the track to his liking and was making up ground on Darland quickly in the closing stages. As the white flag was in the air, Rader pulled even with Darland coming out of turn two with Darland just nosing out Rader down the backstretch. The duo were side by side through turns three and four and at the stripe it was too close to call with Rader declared the victor in thrilling fashion.
Heats for the 43 cars were won by Cottle, Dallas Hewitt, Kody Swanson,Rader and Darland. B main went to Tyler Hewitt and Dane Lorenc.
Jack Hewitt Classic
Waynesfield Raceway Park
Waynesfield, OH
Saturday August 5, 2017
Non Wings – Buckeye Outlaw Sprint Series
Qualifying
1.22S-Scotty Weir, 12.320; 2.69R-Dallas Hewitt, 12.371; 3.53-Steve Little, 12.438; 4.97X-Tyler Hewitt, 12.486; 5.40-Dave Darland, 12.505; 6.21P-Carmen Pergo21, 12.521; 7.57-Shane Cottle, 12.526; 8.44-Michael Fischesser, 12.537; 9.42-Ty Tilton, 12.562; 10.23S-Kyle Simon, 12.624; 11.24-Landon Simon, 12.658; 12.21K-Kody Swanson, 12.674; 13.77-Dustin Smith, 12.714; 14.2DI-Dustin Ingle, 12.799; 15.54-Matt Westfall, 12.803; 16.21H-Travis Hery, 12.815; 17.74-Drew Rader, 12.842; 18.19-Matt Cooley, 12.868; 19.9N-Luke Hall, 12.879; 20.9G-Cody Gardner, 12.939; 21.39-Matt Goodnight, 12.969; 22.9X-Cooper Clouse, 12.985; 23.24L-Lee Underwood, 12.999; 24.4J-Justin Owen, 13.014; 25.87-Paul Dues, 13.015; 26.59J-Kirk Jeffries, 13.053; 27.e99-Gage Etgen, 13.073; 28.91X-Aaron Middaugh, 13.075; 29.14-Chad Wilson, 13.166; 30.18K-Todd Keen, 13.191; 31.41-Brad Wyatt, 13.194; 32.08-Andy Feil, 13.244; 33.32M-Derek Hasting, 13.425; 34.5-Bob McMillin, 13.504; 35.18W-Travis Welpott, 13.610; 36.17-Kevin Myers, 13.634; 37.31L-Buddy Lowther, 13.648; 38.3-Joe Butero, 13.665; 39.1J-Jeremy Shambaugh, 13.682; 40.39G-Dane Lorenc, 13.777; 41.96-Riley VanHise, 13.854; 42.51-Curtis Muhlenkamp, 13.973; 43.82-Mike Miller, 99.991;
Heat 1, Group A – (8 Laps)
1. 57-Shane Cottle[3] ; 2. 22S-Scotty Weir[4] ; 3. 42-Ty Tilton[1] ; 4. 2DI-Dustin Ingle[5] ; 5. 44-Michael Fischesser[2] ; 6. 4J-Justin Owen[7] ; 7. 08-Andy Feil[8] ; 8. 19-Matt Cooley[6]
Heat 2, Group B – (8 Laps)
1. 69R-Dallas Hewitt[4] ; 2. 21P-Carmen Pergo21[2] ; 3. 59J-Kirk Jeffries[5] ; 4. 87-Paul Dues[1] ; 5. 39G-Dane Lorenc[9] ; 6. 1J-Jeremy Shambaugh[8] ; 7. 53-Steve Little[3] ; 8. 91X-Aaron Middaugh[6] ; 9. 3-Joe Butero[7]
Heat 3, Group C – (8 Laps)
1. 21K-Kody Swanson[1] ; 2. 24-Landon Simon[2] ; 3. 23S-Kyle Simon[3] ; 4. 24L-Lee Underwood[5] ; 5. 97X-Tyler Hewitt[4] ; 6. e99-Gage Etgen[6] ; 7. 96-Riley VanHise[8] ; 8. 5-Bob McMillin[7] ; 9. 51-Curtis Muhlenkamp[9]
Heat 4, Group D – (8 Laps)
1. 74-Drew Rader[2] ; 2. 77-Dustin Smith[4] ; 3. 9G-Cody Gardner[1] ; 4. 21H-Travis Hery[3] ; 5. 39-Matt Goodnight[5] ; 6. 31L-Buddy Lowther[8] ; 7. 18W-Travis Welpott[7] ; 8. 41-Brad Wyatt[6]
Heat 5, Group E – (8 Laps)
1. 40-Dave Darland[4] ; 2. 54-Matt Westfall[3] ; 3. 9N-Luke Hall[2] ; 4. 9X-Cooper Clouse[1] ; 5. 14-Chad Wilson[5] ; 6. 32M-Derek Hasting[7] ; 7. 17-Kevin Myers[8] ; 8. 18K-Todd Keen[6]
B-Main 1 – (12 Laps)
1. 97X-Tyler Hewitt[2] ; 2. 44-Michael Fischesser[1] ; 3. 14-Chad Wilson[3] ; 4. 08-Andy Feil[6] ; 5. 1J-Jeremy Shambaugh[4] ; 6. 17-Kevin Myers[8] ; 7. 31L-Buddy Lowther[5] ; 8. 3-Joe Butero[11] ; 9. 96-Riley VanHise[7] ; 10. 91X-Aaron Middaugh[9] ; 11. 41-Brad Wyatt[10] ; 12. 82-Mike Miller[12]
B-Main 2 – (12 Laps)
1. 39G-Dane Lorenc[1] ; 2. e99-Gage Etgen[4] ; 3. 19-Matt Cooley[8] ; 4. 4J-Justin Owen[3] ; 5. 39-Matt Goodnight[2] ; 6. 18W-Travis Welpott[7] ; 7. 32M-Derek Hasting[5] ; 8. 51-Curtis Muhlenkamp[11] ; 9. 5-Bob McMillin[9] ; 10. 53-Steve Little[6] ; 11. 18K-Todd Keen[10]
Feature: 1. 74 – Drew Rader, 2. 40 – Dave Darland, 3. 23S – Kyle Simon, 4. 54 – Matt Westfall, 5. 22S – Scotty Weir, 6. 2DI – Dustin Ingle, 7. 77 – Dustin Smith, 8. 21P – Carmen Perigo, 9. 9G – Cody Garner, 10. 9N – Luke Hall, 11. 24 – Landon Simon, 12. 9X – Cooper Clouse, 13. 57 – Shane Cottle, 14. 59J – Kirk Jeffries, 15. 44 – Michael Fischesser, 16. 24L – Lee Underwood, 17. 97X – Tyler Hewitt, 18. E99 – Gage Etgen, 19. 42 – Tyl Tilton, 20. 87 – Paul Dues, 21. 39G – Dane Lorenc, 22. 21H – Travis Hery, 23. 69R – Dallas Hewitt, 24. 21K – Kody Swanson