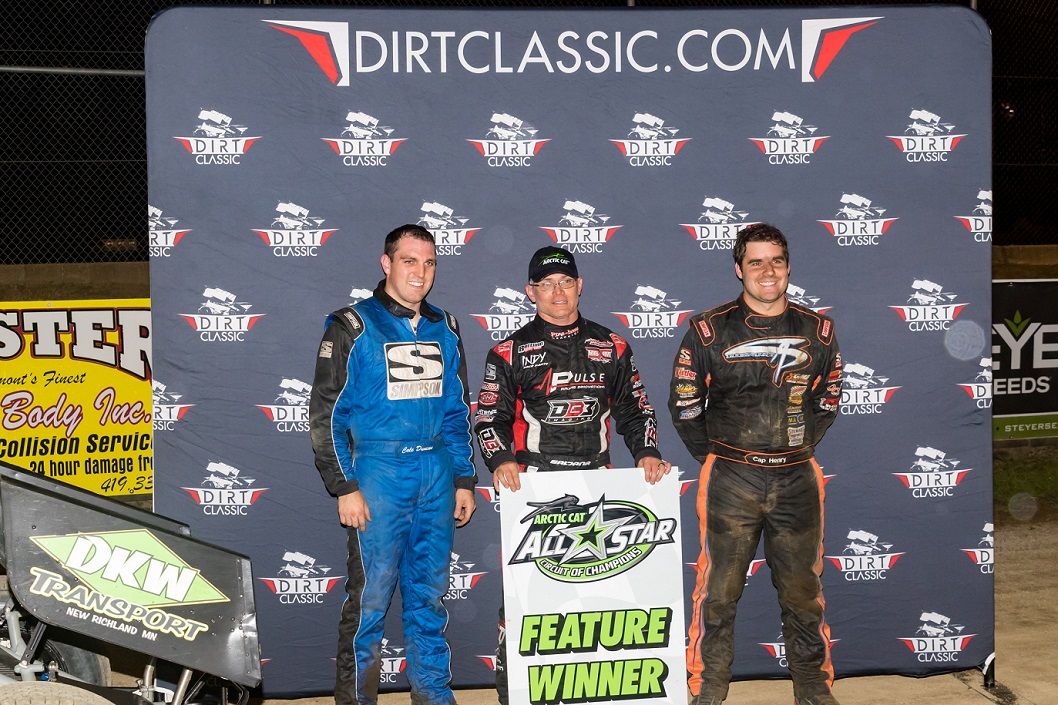 From Tyler Altmeyer
ATTICA, OH (September 2, 2017) – The "Brownsburg Bullet" Joey Saldana stole the show on Saturday night at Attica (OH) Raceway Park, taking the top spot away from race leader, Cole Duncan, during a lap 37 restart to lead the final four circuits of the 40-lapper, ultimately claiming Dirt Classic Ohio top honors, as well as the $10,000 top prize.
The victory, his second of the 2017 season against the Arctic Cat All Star Circuit of Champions, raises Saldana's career win total to 73 with "America's Series," five of which occurring at the home of "Ohio's Finest Racing."
After leading the first 36 circuits, Cole Duncan held on to finish second to help close out the 2017 Attica Raceway Park season, followed by Cap Henry, Travis Philo and Chris Andrews.
"I can't thank Betsy and Bernie enough for giving me the opportunity to race these cars," Saldana said, pilot of the Indy Race Parts, No. 71. "They are so expensive to race and be competitive. They definitely give me a car that is competitive enough to win every night. Tonight we showed everyone we had those capabilities."
Cole Duncan and Joey Saldana led the 26-car field to green on Saturday night for the Dirt Classic Ohio main event. Duncan earned the early jump, leading Joey Saldana and Cap Henry by the flag stand for the first time. It was not until lap seven when Duncan reached traffic for the first time. His efforts through the back of the field were short lived as the main event's first caution flag appeared on lap nine.
After a pair of cautions on lap nine, Duncan led the field back to power, quickly returning to a lengthy advantage ahead of Joey Saldana and Cap Henry. Duncan's lead was interrupted again on lap 15 as red flag conditions took over the speedway, this time for Carson Macedo, who was battling for a top-five position just before losing control at the exit of turn two. Macedo was unharmed, but would not return.
Green flag conditions returned over the speedway once again with Duncan still in control over Saldana and Henry. As the trio raced into turn one, Saldana made an impressive bid for the top spot, sliding across the nose wing of Duncan as they raced through turns one and two. Duncan was able to drive back by Saldana, only to be slid again as the pair raced into turn three. Like before, Duncan was able to turn down the race track and cross back underneath Saldana, beating the Brownsburg, Indiana, native in a drag race back to the start/finish line.
After a quick battle with Saldana, Duncan drove off, quickly gaining ground on the field for the next several circuits. Unfortunately for Duncan, all momentum would soon be lost as red flag conditions returned to the speedway once again on lap 21, this time for sprint car youngster, Justin Peck. Peck ended his night upside-down, but was unharmed.
Duncan paced the running order back to life once again, still keeping Saldana and Henry in his rear-view mirror. A pair of cautions, the first on lap 34 and the second on lap 37, allowed Saldana to set up his eventual takeover of the point position. His first attempt during the lap 34 restart was unsuccessful, but fortunately enough, caution flags flew again on lap 37. It was then when Saldana made his $10,000 move.
At the drop of the green flag, the "Brownsburg Bullet" chased Duncan by the cone and drove hard into the first corner, eventually sliding by the Lockbourne, Ohio, native as the duo battled near the exit of turn four. Unlike prior attempts, this time Saldana made it stick, solidifying his place on top of the feature podium.
"The biggest thing with Cole [Duncan] is that he has a really good car. He drove one hell of a race and did a great job," Saldana explained. "He has a great dad who is teaching him how to race and that is exactly where I was a few years ago with my dad when I was trying to make it in racing. It wasn't that he did anything wrong, I just figured out how to back my corner up on the restart just a little bit and get a run on him. Him and I had a really good battle there toward the beginning, but tonight was good, clean racing. Luckily, we had that restart with four to go that gave us a shot at the win."
"Getting that first win at Attica keeps eluding us," Cole Duncan said in dissapointment. "Congratulations to Joey [Saldana] and their team. They have been a rocket all season. That No. 71 car has always been fast, but Joey takes it to a whole new level."
The Arctic Cat All Star Circuit of Champions will continue their Labor Day weekend swing through the Buckeye State with a visit to Wayne County Speedway in Orrville, Ohio, on Sunday, September 3. Capping off a $20,000 weekend for "America's Series," the Pete Jacobs Memorial will highlight competition at "Orrville's Historic Oval," awarding $10,000 after 35 laps of green flag competition.
Wayne County Speedway officials will open gates at 2:00pm on Sunday afternoon, September 3. Hot laps are scheduled to begin at 6:00pm, with racing to follow at 7:30pm. Those seeking additional news and notes should visit Wayne County Speedway live on the Web at www.waynecountyspeedway.com.
Contingency Awards/Results: Attica Raceway Park- Saturday, September 2, 2017:
Dirt Classic Ohio
EMi Driver's Meeting: 49 entries
State Water Heaters Warm-Ups: Sammy Swindell – 12.479 seconds
Lincoln Electric Fast Qualifier: D.J. Foos – 12.305 seconds
Ford Performance Heat #1: D.J. Foos
All Pro Aluminum Cylinder Heads Heat #2: Caleb Helms
Hunt Brothers Pizza Heat #3: Tyler Esh
Daido Engine Bearings Heat #4: Sammy Swindell
Kistler Racing Products Heat #5: Joey Saldana
Ford Performance Heat #6: Jordan Ryan
All Pro Aluminum Cylinder Heads Heat #7: Stuart Brubaker
Hunt Brothers Pizza Heat #8: Andrew Palker
Daido Engine Bearings Heat #9: Justin Peck
Kistler Racing Products Heat #10: Ryan Smith
Elliott's Custom Trailers & Carts C-Main: Dan McCarron
Classic Ink USA B-Main: Chad Kemenah
Daido Engine Bearings Main Event Winner: Cole Duncan (2nd)
MSD Performance Hard Charger Award: Tim Shaffer (+15)
Outback Steakhouse A-Main 5th Place Finisher: Byron Reed (6th)
Outback Steakhouse A-Main 10th Place Finisher: Ryan Smith (11th)
Outback Steakhouse A-Main 15th Place Finisher: Tyler Esh
(Lincoln Electric, Daido Engine Bearings, MSD Performance, Outback Steakhouse: Need decal to qualify for contingency award)
Qualifying
1. 23-DJ Foos, 12.315; 2. 1080-Jordan Mackison, 12.358; 3. 33M-Max Stambaugh, 12.377; 4. 22C-Cole Duncan, 12.387; 5. 71-Joey Saldana, 12.397; 6. 5T-Travis Philo, 12.401; 7. 70-Rob Chaney, 12.427; 8. 3G-Carson Macedo, 12.465; 9. 39-Sammy Swindell, 12.475; 10. 4-Cap Henry, 12.478; 11. 7K-Cale Conley, 12.5; 12. 17B-Dale Blaney, 12.5127; 13. 35-Tyler Esh, 12.513; 14. 99-Brady Bacon, 12.529; 15. 10H-Chad Kemenah, 12.537; 16. 91-Cale Thomas, 12.583; 17. 17-Caleb Helms, 12.598; 18. 8-Dean Jacobs, 12.599; 19. 11N-Craig Mintz, 12.628; 20. 60-Jody Keegan, 12.6281; 21. 7C-Caleb Armstrong, 12.699; 22. 16-Chris Andrews, 12.704; 23. 81-Lee Jacobs, 12.709; 24. 5R-Byron Reed, 12.71; 25. 7-Shawn Valenti, 12.711; 26. 9M-Jordan Ryan, 12.724; 27. OO-Dane Lorenc, 12.731; 28. 57X-Andrew Palker, 12.735; 29. 27-Brad Lamberson, 12.759; 30. 49x-Tim Shaffer, 12.774; 31. 97-Broc Martin, 12.776; 32. 35s-Stuart Brubaker, 12.785; 33. 22-Brandon Spithaler, 12.794; 34. 84-Brandon Hanks, 12.81; 35. 59-Ryan Smith, 12.867; 36. 95-Hunter Mackison, 12.869; 37. 51-John Garvin, 12.913; 38. 9Z-Duane Zablocki, 12.917; 39. 5X-Justin Peck, 12.925; 40. 13-Brandon Matus, 12.949; 41. 45-Trevor Baker, 12.972; 42. 40-George Hobaugh, 13.082; 43. 22M-Dan McCarron, 13.1487; 44. O8-Dan Kuriger, 13.149; 45. 8M-TJ Michael, 13.319; 46. 9C-Roger Campbell, 13.331; 47. 55-Gary Kriess, 13.392; 48. 33-Brent Matus, 13.442; 49. 1st-Gary Taylor, 99
Heat #1 (8 Laps)
1. 23-DJ Foos [1]; 2. 5T-Travis Philo [2]; 3. 7K-Cale Conley [3]; 4. 7C-Caleb Armstrong [5]; 5. 9M-Jordan Ryan [6]; 6. 97-Broc Martin [7]; 7. 95-Hunter Mackison [8]; 8. 45-Trevor Baker [9]; 9. 9C-Roger Campbell [10]
Heat #2 (8 Laps)
1. 17-Caleb Helms [4]; 2. 17B-Dale Blaney [3]; 3. 70-Rob Chaney [2]; 4. 1080-Jordan Mackison [1]; 5. 35S-Stuart Brubaker [7]; 6. 16-Chris Andrews [5]; 7. 51-John Garvin [8]; 8. 40-George Hobaugh [9]; 9. 55-Gary Kriess [10]; 10. OO-Dane Lorenc [6]
Heat #3 (8 Laps)
1. 35-Tyler Esh [3]; 2. 3G-Carson Macedo [2]; 3. 81-Lee Jacobs [5]; 4. 57X-Andrew Palker [6]; 5. 8-Dean Jacobs [4]; 6. 9Z-Duane Zablocki [8]; 7. 22M-Dan McCarron [9]; 8. 33-Brent Matus [10]; 9. 33M-Max Stambaugh [1]
Heat #4 (8 Laps)
1. 39-Sammy Swindell [2]; 2. 22C-Cole Duncan [1]; 3. 99-Brady Bacon [3]; 4. 5R-Byron Reed [5]; 5. 5X-Justin Peck [8]; 6. O8-Dan Kuriger [9]; 7. 27-Brad Lamberson [6]; 8. 84-Brandon Hanks [7]; 9. 11N-Craig Mintz [4]
Heat #5 (8 Laps)
1. 71-Joey Saldana [1]; 2. 4-Cap Henry [2]; 3. 49X-Tim Shaffer [6]; 4. 7-Shawn Valenti [5]; 5. 10H-Chad Kemenah [3]; 6. 59-Ryan Smith [7]; 7. 13-Brandon Matus [8]; 8. 8M-TJ Michael [9]
Heat #6 (8 Laps)
1. 9M-Jordan Ryan [3]; 2. 97-Broc Martin [2]; 3. 7C-Caleb Armstrong [4]; 4. 7K-Cale Conley [6]; 5. 95-Hunter Mackison [1]; 6. 5T-Travis Philo [7]; 7. 45-Trevor Baker [9]; 8. 23-DJ Foos [8]; 9. 9C-Roger Campbell [10]
Heat #7 (8 Laps)
1. 35s-Stuart Brubaker [2]; 2. 16-Chris Andrews [4]; 3. 51-John Garvin [1]; 4. 17B-Dale Blaney [6]; 5. 17-Caleb Helms [5]; 6. OO-Dane Lorenc [3]; 7. 1080-Jordan Mackison [8]; 8. 55-Gary Kriess [10]; 9. 40-George Hobaugh [9]; 10. 70-Rob Chaney [7]
Heat #8 (8 Laps)
1. 57X-Andrew Palker [2]; 2. 9Z-Duane Zablocki [1]; 3. 81-Lee Jacobs [3]; 4. 3G-Carson Macedo [6]; 5. 8-Dean Jacobs [4]; 6. 35-Tyler Esh [5]; 7. 33M-Max Stambaugh [7]; 8. 22M-Dan McCarron [8]; 9. 33-Brent Matus [9]
Heat #9 (8 Laps)
1. 5X-Justin Peck [1]; 2. 5R-Byron Reed [4]; 3. 99-Brady Bacon [6]; 4. 22C-Cole Duncan [8]; 5. 39-Sammy Swindell [7]; 6. 84-Brandon Hanks [2]; 7. 27-Brad Lamberson [3]; 8. O8-Dan Kuriger [9]
Heat #10 (8 Laps)
1. 59-Ryan Smith [2]; 2. 49x-Tim Shaffer [3]; 3. 4-Cap Henry [7]; 4. 13-Brandon Matus [1]; 5. 71-Joey Saldana [8]; 6. 10H-Chad Kemenah [6]; 7. 7-Shawn Valenti [4]; 8. 8M-TJ Michael [9]
C-Main (8 Laps) – Top 2 Transfer
1. 22M-Dan McCarron [1]; 2. 40-George Hobaugh [2]; 3. 9C-Roger Campbell [6]; 4. 8M-TJ Michael [3]; 5. 33-Brent Matus [5]; 6. 55-Gary Kriess [4]; 7. 11N-Craig Mintz [7]; 8. 91-Cale Thomas [8]; 9. 60-Jody Keegan [9]; 10. 22-Brandon Spithaler [10]; 11. 1st-Gary Taylor [11]
B-Main (12 Laps) – Top 4 Transfer
1. 10H-Chad Kemenah [1]; 2. 49X-Tim Shaffer [2]; 3. 97-Broc Martin [6]; 4. 5X-Justin Peck [9]; 5. 59-Ryan Smith [8]; 6. 8-Dean Jacobs [4]; 7. 9Z-Duane Zablocki [10]; 8. 33M-Max Stambaugh [3]; 9. 7-Shawn Valenti [7]; 10. 95-Hunter Mackison [13]; 11. 22M-Dan McCarron [19]; 12. 13-Brandon Matus [15]; 13. 51-John Garvin [11]; 14. 40-George Hobaugh [20]; 15. 45-Trevor Baker [17]; 16. OO-Dane Lorenc [14]; 17. 27-Brad Lamberson [12]; 18. 84-Brandon Hanks [16]; 19. 35s-Stuart Brubaker [5]; 20. O8-Dan Kuriger [18]
A-Main (40 Laps)
1. 71-Joey Saldana [2]; 2. 22C-Cole Duncan [1]; 3. 4-Cap Henry [3]; 4. 5T-Travis Philo [7]; 5. 16-Chris Andrews [20]; 6. 5R-Byron Reed [16]; 7. 49X-Tim Shaffer [22]; 8. 39-Sammy Swindell [6]; 9. 10H-Chad Kemenah [19]; 10. 23-DJ Foos [5]; 11. 59-Ryan Smith [23]; 12. 17-Caleb Helms [13]; 13. 99-Brady Bacon [10]; 14. 7C-Caleb Armstrong [15]; 15. 35-Tyler Esh [12]; 16. 13-Brandon Matus [26]; 17. 9M-Jordan Ryan [17]; 18. 7K-Cale Conley [9]; 19. 5X-Justin Peck [24]; 20. 1080-Jordan Mackison [11]; 21. 17B-Dale Blaney [8]; 22. 3G-Carson Macedo [4]; 23. 97-Broc Martin [21]; 24. 81-Lee Jacobs [14]; 25. 57X-Andrew Palker [18]; 26. 70-Rob Chaney [25] Lap Leaders: Cole Duncan [1-36], Joey Saldana [37-40]
Current Arctic Cat All Star Circuit of Champions Standings (September 2, 2017):
1. Chad Kemenah – 5188
2. Ryan Smith – 4812
3. Caleb Armstrong – 4674
4. Max Stambaugh – 4378
5. Caleb Helms – 4240
6. Brandon Spithaler – 4049
7. T.J. Michael – 4011
8. Tyler Esh – 3975
9. Tim Shaffer – 3836
10. Brandon Matus – 3818