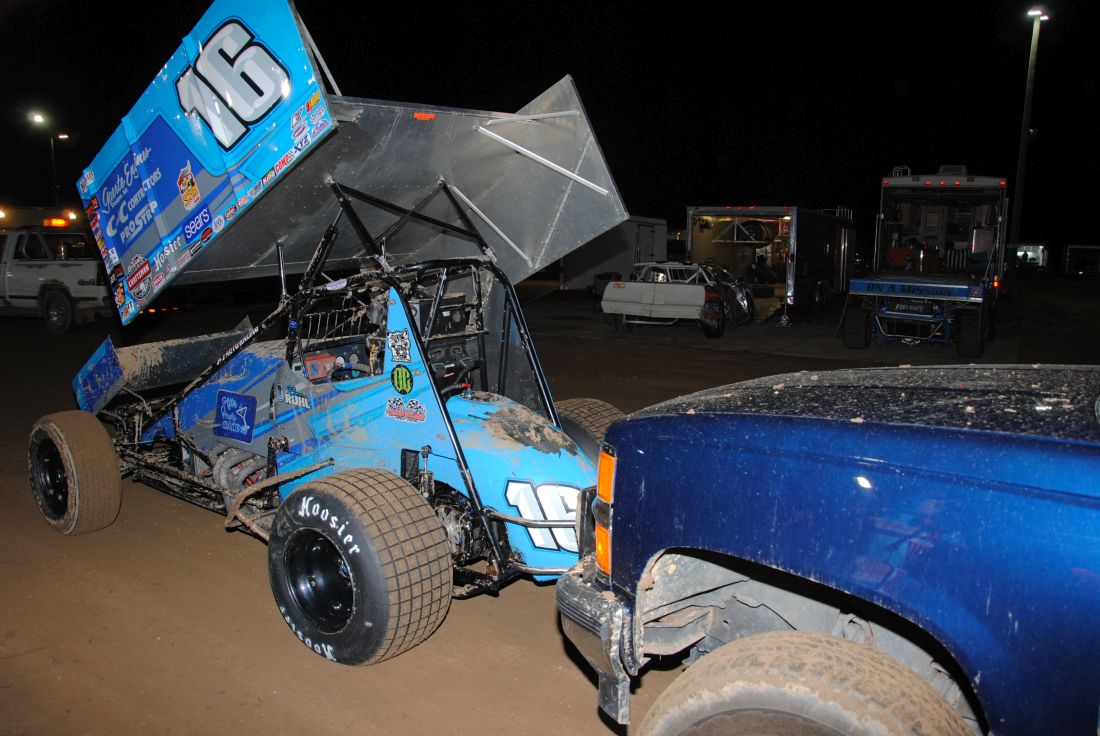 ERIE, MI (September 3, 2017) – Ryan Ruhl (Coldwater, MI) capped off a great weekend by putting on a dominating performance to win his third consecutive annual Mike Olrich Memorial last night at Crystal Motor Speedway. The race was the final points race for Engine Pro Sprints On Dirt Presented by ARP 2017 season. The 25 lap SOD feature was run caution-free and in record time. Ruhl also won the SOD King Engine Bearing King of Michigan race at Hartford Speedway Friday night.
The speedway was the scene of an epic battle; there was also an impressive race too! Track owner/promoter Ron Flinn went toe-to-toe for control of the track surface with Mother Nature. Flinn, who takes pride in his track prep, was challenged after SOD heats but before the SOD feature. Determined to win out, Flinn went to work bringing back the lost race surface. Crystal's track prep vehicles/push trucks went to work on track. All 22 SOD cars then took over and wheel packed the track. Everyone was rewarded with a lightning-fast, fan-pleasing track.
Jay Steinebach and Brett Mann led the field to the green with Mann taking the initial lead. It was immediately obvious that the packed house was going to be treated to an all-out speed fest. Lapped traffic quickly made the leaders work hard, and Steinebach took advantage of a Mann check up to grab the lead. 4th starting Ruhl took the lead on lap seven though, and drove off into another time zone, expertly slicing through traffic. Steinebach faced a little pressure first from Mann, then from Dain Naida, but eventually opened up a comfortable gap. Mann got back by Naida on the last lap to claim 3rd.
Steve Irwin's 6th place finish was enough to claim the Engine Pro Sprints On Dirt Presented by ARP 2017 Championship. Thomas Schinderle finished 2nd in points and is the 2017 Perfit Sprints On Dirt Series Rookie of the Year. 2015 SOD champion Gregg Dalman finished 3rd in points. Chris Jones came back from a heat race flip to start the feature and take 4th in points over Ryan Ruhl. Andrew Scheid claimed the 2017 Perfit Sprints On Dirt Sprint Car Rookie of the Year title and finished 8th in season points.
Engine Pro Sprints on Dirt presented by ARP
Mike Olrich Memorial
Crystal Motor Speedway
Crystal, MI
Saturday September 2, 2017
Heat Race #1 (10 Laps): 1. 17X-Dain Naida, [7]; 2. 0-Steve Irwin, [3]; 3. 77-Andrew Scheid, [2]; 4. 46-Robert Huisken, [5]; 5. 20A-Andy Chehowski, [8]; 6. 21T-Troy Chehowski, [4]; 7. 91L-Alexis Derosha, [6]; 8. 28-Brian Slusarski, [1]
Heat Race #2 (10 Laps): 1. 41-Thomas Schinderle, [7]; 2. 89-Chris Pobanz, [5]; 3. 24-Eric Smith, [4]; 4. 58-Tony Bares, [6]; 5. 6-Tyler Bearden, [3]; 6. 31-Tanner Astraukaus, [2]; 7. 10J-Chris Jones, [1]
Heat Race #3 (10 Laps): 1. 16-Ryan Ruhl, [5]; 2. 10S-Jay Steinbach, [2]; 3. 19-Brett Mann, [6]; 4. 49T-Gregg Dalman, [3]; 5. 9E-Tim Evilsizer, [7]; 6. 3A-Mike Astrauskas, [4]; 7. 47-Robert Bulloch, [1]
A-Main (25 Laps): 1. 16-Ryan Ruhl, [17]; 2. 19-Brett Mann, [14]; 3. 0-Steve Irwin, [12]; 4. 10S-Jay Steinbach, [22]; 5. 41-Thomas Schinderle, [19]; 6. 17X-Dain Naida, [15]; 7. 49T-Gregg Dalman, [8]; 8. 77-Andrew Scheid, [18]; 9. 46-Robert Huisken, [11]; 10. 20A-Andy Chehowski, [6]; 11. 9E-Tim Evilsizer, [10]; 12. 21T-Troy Chehowski, [7]; 13. 58-Tony Bares, [3]; 14. 91L-Alexis Derosha, [9]; 15. 28-Brian Slusarski, [20]; 16. 24-Eric Smith, [21]; 17. 6-Tyler Bearden, [4]; 18. 89-Chris Pobanz, [16]; 19. 3A-Mike Astrauskas, [2]; 20. 47-Robert Bulloch, [5]; 21. 31-Tanner Astraukaus, [1]; 22. 10J-Chris Jones, [13]