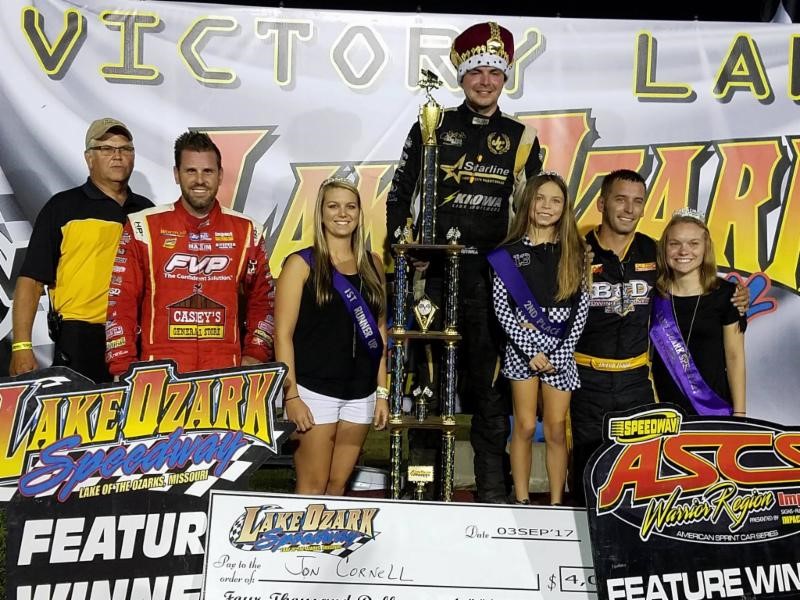 From Bryan Hulbert
ELDON, Mo. (September 3, 2017) In a battle of slide jobs through traffic on Sunday night, Sedalia's Jonathan Cornell took the race three with Brian Brown to secure a $4,000 payday at Lake Ozark Speedway with the Speedway Motors ASCS Warrior Region presented by Impact Signs, Awnings, and Wraps.
"I'm ready for a Beer. I'm speechless," said a sweat drenched Jonathan Cornell in Victory Lane.
Chasing the Casey's General Store/FVP No. 21 from the start, the pair were nearly inseparable as traffic came into view within the first 10 laps. Beginning a game of cat and mouse, the pair swapped top for bottom several times with Cornell edging Brown for the lead on Lap 22.
Retaking the point one lap later, the A-Main's lone stoppage came while working Lap 24 as Johnny Herrera flipped off the fourth turn. Johnny was unharmed. Reverting back to Lap 23 for the restart, the race for the lead picked up right where it left off with Brown working the cushion on the Searsboro Telephone, Co. No. 28 of Cornell.
Back into traffic, Cornell began searching the middle groove of the Lake Ozark Speedway.
Taking the race three deep at both ends of the track, Brown slipped over the cushion just enough off the second turn to give Cornell an edge on Lap 37. Battling back on the cushion, Brown again slipped the line and with it, sealed his fate as Jonathan Cornell sped away by 1.456 seconds at the drop of the checkered flag. Brian Brown second was joined on the podium by Derek Hagar.
Terry McCarl crossed fourth with Tony Bruce, Jr. making up the top-five. Sixth went to Sean McClelland with Kyle Bellm in tow. Tyler Blanked moved from 12th to finish eighth with Blake Hahn ninth. Danny Lasoski from 20th finished tenth.
The Speedway Motors ASCS Warrior Region presented by Impact Signs, Awnings, and Wraps will be at Lake Ozark Speedway for the next two Saturday nights before joining with the Lucas Oil ASCS National Tour presented by the MAVTV Motorsports Network on September 21, 22, and 23 for the 7th annual $10,000 to win Hockett/McMillin Memorial at Lucas Oil Speedway.
For continued updates on the American Sprint Car Series, from the National Tour to any of the seven regional tours that make up the over 150 dates across the ASCS Nation in 2017, log onto http://www.ascsracing.com.
Race Results:
ASCS Warrior Region
Lake Ozark Speedway – Eldon, Mo.
Sunday, September 3, 2017
Car Count: 39
Heat 1 (8 Laps): 1. 86-Tony Bruce Jr, [2]; 2. 8M-Kade Morton, [3]; 3. 38-Cody Baker, [1]; 4. 33-Austin Alumbaugh, [4]; 5. 93-Dustin Morgan, [7]; 6. 34-Corey Nelson, [5]; 7. 81-Tanner Gebhardt, [6]
Heat 2 (8 Laps): 1. 14K-Kyle Bellm, [1]; 2. 75-Tyler Blank, [2]; 3. 21-Miles Paulus, [4]; 4. 18X-Bradlee Ryun, [3]; 5. 4-Evan Martin, [6]; 6. 85-Forrest Sutherland, [5]; 7. (DNF) 81A-Chris Morgan, [7]
Heat 3 (8 Laps): 1. 22S-Sean McClelland, [1]; 2. 45X-Johnny Herrera, [2]; 3. 23-Seth Bergman, [3]; 4. 14-Randy Martin, [7]; 5. 24C-Lanny Carpenter, [5]; 6. 99E-Bailey Elliott, [4]; 7. 3Z-Zach Davis, [6]
Heat 4 (8 Laps): 1. 7M-Chance Morton, [3]; 2. 52-Blake Hahn, [2]; 3. 26-Marshall Skinner, [1]; 4. 72-Curtis Boyer, [5]; 5. 12S-Parker Price-Miller, [7]; 6. 27-Danny Thoman, [4]; 7. 49B-Ben Brown, [6]
Heat 5 (8 Laps): 1. 0-Mike Trent, [1]; 2. 99-John Schulz, [2]; 3. 50-Danny Lasoski, [3]; 4. 76-Jay Russell, [5]; 5. 3-Ayrton Gennetten, [6]; 6. 22-Dustin Barks, [7]; 7. 1A-Adam Jones, [4]
B Feature 1 (10 Laps): 1. 23-Seth Bergman, [1]; 2. 93-Dustin Morgan, [4]; 3. 33-Austin Alumbaugh, [5]; 4. 4-Evan Martin, [6]; 5. 72-Curtis Boyer, [2]; 6. 34-Corey Nelson, [8]; 7. 38-Cody Baker, [3]; 8. 81-Tanner Gebhardt, [10]; 9. 24C-Lanny Carpenter, [7]; 10. 49B-Ben Brown, [11]; 11. (DNF) 99E-Bailey Elliott, [9]; (DNS) 81A-Chris Morgan,
B Feature 2 (10 Laps): 1. 76-Jay Russell, [2]; 2. 50-Danny Lasoski, [1]; 3. 12S-Parker Price-Miller, [4]; 4. 3-Ayrton Gennetten, [6]; 5. 22-Dustin Barks, [7]; 6. 26-Marshall Skinner, [3]; 7. 85-Forrest Sutherland, [8]; 8. 1A-Adam Jones, [11]; 9. 27-Danny Thoman, [9]; 10. 18X-Bradlee Ryun, [5]; 11. 3Z-Zach Davis, [10]
A Feature (40 Laps): 1. 28-Jonathan Cornell, [1]; 2. 21B-Brian Brown, [2]; 3. 9JR-Derek Hagar, [3]; 4. 24M-Terry McCarl, [4]; 5. 86-Tony Bruce Jr, [5]; 6. 22S-Sean McClelland, [6]; 7. 14K-Kyle Bellm, [8]; 8. 75-Tyler Blank, [12]; 9. 52-Blake Hahn, [14]; 10. 50-Danny Lasoski, [20]; 11. 12S-Parker Price-Miller, [22]; 12. 14-Randy Martin, [11]; 13. 33-Austin Alumbaugh, [21]; 14. 7M-Chance Morton, [7]; 15. 23-Seth Bergman, [17]; 16. 8M-Kade Morton, [10]; 17. 21-Miles Paulus, [16]; 18. 0-Mike Trent, [9]; 19. 93-Dustin Morgan, [19]; 20. 99-John Schulz, [15]; 21. 76-Jay Russell, [18]; 22. (DNF) 45X-Johnny Herrera, [13]; 23. (DNF) 3Z-Zach Davis, [24]; 24. (DNF) 4-Evan Martin, [23]