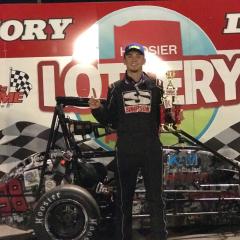 By Eric Bunn
(Lebanon, IN) Tommy Kouns closed out the 2017 UAW American Made Mel Kenyon Midget Series Indianapolis Speedrome season with his first career win in Saturday's 50-lap feature. Kouns took the lead on the restart following a following a lengthy red flag for an accident on lap 37.
When the race resumed Kouns pulled to a comfortable lead, leading every lap for the remainder of the race. Prior to the red flag, Rookie Colin Grissom controlled the point after starting on the pole. Grissom was shadowed by series point leader Dameron Taylor until lap 35. Taylor used lapped cars to grab the lead on lap 36. Grissom's attempt to re-pass Taylor resulted in the red flag with Taylor's car making hard contact with the front straight wall.
Back in the pack Nathan Foster and Trey Osborne conducted a race long battle for the third and fourth positions. Foster would nip Osborne at the strip by .320 of a second. The third place finish is Foster's career best.
Ryan Huggler claimed the second spot. Ken Kriegbaum finished fifth, the last car on the lead lap.
The 2017 UAW American Made Mel Kenyon Midget Series has only two remaining races on the schedule before a Driving Champion is crowned. Taylor continues to lead the points, followed by Ryan Huggler, Osborn, Kouns and Logan Huggler.
The UAW Kenyon Midgets will finish the dirt portion of the schedule this Saturday night at US 24 Speedway in Logansport, IN. Hot laps are scheduled for 6:30 with racing at 7:00. US 24 Speedway is located just west of Logansport, IN on US Highway 24.