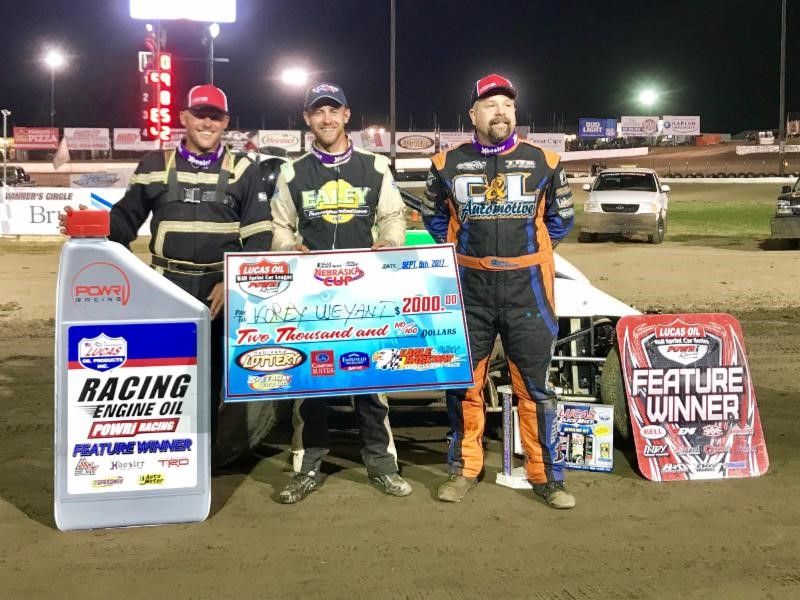 From Brooke Rowden
EAGLE, Ne. (September 8, 2017) – Korey Weyant scored his fifth POWRi Lucas Oil WAR win of the season at Eagle Raceway on Friday night in Eagle, Nebraska over Terry Richards, Chris Parkinson, Warren Johnson, and Ryan Kitchen rounded out the top five.
Terry Richards and Chris Parkinson led the field to green for the 25 lap main event. Richards assumed the bottom line and took the lead while Weyant followed closely behind and Kitchen took to the high side hot on their trail. Weyant would soon grow tired of following Richards on the bottom and jumped to the top side of the racetrack.
The yellow came out for Slater Helt in turn 4 after bicycling and slowing to a stop. He would tag the tail.
On the restart, Richards continued to lead running a smooth and steady race on the bottom groove with Weyant doing all he could to gain ground on the top of the track, but no dice.
The yellow would be thrown once more for Vinny Ward who slowed to a stop in turn one.
On the final restart, Weyant powered around the top of turns one and two to get by Richards, then he zipped down to the bottom line in turns three and four to solidify the pass for the lead. Korey Weyant would go on to win the race and pick up a $2,000 payday over Terry Richards and Chris Parkinson.
The POWRi Lucas Oil WAR Sprints are back in action tomorrow, September 9 at I-35 Speedway in Winston, Missouri where cameras will be recording the high speed action for an epsidoe of "Dirty 30" which will air on national television on MAVTV at a later date presented by Rod End Supply.
POWRi Lucas Oil WAR Sprint League
9/8/17
Eagle Raceway – 20 cars
Hinchman Racewear Heat 1 – 8 laps
1. 77K-Katlynn Leer, Moulton, IA (3); 2. 99-Korey Weyant, Springfield, IL (3); 3. 36-Jason Martin, Lincoln, NE (1); 4. 73-Jack Wagner, Lone Jack, MO (4); 5. 22S-Slater Helt, Cactus Flats, MO (2)-DNF; 6. 41-Brad Wyatt, Kearney, MO (DNS); 7. 7KX-Toby Chapman, Panama, NE (DNS)
Wilwood Disc Brakes Heat 2 – 8 laps
1. 15B-Quinton Benson, Emma, MO (3); 2. 21-Ryan Kitchen, Lincoln, NE (6); 3. 42-Warren Johnson, Overland Park, KS (3); 4. 1R-Matt Richards, Lincoln, NE (2); 5. 82-Vinny Ward, Warrenton, MO (5); 6. 11W-Wyatt Burks, Topeka, KS (1)-DNF; 7. 91-Adam Gullion, Lincoln, NE (DNS)
Bell Helmets Heat 3 – 8 laps
1. 18-Terry Richards, Denton, NE (2); 2. 65-Chris Parkinson, Gladstone, MO (5); 3. 2-Zach Clark, Lenexa, KS (3); 4. 0-Brandon Stevenson, Holstein, IA (1); 5. 93-Steve Mahannah, Springfield, MO (4)-DNF; 6. 31-Dylan Kadous, Topeka, KS (6)-DNF
POWRi Lucas Oil WAR Sprints A-Main – 25 laps
1. 99-Korey Weyant (3); 2. 18-Terry Richards (1); 3. 65-Chris Parkinson (2); 4. 42-Warren Johnson (7); 5. 21-Ryan Kitchen (6); 6. 31-Dylan Kadous (16); 7. 77K-Katlynn Leer (5); 8. 41-Brad Wyatt (18); 9. 0-Brandon Stevenson (12); 10. 36-Jason Martin (9); 11. 2-Zach Clark (8); 12. 91-Adam Gullion (20); 13. 82-Vinny Ward (13)-DNF; 14. 22S-Slater Helt (15)-DNF; 16. 15B-Quinton Benson (4)-DNF; 17. 73-Jack Wagner (10)-DNF; 18. 93-Steve Mahannah (14)-DNF; 19. 11W-Wyatt Burks (17)-DNS; 20. 7KX-Toby Chapman (19)-DNS