Inside Line Promotions
CALHAN, Colo. (Sept. 13, 2017) –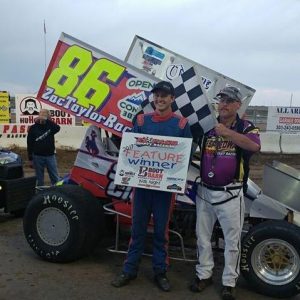 The teenager scored his third straight 305ci winged sprint victory last Saturday at El Paso County Raceway, giving him seven trips to Victory Lane this season.
Taylor opened the night by driving from third to a heat race win before he rolled off fourth in the main event.
"There were a pair of rookies on the front row and at the start I kind of hung back not knowing what they might do," he said. "I watched them and saw a hole open to the inside so I passed both and it was home free home after that."
The win was another check mark on a banner season for Taylor, who continues to lead the Blood Sweat and Tears and Colorado Alliance Tour championship standings.
"I think we have a couple more sprint car races other than a 360ci race we are looking at," he said. "If I do well I could lock up both championships. I've never won a championship in the sprint car. I'm very happy and content where we are right now with this team."
Taylor will take that comfort and momentum into this weekend when he will pilot Todd Henry's midget with the Rocky Mountain Midget Racing Association on Saturday at I-76 Speedway in Fort Morgan, Colo. He is currently ranked fourth in the RMMRA standings.
"I got a win in the midget this year," he said. "That's a vast improvement. I've learned so much racing with Todd this year."
QUICK RESULTS –
Sept. 9 – El Paso County Raceway in Calhan, Colo. – Heat race: 1 (3); Feature: 1 (4).
SEASON STATS –
23 races, 7 wins, 14 top fives, 15 top 10s, 15 top 15s, 18 top 20s
UP NEXT –
Saturday at I-76 Speedway in Fort Morgan, Colo., with the Rocky Mountain Midget Racing Association
MEDIA LINKS –
Facebook: https://www.facebook.com/pages/Zac-Taylor-Racing/176561235888527
Twitter: https://twitter.com/zac86taylor
Website: http://www.zactaylorracing.com
YouTube: https://www.youtube.com/channel/UCA1su-PDXOb8wWUoLAw_POQ/videos
SPONSOR SPOTLIGHT – SuperClean
SuperClean was formed on the foundation of two core values: 1. To help people keep the things they love clean and functional. 2. To supply a powerful product that saves time and energy so people can get back to doing the things they love. SuperClean products can be used on automotive parts like engines, underbodies, small parts, wheels and more; outdoor equipment, such as tools, grills and lawn equipment; recreation vehicles, including boats, RVs, bikes, fishing rods, golf clubs and more; and indoor appliances, such as carpets, showers and tubs and even laundry. For more information, visit http://www.SuperClean.com.
"I really value the relationship we have with SuperClean," Taylor said. "I've made more appearances this year than I ever have and have handed out a lot of SuperClean products."
Taylor would also like to thank H&H Resurfacing, Open Season Construction, Unique Signs and Designs, Joe Gibbs Driven Racing Oil, the Kaiser Family, Pro Shocks, Triple X Racing Company and Hoosier Racing Tires for their continued support.