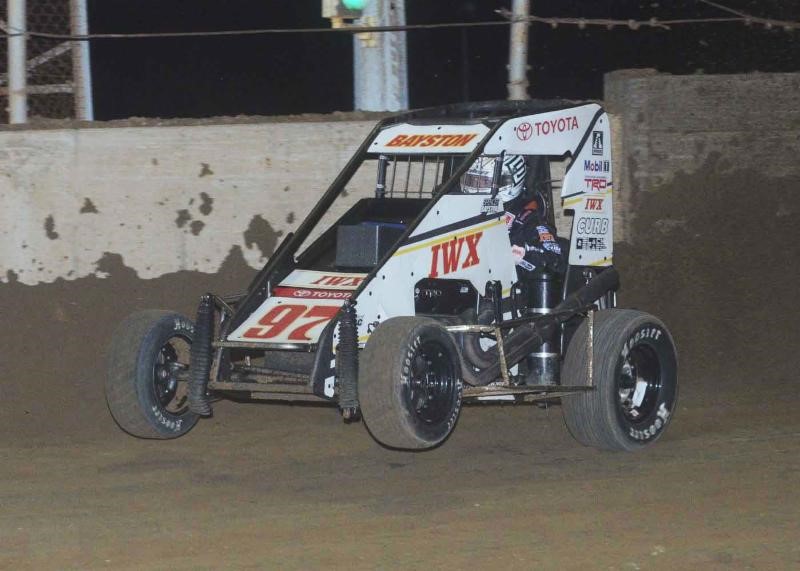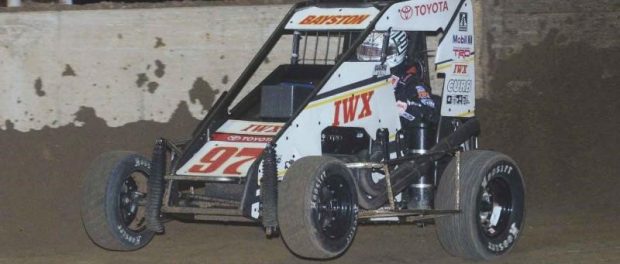 From POWRi
BELLEVILLE, Ill. (September 30, 2017) — Building on a solid victory from the previous night, Spencer Bayston capitalized on Logan Seavey's misfortune to claim his second POWRi Lucas Oil National Midget League victory of the weekend. Bayston's Belle-Clair win was his ninth career, capturing the 13th Annual Charlene Meents Memorial presented by Priority Aviation Services LLC, co-sanctioned by the POWRi Lucas Oil West Midget League.
Starting inside row two, Bayston faded early as Tucker Klaasmeyer took the lead with Logan Seavey in tow. By lap seven Seavey overtook Klaasmeyer and appeared to be the dominant force of the 30 lap main event. Midway through the race, tenth place starter Tanner Thorson was working inside the top three when contact from behind spun the Keith Kunz/Curb-Agajanian Motorsports entry, forcing Thorson to restart at the tail.
Now back up to third, Bayston battled with rookie Zeb Wise for the second positon, officially securing second on lap 24. Still riding the treacherous Belle-Clair curb, Seavey caught the lip and then the wall exiting turn four on lap 25, taking a wild ride and finding himself going from the lead to the business end of a wrecker.
Inheriting the lead from Seavey's misfortune, Spencer Bayston was able to fend off Tucker Klaasmeyer and Andrew Felker for the remaining five laps. Zeb Wise finished fourth with Nick Knepper rounding out the top five.
"It was obviously a good weekend," commented Spencer Bayston. "This is a place that I really, really enjoyed when I first started running midgets. The bullring style. This is a cool event. Thank you POWRi, thank you Keith Kunz Motorsports, TRD, Toyota Racing. It's an honor to win one for this team."
"I finally found my rhythm on the top and then when I did, Spencer came and pinched me in the wall pretty good," Tucker Klaasmeyer said. "Kind of wished I would have returned the favor on that one a little quicker, but anyways congrats to those guys. That's two nights in a row they won like that. We'll try again in a couple of weeks."
"It's been a while," stated Andrew Felker. "We were probably a sixth or seventh place car there, but got lucky when Tanner spun there. Kind of came in there at the end and followed Tucker. We'll definitely take third place. Hopefully we'll keep building on these and pick up a few more spots."
Midgets
Speedway Motors Heat Race Winners:
Heat 1 (Brayton Lynch Racing/Smith Titanium): 39 – Zeb Wise
Heat 2 (In Memory Of Bryan Clauson – Frank Daigh/Saldana Racing Products): 27 – Tucker Klaasmeyer
Heat 3 (Kevin Triplett'S Racing History/Keizer Wheels): 37 – Andrew Felker,
Heat 4 (Boss Chassis /Rod End Supply): 55 – Nick Knepper,
Heat 5 (Rockwell Security / Pyrotect Racing): 00 – Grady Chandler,
Heat 6: 4a – Logan Seavey
Toyota Semi Feature Winner: 7 – AUSTIN BROWN, 5RJ – COLBY COPELAND
Mesilla Valley Transportation Feature Winner: 97 – SPENCER BAYSTON
POWRi Lucas Oil National/West Midget League Feature Results (30 laps): 1. 97 – Spencer Bayston 2. 27 – Tucker Klaasmeyer 3. 37 – Andrew Felker 4. 39 – Zeb Wise 5. 55 – Nick Knepper 6. 3n – Jake Neuman 7. 7u – Joe B Miller 8. 77u – Casey Shuman 9. 6a – Aidan Roosevans 10. 00 – Grady Chandler 11. 67k – Holly Shelton 12. 50 – Daniel Adler 13. 67 – Tanner Thorson 14. 57d – Daniel Robinson 15. 5rj – Colby Copeland 16. 71k – Tanner Carrick 17. 71 – Ryan Robinson 18. 08 – Cannon Mcintosh 19. 28 – Kory Schudy 20. 5 – Danny Frye 21. 4a – Logan Seavey 22. 22 – Andy Malpocker 23. 37x – Jason Mcdougal 24. 7 – Austin Brown