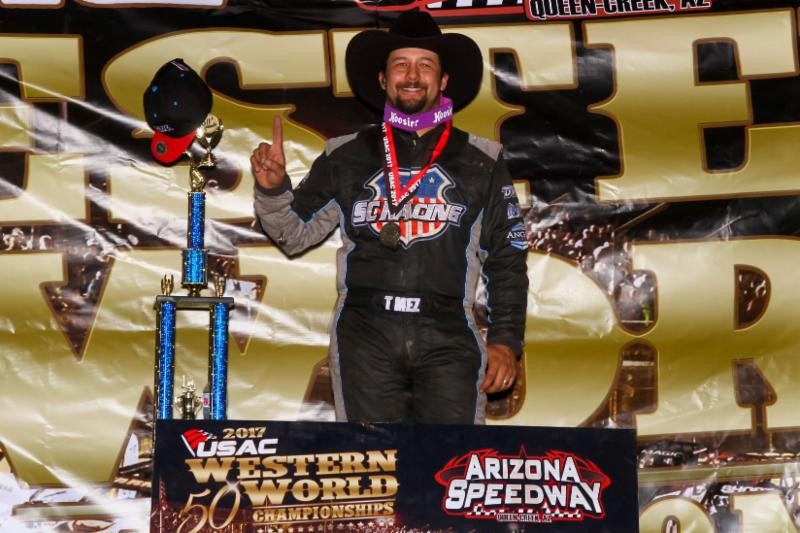 From Richie Murray
SAN TAN VALLEY, Az. (November 3, 2017) — Thomas Meseraull has proven time and time again that, regardless of the situation he's faced with, he figures out the way to get to victory lane.
Winning for a team he's never driven for? Check. Taking an admitted "fourth-place car" to first in the final laps? Check. Having your initial instinct take a detour, yet still managing to find the quickest way around? Checkmate.
On night one of the 50th Annual Torco Racing Fuels "Western World Championships" at Arizona Speedway, chaos created opportunity for Meseraull. A wild sequence of events put forth in motion an unlikely scenario that pitted a driver who, as of a week and a half ago, was without a ride and had no plans on racing in the "Western World" versus a driver who flipped his car on the tenth lap of the feature.
After five consecutive laps of Bacon snuggling the bottom line and Meseraull rim-riding the top shelf, Meseraull prevailed on the final lap to win his third USAC AMSOIL National Sprint Car feature of the year. For his third different team.
"I got a call a week and a half ago," Meseraull recalled from the Reinbold/Underwood team. "I told them I'd love to come out, but I don't have the funds. Last year, I kind of broke myself to come out here and do the points deal. They helped me out and Mike White with Beaver Stripes helped me get a plane ticket, gave me a place to stay and here we are."
"They have a brand-new Spike with brand new shocks on it, brand new tires and a fresh motor," Meseraull detailed. "We have good equipment. You just have to do your best. It's what I do, jump around to different rides. They were nice enough to let me set it up. I think I'm more excited about that. I put together a combination of what we've been doing this year with Kevin Briscoe, Donnie Gentry and Michael Dutcher and it's just really paid off."
For two-thirds of the 30-lap feature, the race appeared to be owned by Courtney, who ripped around the outside of Thomas coming off turn four on the second circuit to grab the lead. Courtney instantly opened a gap over Thomas of 1.5 seconds before being encumbered by the tail end of lap traffic on the eighth trip around the one-third-mile.
Thomas was able to poke a nose under Courtney at the flag stand on lap nine and appeared poised to set up a turn one slider for the lead, but traffic stood in the way, thus negating any notion he may have had for the time being. An instant later, Courtney biked on the top, but maintained control and carried on without issue.
Just behind, seventh-running Brady Bacon ran into trouble in nearly the same spot that Courtney biked.
"I slid up, got above the cushion, got up on the right front and I can't really tell you what happened after that," Bacon explained. "I was waiting for a big hit, but it never really came. We bent a couple things (on the car) here and there, but nothing major. We pulled it into the infield and changed the left rear radius rod. We checked everything else over and pushed back off. It might've actually helped me because I had to commit to the bottom. That was the only way I was going to get up through there."
Seemingly, the incidents fell in Courtney's favor as he saw his lead dwindle when meeting up with lapped traffic on lap 17 when Isaac Chapple sailed over the turn two guardrail without getting upside, landing on his wheels in the area between the backside of the barrier and the billboards. On lap 23, Courtney caught another break when Chet Williams barrel-rolled hard through turn one in an accident that also involved C.J. Leary. All involved were okay.
On the ensuing restart, barring another caution, Thomas encountered what may have been his last chance at to make a run at Courtney for the lead. As Thomas slid to the inside of Courtney, the battleground for track position was not fit for two occupants.
Exiting the second turn, the two made contact, but both got back up to speed to remain in the tussle. Courtney, now trailing slightly, attempted to slide Thomas right back between turns three and four. The two banged wheels again. Thomas would get the worst end of the equation initially when he kissed the rail with his right-side tires before getting back on track, though now mired all the way back in ninth.
While chaos ensued between positions one through six, Bacon tip-toed on the bottom from seventh to the lead and built up a half-straightaway lead before 2017 USAC West Coast Sprint Car champ Jake Swanson spun at the exit of turn four with five laps remaining to bring out the final yellow of the evening.
Though Meseraull was sitting in third, he had a pair of war-wounded racecars running first and second just ahead of him with Bacon's car suffering from a bent Jacob's ladder and a cracked brake fitting while Courtney's mount had a left front tire giving out on him.
When it was time for the San Jose, California native to strike, Meseraull altered his plan of attack on the fly, putting him in the spot that fits him to a T.
"I just kept pounding down the top like I do because I live or die by the top," Meseraull put it matter of factly. "On the final restart, I was thinking I was going to bomb a slider on Sunshine (Courtney), but he moved to the bottom and Bacon moved to the bottom. All of a sudden, it was like the seas parted and I had the top all to myself."
From that point forward, it was a tale of a two strategies with Bacon on the bottom and Meseraull topside. Meseraull managed to nose ahead on lap 27, but on laps 28 and 29, Bacon found a surge off the bottom to propel himself to satisfaction by a single car-length at the line.
Though Meseraull still trailed Bacon, albeit by a miniscule margin, he found something that turned out to be a path paved to victory.
"With two to go, I kind of felt some rubber. It was looking dark," Meseraull noticed. "I was killing the curb, but it was on the fence, sketchy, and I was so close to wearing it out. I thought, 'just move down a little bit, drive the thing straight and don't spin the tires.' I did that and it was like, boom, rubber. I drove by Bacon on last lap. It just all fell together at the right time. It was an awesome race. USAC always puts on a good show, the best in the country, best in the world!"
Meseraull emerged with the lead coming off turn two on the final trip around the oval and, though, Bacon made one last ditch effort at Meseraull off four, it was to no avail as Meseraull secured the win by 0.334 seconds over Bacon, Robert Ballou, new series point leader Chris Windom and Courtney rounding out the top-five.
Meseraull's Reinbold-Underwood Motorsports/AME Electrical – Beaver Stripes/Spike/Wesmar ride is the sixth different car he's raced to a top-five finish this season alone in USAC competition. It's also the second time he's won a USAC race in his debut in a ride this year following his "Indiana Sprint Week" win at Kokomo (Ind.) Speedway in July. His other win this season came in his second race aboard the Heffner Racing ride at Lincoln Speedway in Pennsylvania during "Eastern Storm."
Broken Arrow, Oklahoma's Brady Bacon nearly pulled off an improbable victory that would've resulted in one of the most unique box score stats ever recorded by returning to win after flipping during the very same feature. However, it was not to be as the two-time USAC AMSOIL National Sprint Car champ completed an overall successful night when it comes right down to it, finishing second in his Dooling-Hayward/B & H Contractors – Dooling Machine/Spike/Stanton Mopar after earlier capturing the victory in the USAC Southwest Sprint Car feature.
"The thing that hurt us the most tonight was that we must've cracked a brake fitting or something," Bacon detailed. "In the last two or three laps, I ran out of brake fluid because it was leaking just a little bit. I still had brakes up until then. I still had a little bit, but I couldn't cut the bottom like I was able to up until that point. It was just a combination of things at the end. I knew it was going to be hard to hold off somebody with a clear track on the top, then it took rubber, which I was afraid of."
Robert Ballou's first ever visit to Arizona Speedway was a roller coaster ride. After qualifying 20th and starting 18th in the feature, the Rocklin, California native overcame all obstacles to race to third, thus earning KSE Racing Products, Saldana Racing Products/Rod End Supply Hard Charger honors for the night.
"I want to thank track owner Jonah (Trussel) for reworking the track and making it so that the fans got their money's worth because I definitely believe they got their money's worth tonight," Ballou praised. "When you start as far back as I did, you just got to try something. We were so off when we started at the beginning of the night. I thought we had something figured out last night (in practice). We've been pretty good when the track's wet. We started that way and it was way off, so we tried to fix and didn't fix it. So, we just threw a Hail Mary set up at it for the feature. It was either going to be really good or really bad."
Contingency award winners Friday night at Arizona Speedway included Damion Gardner (ProSource/Woodland Auto Display Fast Qualifier), Kevin Thomas, Jr. (Simpson Race Products/Extreme Mufflers 1st Heat Winner), Brady Bacon (Competition Suspension, Inc./Brown & Miller Racing Solutions 2nd Heat Winner), Isaac Chapple (Chalk Stix/Circle Track Performance 3rd Heat Winner), Robert Ballou (Indy Race Parts/Keizer Aluminum Wheels 4th Heat Winner & KSE Racing Products/Saldana Racing Products/Rod End Supply Hard Charger) and Josh Hodges (Wilwood Brakes 13th Place Finisher).
USAC AMSOIL NATIONAL & CRA SPRINT CAR CHAMPIONSHIP RACE RESULTS: November 3, 2017 – Arizona Speedway – San Tan Valley, Arizona – 50th Torco Racing Fuels "Western World Championships"
PROSOURCE/WOODLAND AUTO DISPLAY QUALIFYING: 1. Damion Gardner, 4, Alexander-14.892; 2. Brady Bacon, 63, Dooling/Hayward-14.998; 3. C.J. Leary, 30, Leary-15.034; 4. Tyler Courtney, 23c, TOPP-15.230; 5. Chase Stockon, 32, 32 TBI-15.338; 6. Thomas Meseraull, 19AZ, Reinbold/Underwood-15.373; 7. Justin Grant, 11, McGhee-15.405; 8. Charles Davis, Jr., 50, Massey-15.493; 9. Kevin Thomas, Jr., 9K, KT-15.515; 10. Landon Cling, 34, Cling-15.521; 11. Stevie Sussex, 42, Cheney-15.523; 12. Brody Roa, 91R, BR-15.640; 13. Jake Swanson, 92, Sertich-15.646; 14. Mike Martin, 16, Martin-15.655; 15. R.J. Johnson, 51, Martin-15.723; 16. Chad Boespflug, 69, Dynamics-15.788; 17. Danny Faria, Jr., 17GP, Dutcher-15.836; 18. Chris Windom, 5, Baldwin-15.855; 19. Isaac Chapple, 52, LNR/Chapple-15.885; 20. Robert Ballou, 12, Ballou-15.917; 21. Dave Darland, 73, Ford-16.021; 22. Hunter Schuerenberg, 19s, Reinbold/Underwood-16.036; 23. Mike Spencer, 4s, Gansen-16.064; 24. Austin Williams, 2, Jory-16.074; 25. Cody Williams, 44, Jory-16.148; 26. Chet Williams, 38, Williams-16.294; 27. Logan Williams, 5J, Jory-16.295; 28. Matt McCarthy, 28m, McCarthy-16.295; 29. Chris Gansen, 4G, Gansen-16.449; 30. Jeremy Ellertson, 98, Ellertson-16.521; 31. Josh Hodges, 74x, Hodges-NT.
SIMPSON RACE PRODUCTS/EXTREME MUFFLERS FIRST HEAT: (8 laps) 1. Thomas, 2. Roa, 3. Gardner, 4. Darland, 5. Stockon, 6. Co. Williams, 7. Faria, 8. Gansen. 2:12.28
COMPETITION SUSPENSION (CSI)/BROWN & MILLER RACING SOLUTIONS SECOND HEAT: (8 laps) 1. Bacon, 2. Windom, 3. Meseraull, 4. Ch. Williams, 5. Schuerenberg, 6. Cling, 7. Martin, 8. Ellertson. 2:12.13
CHALK STIX/CIRCLE TRACK PERFORMANCE THIRD HEAT (8 laps) 1. Chapple, 2. Grant, 3. Johnson, 4. Sussex, 5. Leary, 6. L. Williams, 7. Spencer, 8. Hodges. 2:17.10
INDY RACE PARTS/KEIZER ALUMINUM WHEELS FOURTH HEAT: (8 laps) 1. Ballou, 2. Courtney, 3. Boespflug, 4. A. Williams, 5. Davis, 6. Swanson, 7. McCarthy. 2:16.97
SEMI: (12 laps) 1. Leary, 2. Stockon, 3. Davis, 4. Swanson, 5. Hodges, 6. Cling, 7. Spencer, 8. Co. Williams, 9. McCarthy, 10. L. Williams, 11. Martin, 12. Gansen, 13. Ellertson, 14. Faria, 15. Schuerenberg. NT
FEATURE: (30 laps) 1. Thomas Meseraull, 2. Brady Bacon, 3. Robert Ballou, 4. Chris Windom, 5. Tyler Courtney, 6. Kevin Thomas, Jr., 7. Damion Gardner, 8. Chase Stockon, 9. R.J. Johnson, 10. Stevie Sussex, 11. Chad Boespflug, 12. Brody Roa, 13. Josh Hodges, 14. Mike Spencer, 15. Dave Darland, 16. Charles Davis, Jr., 17. Jake Swanson, 18. Austin Williams, 19. Justin Grant, 20. Chris Gansen, 21. C.J. Leary, 22. Chet Williams, 23. Isaac Chapple, 24. Landon Cling. NT
——————————–
**Bacon flipped on lap 10 of the feature. Ch. Williams flips on lap 23 of the feature.
FEATURE LAP LEADERS: Lap 1 Thomas, Laps 2-22 Courtney, Laps 23-26 Bacon, Lap 27 Meseraull, Laps 28-29 Bacon, Lap 30 Meseraull.
KSE RACING PRODUCTS/SALDANA RACING PRODUCTS/ROD END SUPPLY HARD CHARGER: Robert Ballou (18th to 3rd)
WILWOOD BRAKES 13TH PLACE FINISHER: Josh Hodges
NEW USAC AMSOIL SPRINT CAR NATIONAL CHAMPIONSHIP POINTS: 1-Windom-2045, 2-Grant-2038, 3-Thomas-1954; 4-Courtney-1930, 5-Stockon-1795, 6-Boespflug-1782, 7-Leary-1704; 8-Bacon-1619, 9-Ballou-1573, 10-Darland-1410.
NEW USAC AMSOIL CRA SPRINT CAR POINTS: 1-Gardner-1358, 2-Swanson-1223, 3-Roa-1213, 4-Spencer-1050, 5-A. Williams-931, 6-Co. Williams-839, 7-L. Williams-745, 8-Max Adams-702, 9-Gansen-700, 10-McCarthy-608.
NEXT USAC AMSOIL NATIONAL & CRA SPRINT CAR CHAMPIONSHIP RACE: November 4 – Arizona Speedway – San Tan Valley, Arizona – 50th Torco Racing Fuels "Western World Championships"