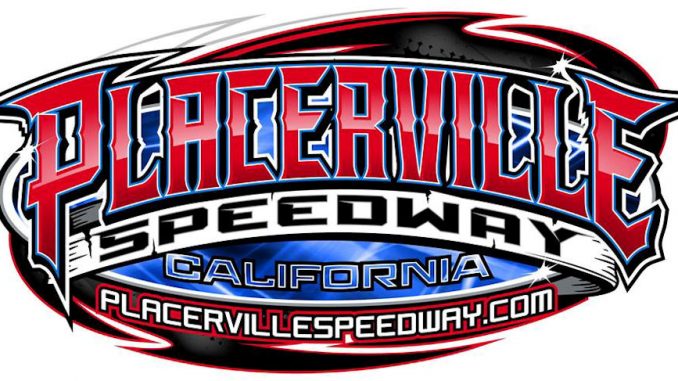 From Gary Thomas
The Placerville Speedway has announced a pair of schedule updates for 2018.
The second annual Nor-Cal Posse Shootout on September 21 and 22 will now be sanctioned by the Elk Grove Ford Sprint Car Challenge Tour presented by Abreu Vineyards.
Along with that the quarter-mile has also added a Red Hawk Casino weekly point race on Saturday August 25, which will showcase Winged 360 Sprint Cars, BCRA Midgets, IMCA Sport Mods and Mini Trucks.
See updated schedule below:
———–
Placerville Speedway 2018 Schedule
March 17, 2018 – Test and Tune
March 21, 2018 – World of Outlaws Craftsman Sprint Car Series, USAC Western Midgets | Brad Sweet presents the Placerville Short Track Outlaw Showdown
March 24, 2018 – Points Race #1: Winged 360 Sprint Cars, Ltd. Late Models, Pure Stocks, Dwarf Cars | Student Night
March 31, 2018 – Elk Grove Ford Sprint Car Challenge Tour presented by Abreu Vineyards, Midget Lites | SCCT Opener
April 7, 2018 – Points Race #2: Winged 360 Sprint Cars, Pure Stocks, IMCA Sport Mods, Mini Trucks | First Responders Night
April 21, 2018 – Points Race #3: Winged 360 Sprint Cars, Ltd. Late Models, Pure Stocks, Midget Lites, Vintage Hardtops | 15th Annual Tribute to Al Hinds
April 28, 2018 – Points Race #4: C&H Veteran Ent. presents Hunt Magnetos Wingless Tour, Pure Stocks, Mini Trucks, Dwarf Cars
May 5, 2018 – Points Race #5: Winged 360 Sprint Cars, Ltd. Late Models, Pure Stocks, Midget Lites | Law Enforcement – Big Trophy Night
May 12, 2018 – Mother's Day Weekend (NO RACES)
May 19, 2018 – Points Race #6: IMCA Sport Mods, Ltd. Late Models, Pure Stocks, Mini Trucks, Vintage Hardtops | Tilford Tribute
June 2, 2018 – Points Race #7: Winged 360 Sprint Cars, Ltd. Late Models, Pure Stocks, Midget Lites | Dads & Grads Night
June 9, 2018 – Points Race #8: Winged 360 Sprint Cars, Pure Stocks, Mini Trucks, Dwarf Cars | Thompson's Fan Appreciation Night
June 17, 2018 – El Dorado County Fair (NO RACES)
June 23, 2018 – Points Race #9: Winged 360 Sprint Cars, Ltd. Late Models, Pure Stocks, Mini Trucks | The Carnett Clash
June 30, 2018 – King of the West-NARC Fujitsu 410 Sprint Car Series and Elk Grove Ford Sprint Car Challenge Tour presented by Abreu Vineyards | Salute to the Fans
July 4, 2018 – Points Race #10: Winged 360 Sprint Cars, Ltd. Late Models, Pure Stocks | Freedom Fireworks
July 14, 2018 – Points Race #11: Winged 360 Sprint Cars, Ltd. Late Models, Pure Stocks, Dwarf Cars | Mtn. Democrat Bike Night
July 21, 2018 – Points Race #12: Winged 360 Sprint Cars, C&H Veteran Ent. presents Hunt Magnetos Wingless Tour, Pure Stocks, Mini Trucks
July 28, 2018 – King of the West-NARC Fujitsu 410 Sprint Car Series, Midget Lites, Vintage Hardtops | Summer Nationals
August 4, 2018 – Points Race #13: Winged 360 Sprint Cars, Pure Stocks, Wingless Spec Sprints, Midget lites | Military Night
August 11, 2018 – Points Race #14: Winged 360 Sprint Cars, Pure Stocks, Mini Trucks, Wingless Spec Sprints
August 18, 2018 – Points Race #15: Winged 360 Sprint Cars, Ltd. Late Models, Pure Stocks, Dwarf Cars | 13th Annual Mark Forni Classic
August 25, 2018- Points Race 16: Winged 360 Sprint Cars, BCRA Midgets, IMCA Sport Mods, Mini Trucks
September 15, 2018 – Points Race #17: Winged 360 Sprint Cars, Pure Stocks, Mini Trucks, Dwarf Cars | Ladies Night
September 21, 2018 – Elk Grove Ford Sprint Car Challenge Tour presented by Abreu Vineyards, BCRA Midget Lites | Second annual Nor-Cal Posse Shootout
September 22, 2018 – Elk Grove Ford Sprint Car Challenge Tour presented by Abreu Vineyards, BCRA Midget Lites | Second annual Nor-Cal Posse Shootout
September 29, 2018 – MLM Motorsports Tractor-Truck Pulls
November 17, 2018 – Night of Champions Awards Banquet
December 15, 2018 – Annual Racers Swap Meet