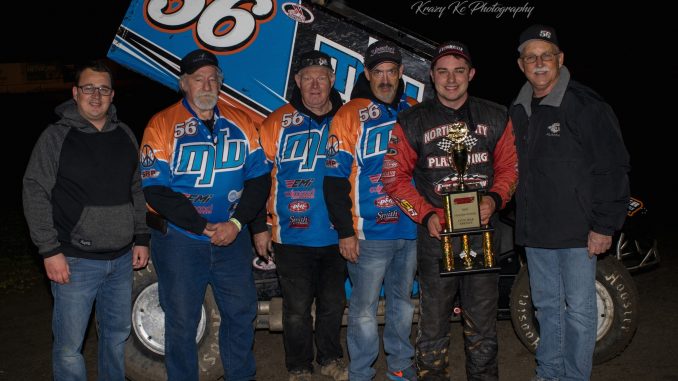 From Petersen Media
MARYSVILLE, Ca. (March 24, 2018) – Saturday night in Marysville, CA fans who braved threatening skies and unseasonably cool temperatures were treated to a feature event full of excitement that culminated with Justin Sanders executing a final lap, final turn pass over race long leader Tanner Thorson to win the 2018 Civil War Series pres. by Flowmaster opening night feature event win.
"Wow," Justin Sanders said. "I saw the flag man get the white flag out, and I could see myself catch Tanner (Thorson) so I went for it. We have been awesome to start the season, and I hope we keep getting better. I can't thank Mike Phulps and this entire team for this opportunity and giving me such a bad fast race car so far."
When the green flag flew on the 30-lap feature event, it would be pole sitter and quick time qualifier, Tanner Thorson getting the jump over Kalib Henry. Despite heavy rainfall during the week leading up to this night, the racers would be provided a slick racing surface, but some developing ruts would add in a technical element.
While Thorson looked extremely quick out front, a roll over on lap five would bring out the red and erase his sizeable lead. It would take a couple of restart attempts to bring the race back to life, but once green, Thorson would power away from the field and all eyes would focus on the battles behind him.
Elsewhere in the field, Sean Becker was working his way forward from the tail end of the field as he would race his way into the Top-10 before circumstances forced him into the infield and ended his night.
As Sanders began searching around the track, he would make the high groove work on just before the race's halfway point as he took command over the seventh position just before the caution flew on the 12th lap.
While Thorson continued to nail his restarts, he would leave the field in his wake as a torrid three car battle for second picked up between Henry, Cole Macedo, and Sanders.
The battle would allow Thorson to pull away and find himself in traffic. Thorson would have a close call in traffic as he would get sideways in turns three and four while battling threw traffic, but he would gather himself up and continue to dominate out front.
As the laps wound down, Sanders and reigning series champion, Andy Forbserg would come alive.
The two veteran drivers would pick off Macedo and look to make things interesting. With Sanders in third, he would move into the second spot with three laps to go, and Forsberg would follow suit and take over the third.
In dense traffic, Thorson would accept the white flag as the race leader, but Sanders had cut his lead down and the crowd came to their feet as they raced down the back stretch.
With Thorson taking the bottom in three and four, Sanders would go to the top as they had two slower cars in front of them.
Coming to the line, Sanders would keep the momentum as he brought the house down and scored a thrilling win by just .173 seconds. The win for Sanders is his fourth career with the series and moves him into a tie for 20th all time with Jason Statler and Shane Scott.
Thorson would end up second, Forsberg would round out the podium as Macedo, Ing, Billy Wallace, Mason Moore, John Clark, and Kyle Standley rounded out the Top-10.
Saturday's season opening event saw a total of 22 cars check into Marysville Raceway with Thorson grabbing the first honor of the night and earning the Quick Time award.
Heat race wins would go to Jake Haulot, Dustin Freitas, and Cole Macedo. Thorson would win the Flowmaster Dash and lead the field to green for the 30-lap feature event.
Flowmaster Civil War Series
Marysville Raceway
Marysville, CA
Saturday March 24, 2018
Qualifying:
1. 3C – Tanner Thorson, 12.770
2. 6W – Billy Wallace, 12.808
3. 18 – Kalib Henry, 12.920
4. 56 – Justin Sanders, 12.957
5. 5H – Michael Kofoid, 13.003
6. 92 – Andy Forsberg, 13.006
7. 22 – Mason Moore, 13.216
8. 21 – Michael Ing, 13.228
9. 21X – Cole Macedo, 13.265
10. 7H – Jake Haulot, 13.265
11. 9 – Dustin Freitas, 13.293
12. 3F – William Fielding, 13.313
13. 12J – John Clark, 13.328
14. 15 – Pat Harvey Jr., 13.337
15. 31C – Justyn Cox, 13.393
16. 12 – Jarrett Soares, 13.445
17. 7B – Brent Bjork, 13.562
18. 54 – Kyle Standley, 13.663
19. 71JR – Alec Justeson, 13.834
20. 4 – Burt Foland Jr., 14.086
21. 88N – Sean Becker, 14.135
Heat Race #1:
1. 7H – Jake Haulot
2. 3C – Tanner Thorson
3. 56 – Justin Sanders
4. 22 – Mason Moore
5. 12J – John Clark
6. 12 – Jarrett Soares
Heat Race #2:
1. 9 – Dustin Freitas
2. 5H – Michael Kofoid
3. 6W – Billy Wallace
4. 7B – Brent Bjork
5. 21 – Michael Ing
6. 4 – Burt Foland Jr.
7. 15 – Pat Harvey Jr.
Heat Race #3:
1. 21X – Cole Macedo
2. 31C – Justyn Cox
3. 3F – William Fielding
4. 18 – Kalib Henry
5. 54 – Kyle Standley
6. 88N – Sean Becker
7. 92 – Andy Forsberg
Dash:
1. 3C – Tanner Thorson
2. 18 – Kalib Henry
3. 21X – Cole Macedo
4. 6W – Billy Wallace
5. 9 – Dustin Freitas
Feature:
1. 56 – Justin Sanders
2. 3C – Tanner Thorson
3. 92 – Andy Forsberg
4. 21X – Cole Macedo
5. 18 – Kalib Henry
6. 21 – Michael Ing
7. 6W – Billy Wallace
8. 22 – Mason Moore
9. 12J – John Clark
10. 54 – Kyle Standley
11. 3F – William Fielding
12. 7B – Brent Bjork
13. 4 – Burt Foland Jr.
14. 87 – Tim Sherman Jr.
15. 12 – Jarrett Soares
16. 15 – Pat Harvey Jr.
17. 9 – Dustin Freitas
18. 31C – Justyn Cox
19. 88N – Sean Becker
20. 5H – Michael Kofoid