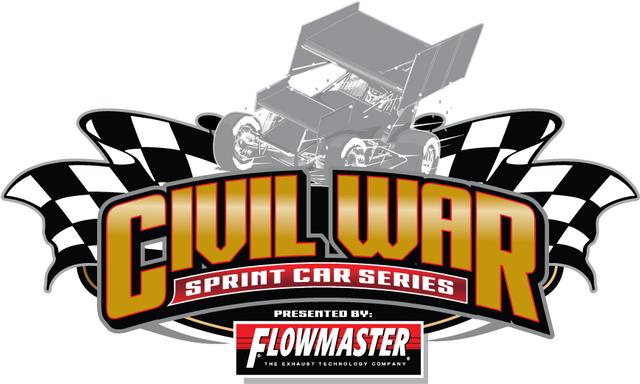 From Petersen Media
APTOS, Ca. (April 18, 2018) – One of the most exciting tracks in California will get a visit from the storied Civil War Series pres. by Flowmaster on Saturday night as the long running series will make it's first ever appearance at the high banked 1/3 mile oval in Tulare, CA alongside the King of the West-NARC 410 series.
Saturday night's inaugural visit to the central valley's speed plant will mark the first of two visits by the series in 2018 with the second coming quick as the action will pick back up on May 5th.
Heading into the vent, the series has just one of 10 scheduled events completed and the opener was an absolute thriller that saw Justin Sanders pick Tanner Thorson's pocket coming to the checkered flag to bring the crowd in Marysville, CA to their feet.
Saturday nights' field is slated to bring some start power to the track as 360 racing on the high banked oval is rare leading up to October's 25th Annual Trophy Cup.
Some drivers that are expected to be on hand Saturday night include Kyle Hirst, Bud Kaeding, Shane Golobic, DJ Netto, Cole Macedo, Dustin Freitas, Zane Blanchard, Jarrett Soares, Chelsea Blevins, and many more!
Paired with the King of the West-NARC Series, Saturday's event will kick off with time trials starting promptly at 6pm, with both divisions running full programs.
The front gates will open at 4pm with Adult Grandstand tickets available for $25, Adult Bleacher tickets for just $20, while Senior Grandstand tickets will be $23, and Senior Bleacher tickets are $18. Kids 6-12 will be admitted into the Grandstands for $13, while Bleacher tickets are just $10, and kids 5 and under will be admitted for free!