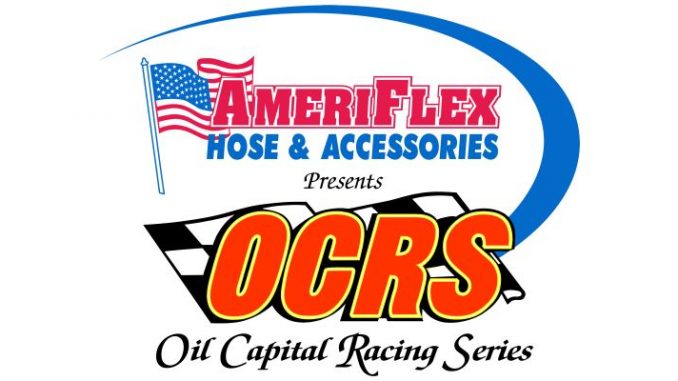 From John Lemon
TULSA, Ok. (May 8, 2018) – This Saturday night the thrilling racing machines of the AMERI-FLEX / OCRS sprint car series will perform in the Harold Leep Jr. Memorial at the Oklahoma Sports Park in Ada Oklahoma. This will be the 10th annual version of this special event and will be presented by 'Grand National Trailer'. Racing action is scheduled to begin at 7:30pm.
Leading the cast of drivers that will vie for the honor of becoming the 2018 winner is defending HLJM champion Shane Sellers of Tuttle Oklahoma. The 2017 win was the first of three OSP triumphs for a driver named 'Sellers' for the year. One of those other wins was by Shane in the Oklahoma State Championship event last September. A July visit to OSP by the traveling pilots of speed was won by Sellers' father 'Robert', making for a Sellers sweep for the season at the track.
Additional former HLJM winners expected to compete include Moore Oklahoma's Whit Gastineau (2011), Norman's Sheldon Barksdale (2016) and 3-time winner Gary Owens from Pauls Valley (2013-2015). Some of the drivers that are looking for their first HLJM win include the aforementioned Robert Sellers, a 2-time series overall champion, Joe Wood Jr, Alex Sewell, Mickey Walker, Shayla Waddell, Joe Lee, Johnny Kent and defending series champion Zach Chappell along with a slew of other competitors.
This event honors Harold Leep Jr. the son of the late great Harold Leep. While 'Junior' did not achieve the on-track success of his famous father, he was well respected and admired by all those that new him. Jr. was one of the Good Ole Boys and was a respected man of the racing fraternity. Members of the Leep family will be on hand for the 10th anniversary of the race that bears his name.
Oklahoma Sports Park will also have their regular stock car and modified classes in action in what is expected to be a fantastic night of racing on the always fast 4/10-mile racetrack. As always, the AMERI-FLEX / OCRS series will have giveaway items that fans will have the opportunity to win during the program. Details will be provided at the track during the program.