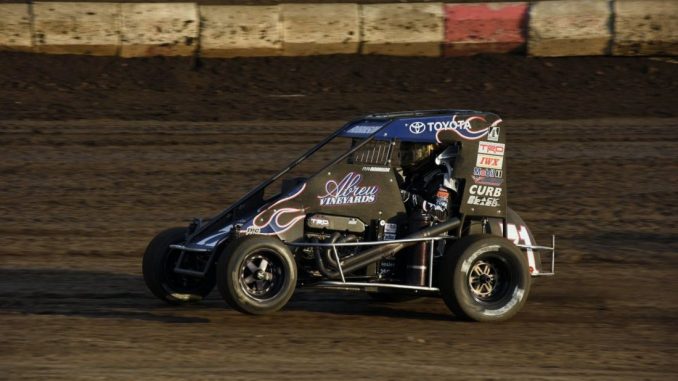 From POWRi
JACKSONVILLE, Ill. (May 11, 2018) – Ryan Robinson of Foresthill, California was deemed the winner of the POWRi Lucas Oil National Midget League feature event at Jacksonville Speedway after fellow Keith Kunz/Curb-Agajanian Motorsports teammate Tucker Klaasmeyer was penalized for jumping out of line on a late race restart. Jacksonville was night one of the two day Midwest Season Opener weekend. Saturday's show is at Macon Speedway.
Starting outside the sixth row, the initial start was called back after Presley Truedson spun in turns three and four, collecting half a dozen cars. On a clean restart, Robinson moved into the fifth position while Tucker Klaasmeyer commanded the lead. Logan Seavey took command on lap 11 and held the lead as the laps wound down.
Robinson came on strong within 10-to-go and started battling it out with Klaasmeyer and race leader Logan Seavey. In the final laps, a caution flew with two-to-go for Brayton Lynch who collected Tyler Vantoll.
Returning to racing Klaasmeyer jumped out of line on the restart and was docked a position at the finish, delegating Ryan Robinson the winner after Seavey was shuffled back to third. Jason McDougal took fourth, while Joe B. Miller rounded out the podium.
"All three of us up front and throwing sliders is really fun," commented Ryan Robinson. "Keith and Big Al put a great car together. I hope the fans enjoyed that. We've been fast all year."
POWRi National Midget League
Jacksonville Speedway
Jacksonville, IL
Friday May 11, 2018
Speedway Motors Heat Race Winners: Heat 1: 71 – Ryan Robinson, Heat 2: 77 – Alex Bright, Heat 3: 5t – Presley Truedson, Heat 4: 27 – Tucker Klaasmeyer
Toyota Semi Feature Winners: 71k – Tanner Carrick
Mesilla Valley Transportation Feature Winner: 71 – Ryan Robinson
Powri Lucas Oil National Midget League Feature Results (30 Laps): 1. 71 – Ryan Robinson 2. 27 – Tucker Klaasmeyer 3. 67 – Logan Seavey 4. 15 – Jason Mcdougal 5. 51b – Joe B Miller 6. 67k – Holly Shelton 7. 7f – Andrew Felker 8. 3n – Jake Neuman 9. 71k – Tanner Carrick 10. 1k – Brayton Lynch 11. 79 – Blake Carrick 12. 77w – Joey Wirth 13. 14jr – Holley Hollan 14. 72 – Sam Johnson 15. 30t – Tyler Vantoll 16. 77 – Alex Bright 17. 21ks – Karter Sarff 18. 103 – Broc Hunnell 19. 5t – Presley Truedson 20. 5d – Zach Daum 21. 55 – Nick Knepper 22. 9k – Kyle Schuett 23. 3b – Shelby Bosie