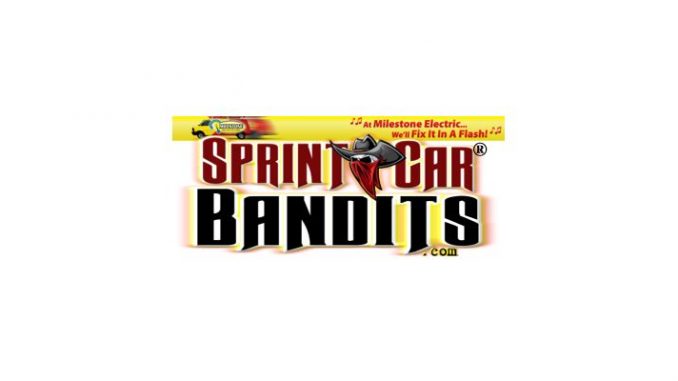 From Darin Short
MESQUITE, Tx. (May 22, 2018) — The Texas-based 360C.I. Sprint Car Bandits (SCB) makes its series debut in Kansas at the prestigious 3/8-mile oval of 81 Speedway on THIS SATURDAY, May 26th and Sunday May 27th during Sprint Car MAY-INA.
Each event will pay $2,000 to the feature winners and pays down generously to $300 to start each event. All non-qualifiers or non-starters will each receive $100. There is no driver entry fee, no series membership fee and just a $15 nightly draw fee.
The Sprint Car Bandits will co-sanction this event with the NCRA Sprint Car Series, forming the final Showdown between the two series in 2018. On April 28th the two series squared off at Southern Oklahoma Speedway in exciting event, that left fans commenting for days how much they enjoyed the racing program.
Blended rules are again in effect for the Sprint Car Bandits vs. NCRA Sprints at the Sprint Car Maynia event at 81 Speedway. Note that these are the same car rules that were in effect at Southern Oklahoma Speedway on April 28th:
No tire bleeders, 1,500# weight rule, manual wing slider. RR tire Hoosier 105 ASCS medium or 104 Racesaver. LR, Hoosier 92 stamped tire size. Must be Racesaver/RD12 or harder. Tire grooving/siping is ok. No front tire rule. No top wing angle rule in effect for this event. Mufflers are optional. Teams choose dzus or bolted wheel covers. Must run same tires in the feature that were run in the heat race. Note this rule may be adjusted if an extreme tire wear issue develops (which is a standard SBC rule as it is). 150 SCB bonus points per team for this event will be awarded, plus, the regular SCB points you end up earning nightly. This points doesn't apply to NCRA series points, this is regarding SCB points only. All other Sprint Car Bandits Rules in effect see www.SprintCarBandits.com and for any other questions or call Steve at 469-474-8234.
81 Speedway is located at 7700 N. Broadway in Park City, KS 67219 (which is a northern suburb of Wichita). The track phone number is 316-755-1781. Visit www.race81speedway.com for the track website and all details, such as ticket pricing and start times.
Besides a complete racing program of heats and features for the Sprint Car Bandits vs. NCRA Sprint Series nightly, Saturday May 26th will also include the NCRA Modified series and Mod Lite series. Sunday May 27th will conclude Sprint Car Maynia with the OCRS Sprint Car Series and the URSS/SSO Sprint Series…making for a triple-header of sprint car features!
We would like to thank the sponsors of the Sprint Car Bandits series: Rodd Hanna's Air Performance, A&M Glass Service, Palm Harbor Homes, Kustom Craft Exhibits, Gen-Tech at FixYourGenerator.com, Mow Time in Farmersville, RockAuto.com, Pro-Tech Service Co., Scott Baylor Racing Engines, American Elevator Technologies, South Dallas Battery & Electric Co., Gary Floyd Homes, Utility Trailer of Dallas, Inc., DFW Urethane, Valvoline Express Care of Seagoville and the SCB points fund is sponsored by Smiley's Racing Products & Hoosier Tire Southwest.
If your business is interested in getting involved with the SCB series, please contact Mary Lang directly at: SteveLang14@gmail.com or by calling 469-474-8234. There are effective programs available for all sizes of budgets.
Click www.SprintCarBandits.com for the latest in series news and visit www.Facebook.com/SprintCarBandits where you can connect with SCB on Facebook. Go to www.raceNCRA.com and you can get up to speed on all the happenings with the National Championship Racing Association.