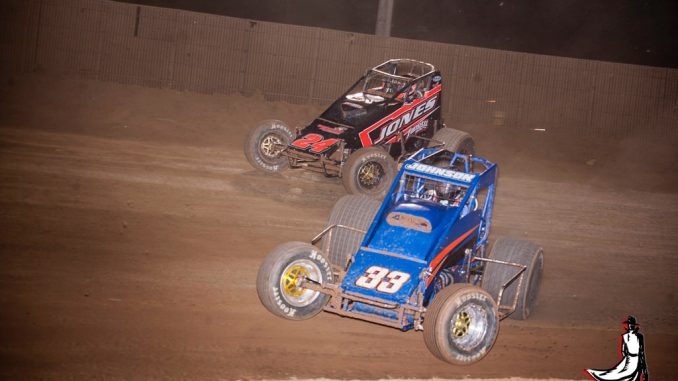 By Gary Thomas
STOCKTON, Ca. (May 22, 2018) – After a few weeks being idle the C&H Veteran Ent. presents Hunt Magnetos Wingless Tour is ready to get the season back underway with a visit to the San Joaquin County Fairgrounds located Stockton Dirt Track on Saturday.
The evening of racing over Memorial Day weekend marks the fifth round of action for the tour and the first of three appearances at the lightning fast Stockton oval. Also in competition on Saturday will be Winged 360 Sprint Cars and BCRA Midgets, making for one exciting all open-wheel show.
"We look forward to running at the Stockton Dirt Track on Saturday," said C&H Hunt Wingless Tour director Rick Faeth. "Memorial Day weekend is traditionally one of the biggest for racing, so we hope everyone can make it out. We've had a very competitive start to the season and expect more of the same in Stockton. Adding in the Winged 360's and BCRA Midgets it should make for an outstanding show and we can't wait."
An extremely close point battle has developed after the first four races of the C&H Veteran Ent. presents Hunt Magnetos Wingless Tour season. The versatile Shawn Jones sits atop the standings heading into the "Memorial Day weekend Shootout" at the Stockton Dirt Track. Jones is also an ace Dwarf Car pilot and picked up first career C&H Hunt Wingless Sprint Car victory at Silver Dollar Speedway during the annual Silver Cup.
Hot on his heels however, is veteran Scott Hall, who sits just four-markers back in second. Hall has put together a consistent start to the campaign and will be gunning victory in Stockton on Saturday. Troy Degaton has spent time atop the standings this season and now finds himself ranking third, 20-points out of the top-spot. He'll try to fend off Angelique Bell this weekend, who is only two-digits behind in the fourth spot. Another long-time veteran in the Nor-Cal circles, Sparky Howard, currently rounds out the top-five in the standings.
Completing the top-10 going into found five are Ryan Siverling, Marcus Smith, Robert Floyd, Kaimi-Moniz Costa and Adam Christian. Upwards of 20-25 wingless sprints are expected to compliment Saturday's event. Last time out with the tour on April 28 it was Stockton's own DJ Johnson picking up the big win at Placerville Speedway. Johnson is a former Stockton Dirt Track winner and will be favorite on Saturday.
A full program of Quick Time Mortgage qualifying, heat races, the Santamauro Racing Products dash and the Pit Stop USA A-main will be on tap.
Adult tickets this Saturday May 26 at the Stockton Dirt Track will cost $20, kids 5-10 will be $10 and those four and under are free. All seating will be general admission. Online tickets are available at https://noceti-group.ticketleap.com/may-26-2018-sdt/
The Stockton Dirt Track is a lightning fast 4/10-mile clay oval located on the San Joaquin County Fairgrounds in Stockton, California. The physical address is 1658 S Airport Way, Stockton, CA 95206. For information on the speedway visit www.stocktondirttrack.com
C&H Veteran Ent. presents the Hunt Magnetos Wingless Tour is proudly brought to you by C&H Veteran Ent., Hunt Magnetos, Pit Stop USA, Transport Products Unlimited, Quick Time Mortgage, King Racing Products, SpeedMart, Benic Enterprises, Santamauro Racing Products, Davis Motorsports of Reno, Air One Hvac Systems and TW Racefotos.
Information on the tour can be found by visiting http://www.petaluma-speedway.com/ and clicking on the Hunt Series tab. You can also like the tour on Facebook at https://www.facebook.com/joehuntwingless/?pnref=lhc