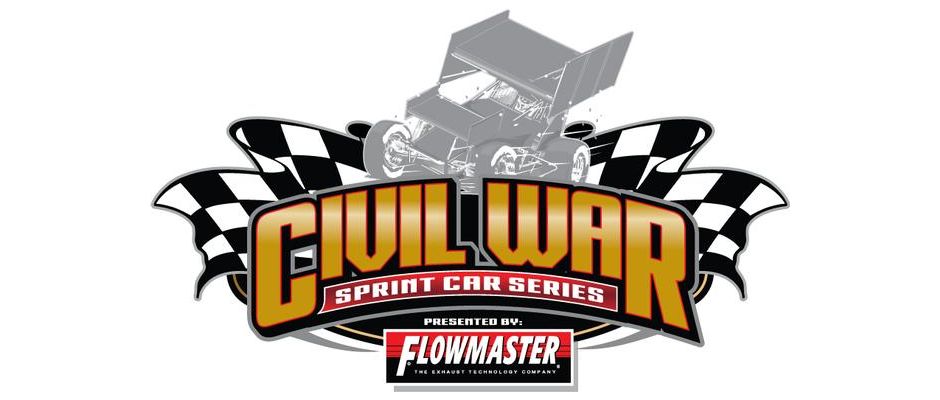 From Petersen Media
TULARE, Ca. (May 23, 2018) — One of the most anticipated race weekends of the season is upon us as the Memorial Day Weekend calls for a double header race weekend for the Civil War Series pres. by Flowmaster as Saturday will see the series invade Marysville Raceway for the $3000 to win, $500 to start Mel Hall Memorial, and a traditional Sunday event will see the series take center stage at the Silver Dollar Fair for the annual Silver Dollar Fair Race.
As of late the driver to beat at the Mel Hall Memorial has been 10-time Series Champion, Andy Forsberg. Winning his first Mel Hall Memorial in 2015, Forsberg, the winningest drivers in series history, has fittingly dominated the event that pays homage to one of the forefathers of the series with wins again in 2016 and 2017. Saturday night he will look to keep the streak alive as he aims for his fourth consecutive win at this race.
While Forsberg has been the man to beat lately, Colby Wiesz looks to add to his legacy as he enters the event as a six-time winner and is looking for his first Mel Hall Memorial triumph since winning the race last back in 2009.
As always, the Hall family has done a ton of work for this event as it seemingly gets bigger and bigger year after year. In what will be the 19th edition of this race some of the added bonuses that are public at time of press include a beefed up feature event purse that will offer $3000-to-win and $500 just to start the feature event. As more information comes available look for future announcements.
Following the Mel Hall Memorial, the stars and cars of the Civil War Series pres. by Flowmaster will then make the 45 mile trip up to Chico, CA as they will be the main act for the Silver Dollar Fair.
Racing in front of a capacity crowd full of regular fans as well as some fresh faces, Sunday night racing in California creates its own special buzz.
During the 2017 Fair Race, Shawn Conde set a torrid pace during the first half of the race before Paradise, CA driver Kyle Hirst was able to make some nifty moves in lapped traffic and please the crowd with the popular win. Hirst is scheduled to lead a host of strong contenders into action where he looks to back up last years win.
Drivers that are expected to compete at either one or both of this weekends events include point leader, Cole Macedo, Jarrett Soares, Burt Foland, Dustin Freitas, Andy Forsberg, Sean Becker, Dustin Golobic, Koen Shaw, Geoff Ensign, Kyle Hirst, Tanner Carrick, Zane Blanchard, Mason Moore, DJ Netto, Brent Bjork, Kalib Henry, Justin Sanders, Mike Monahan, and many more of the regions top drivers.
Saturday night the front gates open at 5pm with tickets going on sale. Adults will be admitted for $17, Seniors, Juniors, and Military will be admitted for $14, Kids 6-11 will be admitted for $6, and kids 5 and under will be no charge at all.
Sunday's Silver Dollar Fair Race offers of the most affordable entertainment values of the year as fair admission comes with admission to the races. Pricing for the Silver Dollar Fair goes as follows- Adults (13-64) $10, Seniors (65+) $8, Kids (6-12) $5, and Children (5 and under) free. Please also note that parking for this event will be $7. For additional savings, fan are encouraged to buy their tickets before Thursday online at https://www.etix.com/ticket/p/5117545/gate-passessilver-dollar-fair-may-24282018-chico-silver-dollar-fair?country=US&language=en.
Sunday night will also get off to a bit of an earlier start to allow patrons to enjoy the fair following the racing action. The pit gates will open at 2pm, the front gates at 5pm, and time trials will begin at 530pm with racing to follow.
For more information on these events please visit www.marysvilleraceway.com, www.silverdollarspeedway.com, or www.silverdollarfair.com.