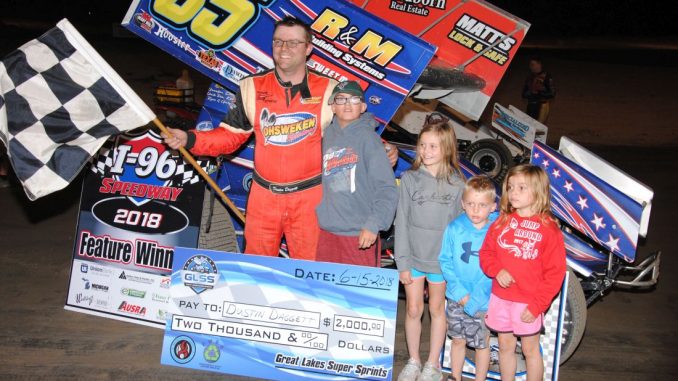 By T.J. Buffenbarger
LAKE ODESSA, Mi. (June 15, 2018) — Dustin Daggett is now two-for-two in Great Lakes Super Sprints competition at I-96 Speedway following his victory on Friday. Daggett from nearby Portland, Michigan took the lead from Gregg Dalman held off Jared Horstman and Max Stambaugh for the victory. The victory was Daggett's third of the year with GLSS.
Danny Sams, III and Gregg Dalman started on the front row for the 25-lap main event. After a caution during the initial attempt to start the feature when last week's GLSS feature winner at Plymouth Speedway Phil Gressman backed into the wall in turn four Sams and Dalman diced back and forth for the lead with Sams before Dalman took over the top spot.
Daggett moved into second position on lap four and began his pursuit of Dalman for the top spot. Dalman was able to hold off Daggett's challenges until lap seven when Daggett got a run off the second corner to take the lead.
By lap nine Horstman, who started 9th, moved into third and started to put pressure on Dalman for second. By lap 12 Horstman moved into the runner up spot around Dalman and closed in on Daggett through slower traffic. Just as it appeared the race for the lead would be hotly contested through slower traffic red flag came out for Bill Jacoby who tipped over in turn three. Devon Dobie, who was running fifth at the time, also suffered damage in the incident. Both drivers had to return pits ide.
Daggett opened his lead to five car lengths after the restart while Max Stambaugh charged from fifth to third position through turns one and two. Horstman and Stambaugh both were starting to close on Daggett when another caution flag came out when Matt Foos slowed with mechanical issues between turns one and two.
Horstman stayed with Daggett after the restart but was never able to get close enough to mount a serious challenge as Daggett went on to victory. Horstman took runner up honors while Stambaugh, Dalman, and Sams.
Great Lakes Super Sprints
I-96 Speedway
Lake Odessa, MI
Friday June 15, 2018
Heat Race #1 (8 Laps): 1. 23-Devon Dobie, [1]; 2. 5M-Max Stambaugh, [2]; 3. 17-Jared Horstman, [4]; 4. 19-Brett Mann, [3]; 5. 28M-Conner Morrell, [5]; 6. 91L-Alexis Adgate, [6]; 7. 70-Eli Lakin, [7]; (DNS) 10S-Jay Steinbach,
Heat Race #2 (8 Laps): 1. 11R-Chase Ridenour, [3]; 2. 85-Dustin Daggett, [4]; 3. 7-Joe Swanson, [1]; 4. 2F-Matt Foos, [2]; 5. 27J-Jared Lamberson, [6]; 6. 18-D.J. Lamance, [7]; 7. 58-Tony Bures, [5]
Heat Race #3 (8 Laps): 1. 23G-Joe Geibe, [1]; 2. 24D-Danny Sams III, [2]; 3. 5-Andy Teunessen, [3]; 4. 19J-Linden Jones, [4]; 5. 77-Andrew Scheid, [5]; 6. 18S-Micheal Summers, [6]; 7. 4-Dustin Carl, [7]
Heat Race #4 (8 Laps): 1. 49T-Gregg Dalman, [3]; 2. 28-Phil Gressman, [4]; 3. 84-Kyle Poortenga, [5]; 4. 89-Chris Pobanz, [7]; 5. 44J-Bill Jacoby Jr, [1]; 6. 27-Brad Lamberson, [2]; 7. 66-Kyle Stepke, [6]
B-Main (12 Laps): 1. 77-Andrew Scheid, [3]; 2. 44J-Bill Jacoby Jr, [4]; 3. 27-Brad Lamberson, [8]; 4. 27J-Jared Lamberson, [2]; 5. 28M-Conner Morrell, [1]; 6. 18S-Micheal Summers, [7]; 7. 58-Tony Bures, [10]; 8. 4-Dustin Carl, [11]; 9. 70-Eli Lakin, [9]; 10. 18-D.J. Lamance, [6]; 11. 91L-Alexis Adgate, [5]; 12. 66-Kyle Stepke, [12]; (DNS) 10S-Jay Steinbach,
A-Main (25 Laps): 1. 85-Dustin Daggett, [4]; 2. 17-Jared Horstman, [9]; 3. 5M-Max Stambaugh, [3]; 4. 49T-Gregg Dalman, [2]; 5. 24D-Danny Sams III, [1]; 6. 11R-Chase Ridenour, [7]; 7. 19J-Linden Jones, [15]; 8. 5-Andy Teunessen, [11]; 9. 84-Kyle Poortenga, [12]; 10. 7-Joe Swanson, [10]; 11. 23G-Joe Geibe, [6]; 12. 77-Andrew Scheid, [17]; 13. 27-Brad Lamberson, [19]; 14. 27J-Jared Lamberson, [20]; 15. 2F-Matt Foos, [14]; 16. 44J-Bill Jacoby Jr, [18]; 17. 23-Devon Dobie, [5]; 18. 19-Brett Mann, [13]; 19. 89-Chris Pobanz, [16]; 20. 28-Phil Gressman, [8]