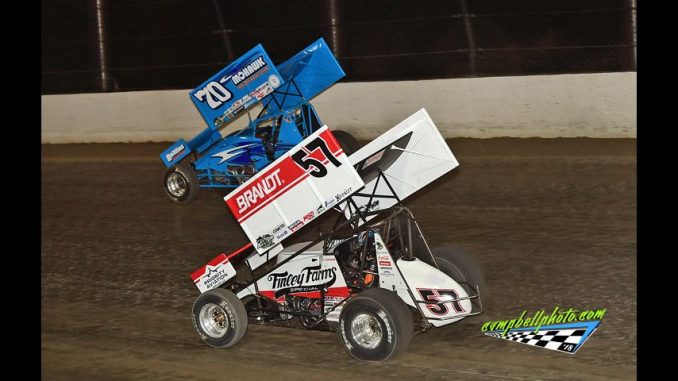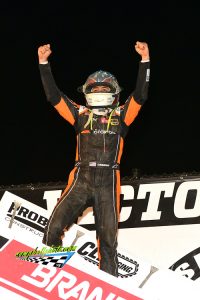 Bob Buffenbarger
(6-16-18)- Rossburg, Oh.-Kyle Larson came from his 8th place starting position to win night two of Ohio Speedweek at Eldora Speedway in spectacular fashion Saturday night.
Aaron Reutzel started on the pole and jetted away from the field early. By lap 10 Larson reeled in Reutzel after working his way up through traffic using whatever lines were necessary.
Shortly after however, veteran Dave Blaney passed Larson and quickly put distance between himself and the #57 of Larson. Lap 16 saw a caution for Spencer Bayston spinning. After the green flew, it was Blaney, Larson, Reutzel Carson Macedo and Tim Shaffer.
Blaney appeared strong with Larson unable to gain much ground until Larson began trying different lines around the track and slowly closing the gap. As laps were winding down, Larson got a huge run down the backstretch and went to the wall in turn three and passed Blaney.
As Larson was pressured once again with Blaney nearly making a pass but he stayed on the high side and drove to the checkers ahead of Macedo, Blaney, Shaffer and Reutzel.
Heats for the 46 cars went to Blaney, Josh Baughman, Tim Shaffer, Spencer Bayston and Kasey Kahne.
Arctic Cat All Star Circuit of Champions
Eldora Speedway
Rossburg, OH
Saturday June 16, 2018
Qualifying Group #1 (2 Laps): 1. 57-Kyle Larson, 13.184; 2. 3G-Carson Macedo, 13.206; 3. 24-Rico Abreu, 13.339; 4. 70-Dave Blaney, 13.414; 5. 22B-Ryan Broughton, 13.493; 6. 22-Brandon Spithaler, 13.568; 7. 11N-Cap Henry, 13.620; 8. 23-D.J. Foos, 13.670; 9. 9J-Dean Jacobs, 14.141; 10. 96AU-Bruce White, 14.924
Qualifying Group #2 (2 Laps): 1. 87-Aaron Reutzel, 13.074; 2. 4-Parker Price-Miller, 13.191; 3. 10H-Chad Kemenah, 13.288; 4. 17B-Josh Baughman, 13.442; 5. 7K-Cale Conley, 13.764; 6. 22M-Dan McCarron, 13.860; 7. 35R-Ron Blair, 13.926; 8. 71-Ayrton Olsen, 13.979; 9. 28-Brian Paulus, 14.093
Qualifying Group #3 (2 Laps): 1. 12N-Cole Duncan, 13.219; 2. 49X-Tim Shaffer, 13.232; 3. 48-Danny Dietrich, 13.347; 4. O7-Gerard McIntyre Jr, 13.508; 5. 51-John Garvin, 13.844; 6. 99-Jay Waugh, 13.986; 7. 9Z-Duane Zablocki, 14.047; 8. 97AU-Mitchell Wormall, 14.206; 9. 9X-Paul Nienhiser, 01:39.270
Qualifying Group #4 (2 Laps): 1. G1-Gary Taylor, 13.393; 2. 11-Ryan Smith, 13.538; 3. 71X-Gio Scelzi, 13.592; 4. 39-Spencer Bayston, 13.637; 5. 17-Caleb Helms, 13.688; 6. A79-Brandon Wimmer, 13.714; 7. 81-Lee Jacobs, 13.732; 8. 5T-Travis Philo, 13.859; 9. 35-Tyler Esh, 13.907
Qualifying Group #5 (2 Laps): 1. 14-Tony Stewart, 13.320; 2. 13-Paul McMahan, 13.333; 3. 4K-Kasey Kahne, 13.375; 4. 91-Cale Thomas, 13.680; 5. 98-Carl Bowser, 13.706; 6. 49-Shawn Dancer, 13.707; 7. 35S-Stuart Brubaker, 13.720; 8. 3-Jac Haudenschild, 13.743; 9. 45-Trevor Baker, 14.060
Heat Race #1 (8 Laps): 1. 70-Dave Blaney, [1]; 2. 57-Kyle Larson, [4]; 3. 3G-Carson Macedo, [3]; 4. 24-Rico Abreu, [2]; 5. 11N-Cap Henry, [7]; 6. 22B-Ryan Broughton, [5]; 7. 22-Brandon Spithaler, [6]; 8. 96AU-Bruce White, [10]; 9. 9J-Dean Jacobs, [9]; 10. 23-D.J. Foos, [8]
Heat Race #2 (8 Laps): 1. 17B-Josh Baughman, [1]; 2. 87-Aaron Reutzel, [4]; 3. 4-Parker Price-Miller, [3]; 4. 22M-Dan McCarron, [6]; 5. 7K-Cale Conley, [5]; 6. 28-Brian Paulus, [9]; 7. 35R-Ron Blair, [7]; 8. 71-Ayrton Olsen, [8]; 9. 10H-Chad Kemenah, [2]
Heat Race #3 (8 Laps): 1. 49X-Tim Shaffer, [3]; 2. 48-Danny Dietrich, [2]; 3. O7-Gerard McIntyre Jr, [1]; 4. 12N-Cole Duncan, [4]; 5. 99-Jay Waugh, [6]; 6. 9Z-Duane Zablocki, [7]; 7. 97AU-Mitchell Wormall, [8]; 8. 51-John Garvin, [5]; 9. 9X-Paul Nienhiser, [9]
Heat Race #4 (8 Laps): 1. 39-Spencer Bayston, [1]; 2. A79-Brandon Wimmer, [6]; 3. 71X-Gio Scelzi, [2]; 4. 11-Ryan Smith, [3]; 5. 5T-Travis Philo, [8]; 6. 81-Lee Jacobs, [7]; 7. 17-Caleb Helms, [5]; 8. 35-Tyler Esh, [9]; 9. G1-Gary Taylor, [4]
Heat Race #5 (8 Laps): 1. 4K-Kasey Kahne, [2]; 2. 91-Cale Thomas, [1]; 3. 13-Paul McMahan, [3]; 4. 3-Jac Haudenschild, [8]; 5. 49-Shawn Dancer, [6]; 6. 35S-Stuart Brubaker, [7]; 7. 14-Tony Stewart, [4]; 8. 98-Carl Bowser, [5]; 9. 45-Trevor Baker, [9]
Dash #1(4 Laps): 1. 87-Aaron Reutzel, [1]; 2. 49X-Tim Shaffer, [4]; 3. 3G-Carson Macedo, [3]; 4. 48-Danny Dietrich, [2]; 5. 4-Parker Price-Miller, [6]; 6. 17B-Josh Baughman, [5]
Dash #2 (4 Laps): 1. 39-Spencer Bayston, [2]; 2. 70-Dave Blaney, [1]; 3. 91-Cale Thomas, [4]; 4. 57-Kyle Larson, [5]; 5. 4K-Kasey Kahne, [6]; 6. A79-Brandon Wimmer, [3]
C-Main (10 Laps): 1. 98-Carl Bowser, [1]; 2. 51-John Garvin, [2]; 3. 35-Tyler Esh, [3]; 4. 96AU-Bruce White, [5]; 5. 71-Ayrton Olsen, [4]; 6. 45-Trevor Baker, [7]; 7. G1-Gary Taylor, [6]; 8. 9J-Dean Jacobs, [9]; 9. 23-D.J. Foos, [10]; 10. 9X-Paul Nienhiser, [8]
B-Main (12 Laps): 1. 14-Tony Stewart, [2]; 2. 11N-Cap Henry, [3]; 3. 5T-Travis Philo, [6]; 4. 81-Lee Jacobs, [10]; 5. 35S-Stuart Brubaker, [9]; 6. 7K-Cale Conley, [5]; 7. 28-Brian Paulus, [12]; 8. 17-Caleb Helms, [14]; 9. 10H-Chad Kemenah, [1]; 10. 35R-Ron Blair, [15]; 11. 22-Brandon Spithaler, [13]; 12. 98-Carl Bowser, [17]; 13. 99-Jay Waugh, [7]; 14. 97AU-Mitchell Wormall, [16]; 15. 51-John Garvin, [18]; 16. 9Z-Duane Zablocki, [11]; 17. 22B-Ryan Broughton, [8]; 18. 49-Shawn Dancer, [4]
A-Main (30 Laps): 1. 57-Kyle Larson, [8]; 2. 3G-Carson Macedo, [5]; 3. 70-Dave Blaney, [4]; 4. 49X-Tim Shaffer, [3]; 5. 87-Aaron Reutzel, [1]; 6. 4-Parker Price-Miller, [9]; 7. 13-Paul McMahan, [13]; 8. 71X-Gio Scelzi, [15]; 9. 48-Danny Dietrich, [7]; 10. 24-Rico Abreu, [17]; 11. 3-Jac Haudenschild, [19]; 12. 91-Cale Thomas, [6]; 13. 11-Ryan Smith, [18]; 14. 11N-Cap Henry, [22]; 15. 12N-Cole Duncan, [16]; 16. 14-Tony Stewart, [21]; 17. 17B-Josh Baughman, [11]; 18. O7-Gerard McIntyre Jr, [14]; 19. 81-Lee Jacobs, [24]; 20. 4K-Kasey Kahne, [10]; 21. 39-Spencer Bayston, [2]; 22. A79-Brandon Wimmer, [12]; 23. 7K-Cale Conley, [26]; 24. 5T-Travis Philo, [23]; 25. 22M-Dan McCarron, [20]; 26. 10H-Chad Kemenah, [25]